I got to know Johanna pretty well over the past semester as we both sat in Dance Therapy together. It's impossible not to notice her exquisite style – she mixes high-end designer pieces with basics like a pro. She always came to class with a kick ass outfit, as well as her ever-present statement watch. Towards the end of the year, I finally worked up the courage to ask Johanna about her fearless style.
Johanna 101
Originally From: Venezuela
Major: Business
How would you describe your style? "I couldn't just put my style into one category; it's a mix between girly bohemian chic and goth glam. For me accessories are everything: sunglasses, a headband, nice watch, big bag, and a great pair of shoes can make your look completely different every time."
Who or what inspires you in terms of fashion? "The seasons, vintage trends, the '80s, music, different cultures, LOVE! Also, Mary Kate Olsen, Nicole Richie, Coco Chanel, Audrey Hepburn, Kate Moss, Karl Lagerfeld, Giuseppe Zanotti… so many!"
Where do you like to shop? "Neiman Marcus, Chanel, Diane von Furstenberg, vintage stores, wherever I find something I could mix and match, and again… Giuseppe Zanotti! I'm a shoe freak."
Any fashion tips? Or fashion do's and don'ts? "Take care of yourself! That will give you the confidence to look good in almost everything. And never be afraid to wear something different than everybody else! Dare to experiment and dare to reinvent yourself as many times as you want to. About the DON'TS- I will have to say never wear sandals without having a pedicure; it just make the entire outfit look bad."
What motivates you to dress up? "I'm motivated by life in general, and everything surrounding me. We are under constant stimulation with the things we see and feel every day, so dressing up is a way to express myself and have fun while I get creative."
What are some trends you love now? "Platform shoes! Fendi Cinderella, ripped jeans, red lips, aviator sunglasses, big wavy hair, smokey eyes, imperfection(!!), and sexy yet glamorous women."
Elements of Johanna's Outfit:
Multiple Bracelets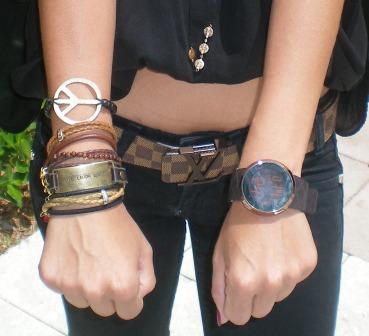 I love Johanna's many bracelets – they really showcase her personality and add interest to her look. Also, her large watch makes a fashion statement while still being functional. The watch is a perfect accessory for any college girl, especially during a busy class day.
Wrap Headband
Johanna's wrapped headband adds a free-spirited vibe to this mainly black outfit. I think it's a great way to change up your hair, and you can put one on easily in a time crunch; it's perfect for when you have 5 minutes to do your hair for class.
Looks Inspired by Johanna:
This is a look inspired by Johanna but lightened up for the summer months. The edgy monochromatic black shorts and top look great juxtaposed against the earthy accessories. However, instead of opting for a cropped top like Johanna's, I opted for a longer top in case you're less daring with your outfits or comfortable showing skin. This outfit would be great for a chill dinner with friends or shopping on a rainy day; perfect for any college fashionista.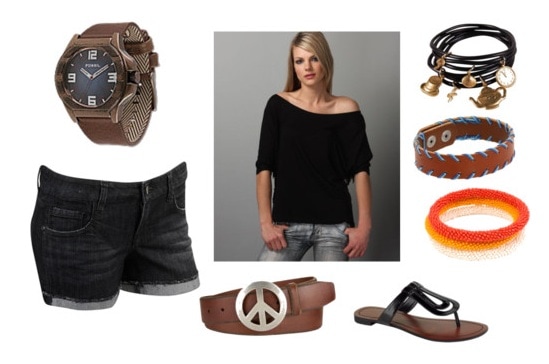 Products: Black Top- Lulus, Sandals- Journeys, Orange/Yellow/White Bracelet Set- ASOS, Brown Bracelet- Fossil, Shorts- Forever 21, Watch- Buckle, Charm Bracelet- Truffle Shuffle, Pace Belt- Fossil
What Do You Think?
Are you daring enough to try this season's crop top trend like Johanna? Have you ever tried to pull off a wrap headband or piled on the bracelets? Which fearless trends do you rock yourself? Let us know with a comment!