The first time I met Jessye, she wore fringed suede ankle boots. The next time, she sported a fabulous tuxedo vest over riding pants, finished with a pair of leather brogues. How could I not feature her for a Looks on Campus profile? In my opinion, Jessye is true-blue fashionista. She has a real knack for finding original pieces and mixing and matching them to fit her unique style.
Read on to learn more about her cool approach to fashion.
Jessye 101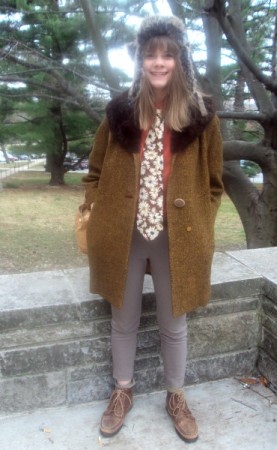 Name: Jessye
Class Year: Sophomore
School: Indiana University
Major: Theatre and Drama
Hometown: Lake Forest, Illinois
Hobbies/Interests: "I do improv, and I like to watch Masterpiece Theatre and costume dramas. I also love photography and I enjoy experimenting with instruments – lately I've been dabbling in the Autoharp, ukulele, and glockenspiel."
Let's Talk Fashion
Who or what inspires your style? "My grandma and my mother are both very stylish and they have always inspired me. I'm also really inspired by menswear – I love the look of a well-tailored suit! I find a ton of inspiration from old movies, too – Especially those from the 1960s. One of my favorites is Charade –Audrey Hepburn is so elegant, as we all know!"
Favorite brands or designers? "Marc Jacobs for his whimsy style, YSL for its cool and interesting designs, and Chanel for the classic glamor."
Any fashion advice for fellow college students? "Try different things! Even though you might feel stupid looking different, don't be afraid to be unique. Going hand in hand with that, don't get too caught up in trends: focus on pieces that you love and don't be afraid to mix and match. Also, try to rework your clothes by coming up with multiple looks for each piece. It's always fun to shop your own closet! As Tim Gunn would say: 'Make it work!'"
Whose closet would you like to raid? "If I could, I'd raid the costume closet of 'The Brothers Bloom' or any Wes Anderson film."
Where do you like to shop? "I love Goodwill, the Salvation Army, Zara, Target, Urban Outfitters, and J. Crew."
What's your fashion philosophy? "I love to shop, but I'm also really lucky that I've received some great pieces that have been passed down through my family— Actually, that's how I prefer to get my clothes. It's funny, usually the vintage things I have will last longer than my new pieces. The older pieces are higher quality and I always feel better wearing them because I know I've been resourceful. We consume so much and don't even think about it."
Your style in three words? "Eclectic, Put-together, Grandma…!"
Elements of Jessye's Outfit
Jessye's outfit is both fun and fashionable. I love how she's taken simple pieces and mixed them together to create an ensemble that is all her own. She is comfy and warm enough for the cold Indiana wind, but dressy enough for any of the myriad of shows she has to attend for her major. Smart and stylish!
1. The Tie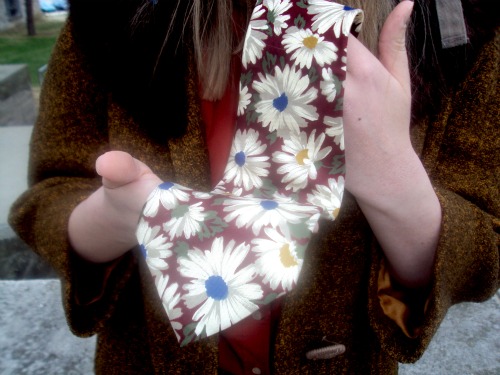 Jessye says of this tie: "I absolutely love menswear – I think this tie brings a tailored neatness to my outfit, and also it helps give me a longer silhouette."
2. The Hat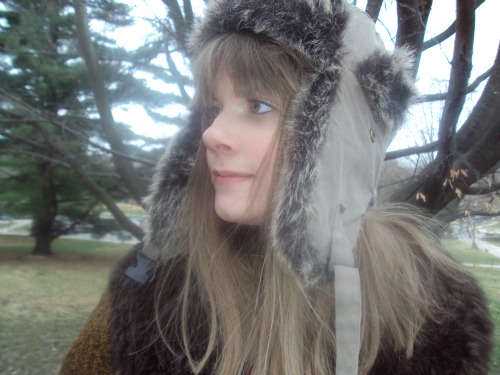 I love that Jessye is unafraid to rock this faux fur trapper hat right next to the ladylike faux fur collar of her coat! It's absolutely perfect for the long walks across campus in the frigid Indiana spring.
3. The Boots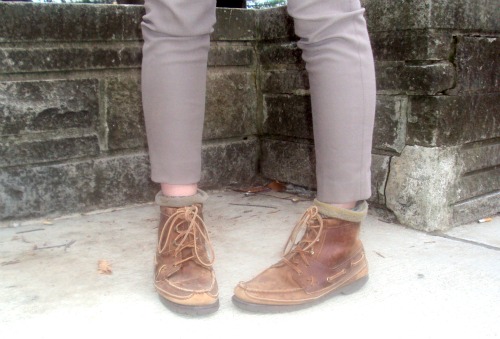 "These Ralph Lauren hiking boots belonged to my mom when she was younger. They are a desert-island item for me! I wear them everywhere."
What do you think?
Do you like Jessye's style as much as we do? What do you think of the faux fur hat? Do you love menswear as much as Jessye does? Let us know in the comments!