I spotted Jessie on her way to class near Memorial Union (one of Mizzou's campus icons) on a rather blustery winter afternoon. Her bold hair and unique choice of accessories stood out amongst the typical college girl uniform of puffy coats, leggings, and boots. After discussing her major and interests however, it became apparent why she dresses the way she does.
Jessie 101
Name: Jessie
Hometown: Arlington, TX
School: University of Missouri
Majors: Journalism (emphasis in magazine editing) and Textile and Apparel Management (emphasis on merchandising and marketing)
Year: Freshman
Let's Talk Fashion
Who or what inspires your style? "I would say I take a lot of my inspiration directly from the runway and street looks from New York and Paris' Fashion Week[s]. Obviously, most looks can't be directly ripped off because of their outrageously bold and decadent designs off the runway, but I like to take different pieces from every season I see recurring, and isolate them in my everyday attire.
Usually, for a cheat, you can always Google 'trends for X season' and the year. I try not to use Pinterest personally, because a lot of the things that get pinned are from at least a few seasons ago."
Where do you like to shop? "My favorite place to shop is my grandma's closet. She has such elegant, expensive, and classic taste; none of her clothing ever goes out of style. It also makes me feel like I always have her with me even though she's 600 miles away in Texas.
Wearing vintage clothing brings another element to fashion on a more personal level. Simply put: Every shoe has a story. As a journalist, I think it's so special knowing the places these gloves, coat, hat, dress, shoes, and so on, have gone and the things they have seen."
How would you describe your style? "I wouldn't say I have a specific style, because I like to experiment with so many different looks. In the words of the infamous Anna Wintour, 'You either know fashion or you don't.' And that woman knows fashion. If her looks can change throughout time, then I don't think anyone is ever stuck in one.
Clearly, strong and influential woman influence my personal style – anyone from Jackie Kennedy to Victoria Beckham."
Why did you chose this particular outfit? "Whenever I create an outfit, I choose one specific piece to showcase that I want the look to center around. Something trending this 'winter into spring' season are dusters. In Missouri, layers are no longer a fashion decision based on the look I'm executing today, they are a necessity. I decided on my hunter green trench because it's the perfect color for winter. The rest just kind of fell into place after that."
What are your favorite trends right now? "Thigh-high boots with dresses and skirts, horizontal stripes, menswear flats, and jackets, slim and simple jewelry, and flare bottoms… even though they all have to get majorly hemmed for fellow short women."
What fashion advice would you give to other students looking to improve their sense of style? "The biggest advice I can give is to wear what you think you look good in. What I've learned from studying fashion is that if you're confident in yourself and what you're wearing, you can be the hottest girl in the room wearing the latest black 'Cinch Sak' from Hefty – which is a step up from some runway looks I've seen!
At school, I definitely have had people come up and ask me why I'm wearing what I'm wearing in a condescending tone. Once you realize that they just don't 'get it' and you can laugh it off, then you can become the bold, sassy fashionista everyone at the end of the day will ask your advice for."
What do you like to do for fun? "I love to blog for my sorority, Alpha Delta Pi."
In terms of fashion, what has been the hardest transition between winters in Texas versus winters in Missouri? "I have always loved winter fashion, but I hate winter and I hate being cold. In Missouri, layers are a necessity. After a few months now, I think I am finally getting the hang of the weather and found out how to beat the cold: drive everywhere."
Elements of Jessie's Outfit
1. Hair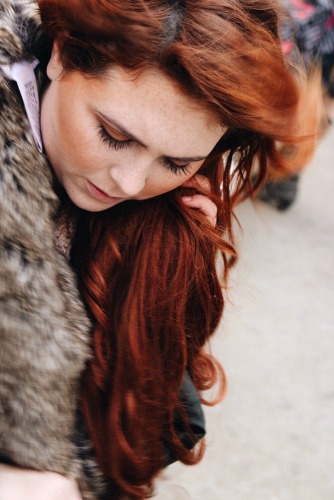 Jessie's Little Mermaid-like hair is one of her trademarks, and while she embraces it, she does like to switch it up:
"Seven months ago, I had a short, black-and-red balayaged bob, now we are here. I think everyone should make a dramatic hair change at least once in their life. When I was a little girl, I was always teased for my fair complexion, hair, and freckles, and started dying my hair at a young age. I can't believe I always tried to change what was most unique about me, and now I happily embrace all of my 'gingerness.'"
2. Scarf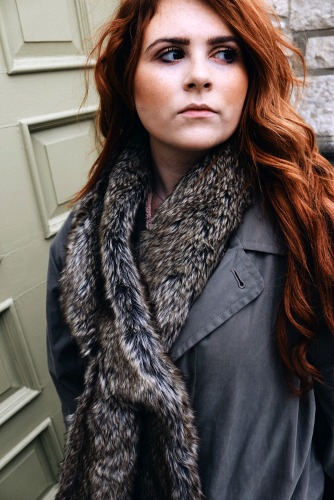 The versatility of a fur or faux fur scarf makes it a practical addition to any wardrobe. Jessie called it a "great addition to any '20s-themed party, or a bold accessory to go with a formal dress." We couldn't say it any better ourselves!
3. Bag
Jessie's bag represents a very important part of her past, present, and future: working in fashion.
"I've been working for Michael Kors for almost a year now, and out of all of my bags, this is my favorite. My parents got it for me as a Christmas present when I was a sophomore in high school, and I haven't seen another like it."
4. Glasses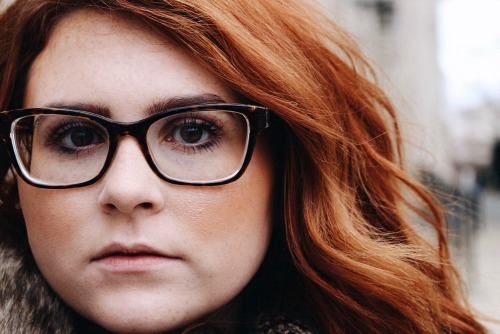 Chunky glasses have officially made a comeback, and these chic tortoiseshell frames are the perfect shape for Jessie's face. Glasses like these are an instantaneous way to professionalize any ensemble.
What do you think of Jessie's winter weather look?
Would you wear it? Do you love her fur scarf? What about her Michael Kors bag? Comment below and share your thoughts with us!