Jessica gives a casual outfit an adventurous, edgy and funky twist, and this is no doubt a result of her extensive travels and wide range of academic pursuits! She offsets a comfortable pair of skinny jeans and tank top with an edgy, attention-grabbing statement cardigan, a rugged bag and boots, and uses colorful accessories to create a consistency throughout her whole outfit.
Jessica 101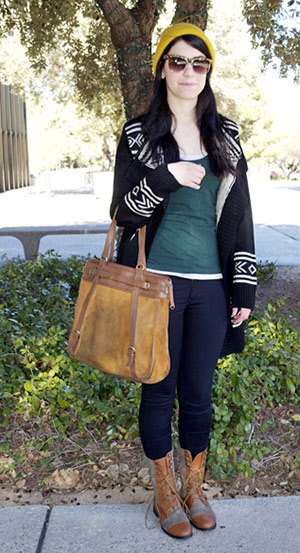 Name: Jessica
College: University of Nevada, Las Vegas
Year: Senior
Major: Journalism
Minors: French, Archeology, International Relations
Let's Talk Fashion
Who or what inspires your style? "It sounds weird, but Instagram! There are so many pictures and you get to see pictures that other people like. There are random girls on there that are really beautiful and they have really cool style, so when I go shopping or get dressed, I'm like, 'Hey, I want to be like that person,' and if I take a picture of myself, other random people would think, 'Hey, that's a cute outfit.'"
Where do you like to shop? "Forever 21, just because it's so cheap. Online, I like Black Milk Clothing. They have a lot of cool tights. And I like Zara when they're having a sale."
How would you describe your own sense of style? "That's hard! Sometimes I'll be in the mood and I'll just think comfy. This is one of those comfy outfits where it doesn't necessarily match, but the boots are really comfortable, the jacket's really comfortable, and then I've just got tank tops on underneath. But then other times I'll go out of my way, and I'll probably go for, it sounds weird, but preppy with punk, like maybe some heels with spikes on them, or wearing tights but with all black."
Do you have any fashion advice for other students? "Don't go with the norm. Not everything is supposed to match, and that's really good."
What do you do for fun? Do you have any unique hobbies or interests that might have contributed to this look? "I like traveling and I've been around the world – before I started traveling, I think my fashion sense was really plain. Then I went to France, Spain, Romania, Israel, and a bunch of other countries, and just seeing how girls abroad dressed… when I came back to Vegas, I wanted to branch out a little more with my fashion choices instead of wearing the same old things as everyone else."
Elements of Jessica's Outfit
1. Statement Cardigan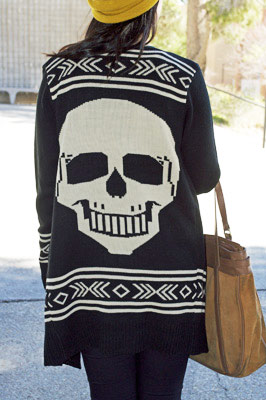 From the front, Jessica's cardigan looks elegant with a slight zig-zag collar and a black and white pattern running across the sleeves. The skull on the back adds an element of surprise and contributes to the edginess of the ensemble. (Her look proves what we mentioned before: the skull trend is not only a Point Park University fashion trend – it's super hot on campuses across the country!)
2. Suede & Leather Bag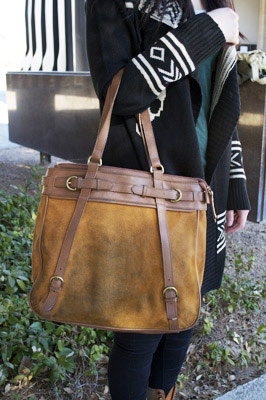 Backpacks are the norm on college campuses, so this suede and leather bag certainly stands out! The worn body gives the bag an adventurous appearance while the leather straps match the leather in Jessica's boots.
3. Multi-textured Boots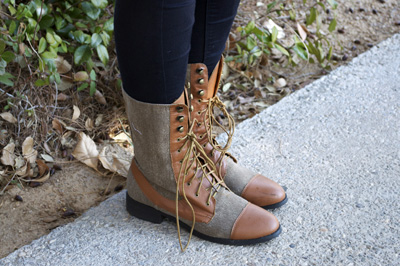 Jessica breaks the footwear mold with her leather and canvas boots. The contrasting textures highlight the flowing lines and shape of the shoe.
4. Colorful Accessories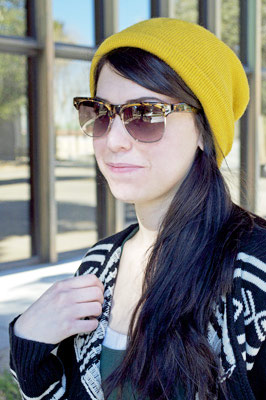 Cool accessories like tortoiseshell sunglasses and a goldenrod beanie help tie Jessica's outfit together. The color of the beanie complements the subtle pattern of the sunglasses, and both accessories highlight her boots and bag by adding a pop of color against her dark clothing.
Your Thoughts?
What do you think of Jessica's look? Are you obsessed with her boots as much as we are? Do you pick up pieces when you're travelling? Let us know with a comment!