Here at Bucknell, Jessica is known around campus for her sense of style. She is always daring, always a step ahead, and always ready to push the fashion boundaries on campus.
I first saw Jessica at a sorority formal where she wore a skirt suit complete with a tuxedo jacket and bow tie, leaving the rest of us feeling a bit behind the times in our passé cocktail dresses. However, Jessica is only too happy to share her fashion knowledge with everyone she meets, whether she's helping other student designers in our school's annual fashion show, or just taking a shopping trip to a local thrift store.
Jessica 101
Name: Jessica
College: Bucknell University
Year: Junior
Hometown: Lloyd Harbor, New York
Major: English and Theatre with focuses in Creative Writing and Costume Design
Activities on Campus: Alpha Delta Pi, Campus Fashion Magazine, Costume Designer for Theatre Dept.
Hobbies: Horseback riding, soccer, concerts, reading
Let's Talk Fashion
Where do you shop? "I like to mix labels and stores. For example, right now I have on H&M pants with a Zara top. I go to Urban Outfitters for trendy, almost throwaway items, which will only be in style for one season. When I'm at school, I visit thrift stores in the area (Wilson Ross, Stable 'N Loft), some so often that they know me when I walk through the door!"
Who or what inspires your style? "I am a huge fan of fashion blogs: The Sartorialist and Fashiontoast are my favorites. And I love Olivia Palermo's style: She always manages to be trendy without overdoing it. When I am shopping, I sometimes think 'Would Olivia Palermo wear this?' I also like looking at people on the street or around campus, and thinking of how I could buy a similar item or change the look to suit me."
How did you chose today's outfit? "It started with the floral pants – I like how they have a black background, which makes them a little less crazy. Then I found a shirt in a similar color palette to match the roses without being too obvious. I'm in a stage right now where I really like graphic tees, and I actually have a friend who can silk screen, so I am planning on making a few of my own."
How would you describe your personal style? "People always tell me my style is so '80s but I like to think of myself as more urban. If you look into my wardrobe, you'll see it's mostly black, since you can mix so much with it. I'm not usually into color, so these pants were a stretch for me, but I think everyone should have at least one pair of fun pants in their closet!
What is your shopping philosophy? Any tips? "If I can't see myself wearing an item in various ways or with various colors, then I don't buy it. Otherwise, it will sit in my closet until the one time I wear it."
What are your favorite trends for the spring? "Printed pants! And peplum – I just bought a peplum shirt which I'm so excited about, and I incorporated peplums into many of my designs for a dance concert last fall.I like the idea of cropped trousers similar to the ones I have on, because I think shorts are difficult to wear as an adult. Many people don't understand how to wear shorts in a mature way; when worn too short, you risk looking like a teenager."
What is the biggest fashion faux pas you've committed (or that you'll admit to committing)? "Wearing sweats to class in high school. It just showed that I had put in no effort. These days, people accuse me of being 'so dressed up' or 'so fancy', but this is how I always dress now, whether at home, going to class, or in New York City for my internship with Marie Claire. There is too much inspiration available in the world to be wearing sweatpants or pajamas outside."
Favorite item in your closet right now? "Crazy socks. I've been pairing them with brown oxfords, and I love the look."
What fashion advice would you give other students looking to develop their style?: "Don't settle for mainstream. Even in a store like J.Crew (which I love), don't just buy what is on the mannequin, or what you've seen on the catalog model. If you do, you're just following a style that someone else has dictated. Be original. Experiment."
Elements of Jessica's Outfit
1. Bold Floral Pants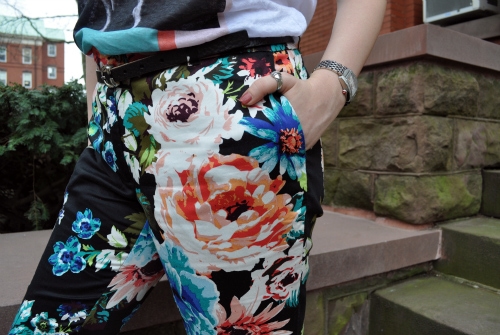 These are the pants of the season! We've seen floral pants featured in magazines and our favorite fashion blogs, but Jessica provides a great example of how to adapt them for a college atmosphere: Her Ann Taylor flats are convenient for walking around campus, and the graphic tee adds an effortless, casual air that dresses down the pants.
2. Gold Horizontal Cross Necklace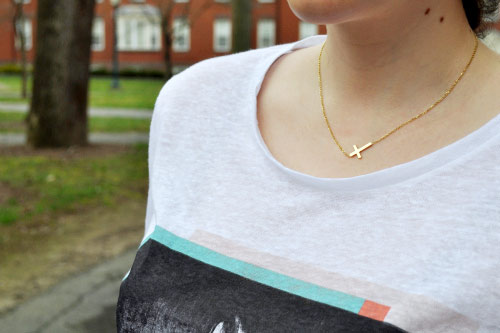 This delicate sideways cross pendant is a nice way to polish off an otherwise funky outfit. While still edgy, the necklace's light weight and subtle size allow the spotlight to remain on Jessica's pants. This necklace is good to own as an alternative to the chunky statement necklace, and is a more fashion-forward incarnation of the long crosses and rosary necklaces of past years.
Share Your Thoughts!
What do you think of Jess's style? Would you wear pants with a bold print? Has she inspired you to try items outside of your comfort zone? Let us know with a comment!