Upon passing Jessa on my way to a music festival back home in San Diego, I couldn't help but notice her relaxed, yet chic, concert style. Although, as she informed me, she normally dresses up her silk romper with heels for a night out with friends, here, she paired it with bohemian accessories and rugged boots for a casual, cool look that is playful yet put-together. One might add that the romper is a hard look to rock, but she masters it by choosing the right color and accessories.
Jessa 101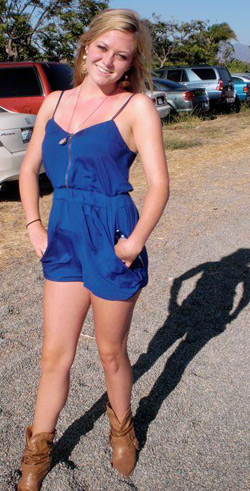 Name: Jessa
Hometown: La Costa, California
Age: 19
College: Colorado State University
Year: Sophomore
Major: Graphic Design, Minor in Business
Hobbies/Interests: "I love creating mixed media art through photography, painting, and drawing. I also love snowboarding and going to the beach."
Let's Talk Fashion
Describe your style: "Influenced by art with a variety of colors and textures. Sophisticated, yet fun."
Who or what inspires your style? "I've learned to work more boots and colorful scarves into my everyday wardrobe, moving from California to Colorado this past year. They've become my wardrobe staples."
Where do you like to shop? "I like to shop at Brass Plum at Nordstrom because it is affordable and I can find everything on trend, Urban Outfitters for cute investment pieces, and Forever 21. I like hunting for jewelry at smaller boutiques like Francesca's because they have a great selection of quality pieces."
What are your favorite trends right now? "Aviator sunglasses, rompers, long, layered necklaces and feather hair extensions."
Why did you choose this particular outfit? "It was a fun, colorful and easy to put together outfit, which is perfect for a concert."
What fashion advice would you give to other students looking to improve their style? "You should always have a few key pieces that you can wear with anything. Don't spend a lot of money on items that don't immediately fit into your wardrobe."
If you could raid anyone's closet who would it be and why? "Cameron Diaz because she has a great California casual style and always looks sophisticated and put-together."
Elements of Jessa's Outfit
1. Geode Necklace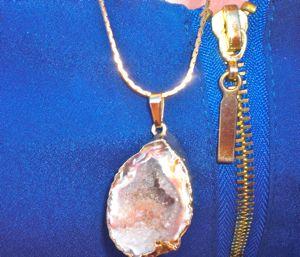 I couldn't take my eyes off of Jessa's beautiful geode necklace. Its natural beauty adds a unique polish to her look. Said Jessa, "I bought this necklace passing through Sedona, Arizona on a family road trip. I found it in a small shop full of unusual trinkets. I saw a similar necklace at Urban Outfitters but this one was half the price."
2. Boots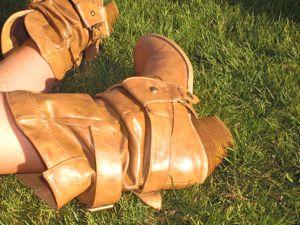 I love Jessa's slouchy boots, which represent a unique take on the cowgirl trend. They're a great addition to any sundress or a pair of jeans. "[Because of my time in Colorado] I've grown to like things with a Western influence. I like the fact that I can wear them to a party, yet not feel like I'm rounding up cattle. They're still chic."
3. Romper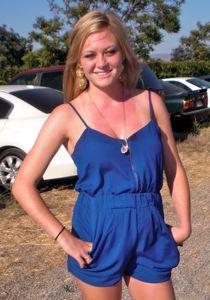 The romper is one of my favorite summer 2011 trends and Jessa executes it perfectly. Not only do I love the rich blue color of her silk romper, but the chunky gold zipper down the front provides the perfect edgy accent. Its silk fabrics allows for it to be worn for both night and day, making it a versatile wardrobe staple.
What do you think?
What do you think of Jessa's style? Do you wear boots in the summer? Would you wear a romper? What would you wear to a music festival? Let us know with a comment!