CLICK TO ENLARGE
Jennifer was looking ready for spring as she stepped out to shop on the first sunny day the south has seen in weeks. She caught my eye because her outfit was so fresh and put-together. Her look is clean, confident, and simple, a combination that any college girl should be able to pull off with ease.
Name: Jennifer
Hometown: Bowling Green, Kentucky
Major/Year in School: First Year Pharmacy Student
Hobbies/Interests: "I love to cook for friends and just hang out. I also love to shop; I can't say no to a good pair of shoes!"
Describe your style. "Kind of preppy and simple. I don't like much flash or bling, but I like to look put-together."
Who or what inspires your look? "It's my sister's skirt, so I guess her! Plus I love a good nautical theme."
Where do you shop? "J Crew, Ann Taylor Loft, Gap, and of course TJ Maxx!"
Elements of Jennifer's Look
Nautical Stripes
Jennifer told me she loves spring, because every year she gets to break out her stripes. "I love how this trend comes back every year. It means I'll always be stylish!" And Jennifer is right about that: the nautical trend is a perennial spring favorite. And it's easy to see why; it's a look that is easy to pull off and works on almost everyone, no matter your personal style or aesthetic.
Click photo to enlarge.
Color Matching
Jennifer told me she always tries to look put together, so she tries to match her accessories well. It may be an old rule, and no, it shouldn't always be followed, but you have to admit it looks great on her!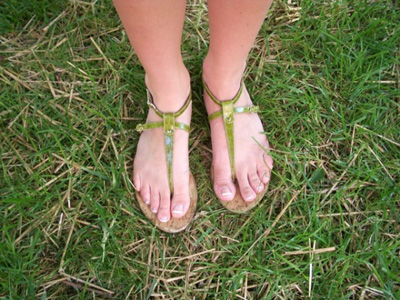 Click photo to enlarge.
Looks Inspired by Jennifer
The first look inspired by Jennifer is simple and preppy, just like her style. I loved how she matched her green shoes to her green purse, so I did the same here with a cute pair of sandals and a matching tote. Using a floral skirt instead of a striped one makes the look less nautical and more springy.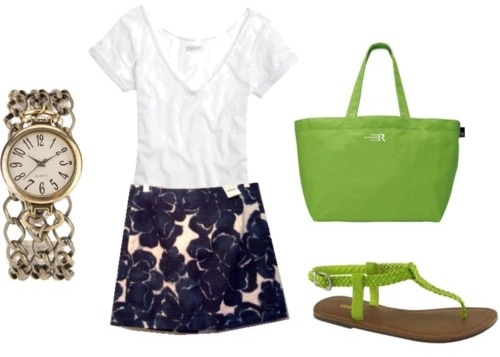 Product Information: T-shirt- American Eagle, Bag- Yes Style, Watch-Urban Outfitters, Skirt- J. Crew, Sandal- Bakers
The second look is for those of you who aren't afraid to dive head first into the nautical trend. The baggy t-shirt makes this look more trendy than preppy, and the bright red shorts make this look show-stopping!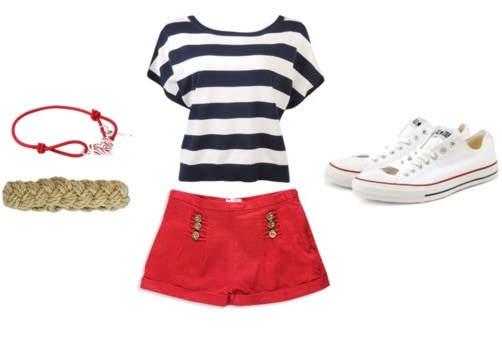 Product Information: Shirt- Forever 21, Shorts- Forever 21, Sneakers- Converse, Bracelet- ASOS, Bracelet- Ron Jon Surf Shop
What do you think?
Are you sporting nautical pieces this summer? Is your style a bit more on the simple or preppy side? Let us know with a comment!