In this sweltering summer heat, it's tough to stay cool and look stylish, but Jenna managed to do just that. She looked so comfortable yet chic while she made her way through campus that I just had to stop to chat with her to see if she had any secrets about nailing a hot weather look.
Jenna 101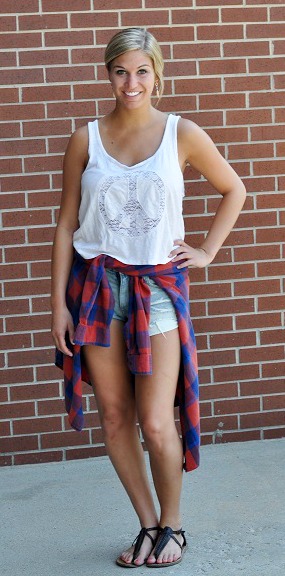 Name: Jenna
Major: Secondary English Education
Year: Senior
Let's Talk Fashion
Who or what inspires your style? "My style is inspired by a variety of different people, from celebrities to other students walking down the street. A major place where I find inspiration would be College Fashionista, which I follow on Instagram. [It's] where I find cute outfits and style trends."
Where do you like to shop? "I like to shop at The Buckle, Urban Outfitters, and small boutiques."
How would you describe your sense of style? "I would describe my sense of style as casual chic. Although I strive to look cute, comfort is my main goal."
Why did you choose this particular outfit? "I chose this particular outfit because it is comfortable and laid-back, which is perfect for walking around campus and going to class."
What fashion advice would you give to other students looking to improve their style? "My fashion advice would be to find what works for you, and go with it. Some styles may not be your thing, and that's okay. Embrace the style[s] and trends that work for you!"
What are your favorite trends right now? "My favorite trends right now would be high-waisted jeans and maxi dresses with cute accessories."
What do you do for fun – do you have any unique hobbies or interests? "For fun I enjoy reading and outdoor activities, such as camping. I'm especially excited to go white water rafting in Colorado in July!"
If you could raid anyone's closet, who would it be and why? "If I could raid anyone's closet it would be Blake Lively because she always looks impeccable."
Elements of Jenna's Outfit
1. Feather Earrings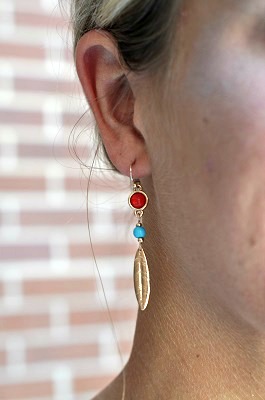 These delicate, boho-cool earrings encompass the light and laid-back feel that Jenna loves to rock. The colors are unique, and perfectly complement the rest of her look.
2. Plaid Button-up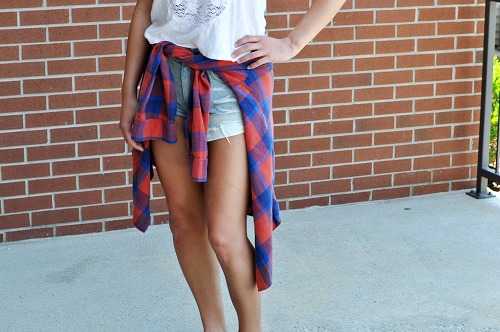 Jenna's plaid button-up adds both color and interest to her ensemble. She tied it around her waist, which is reminiscent of an on-trend '90s look, but it's easy to untie the top and pull it on if it gets cold. After all, classrooms are notoriously chilly!
3. Sandals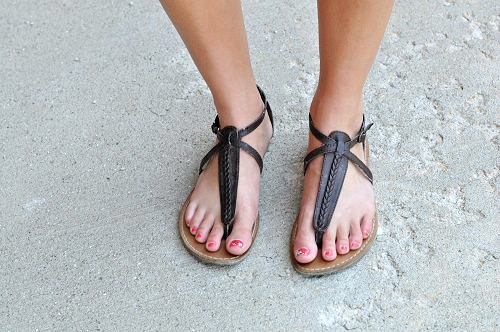 Strappy sandals are the best accessory for your feet when the temperatures are rising. These casual sandals complement Jenna's easygoing sense of style, plus the dark brown hue means they can be paired with any outfit.
What do you think of Jenna's outfit?
Do you ever tie a flannel around your waist and rock it as an accessory? What have you been wearing this summer to stay cool? Let us know by leaving a comment below!