Over the past week, the Florida heat has been backing off a bit. With highs in the 80s, many UCF students have been reveling in this unusually cool weather by pulling out their tights and putting on pants – a rare sight in Florida.
Most of our Looks on Campus posts focus on female style, but when I saw Jeffrey in his amazing pink bowtie, I knew he would be perfect for this series. He has mastered his own unique sense of style, and radiates vintage nerdiness. He's adorable, he's smart, and – sorry, ladies – he's unfortunately taken.
Jeffrey 101
Name: Jeffrey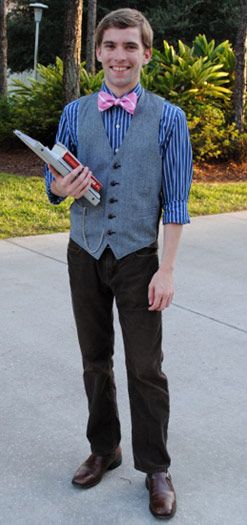 College: University of Central Florida
Year: Junior
Major: English
Let's Talk Fashion
Who or what inspires your style? "I'd say Buddy Holly. Such a classic nerd."
Where do you like to shop? "Thrift stores mostly, anywhere I can find what I like."
How would you describe your sense of style? "Nerdy? I'm not sure how else to describe it."
Why did you choose this particular outfit? "It went with the bow tie! It's also been getting cooler out, so I figure I'd take advantage of the weather while it lasts."
What fashion advice would you give to other students looking to improve their style? "Just find your own things, and don't worry about the trends."
What do you do for fun – do you have any unique hobbies or interests? "I read a lot, and I love comic books."
If you could raid anyone?s closet, who would it be and why? "Dr. Who, either David Tennant or the Matt Smith version."
Elements of Jeffrey's Outfit
1. Bow Tie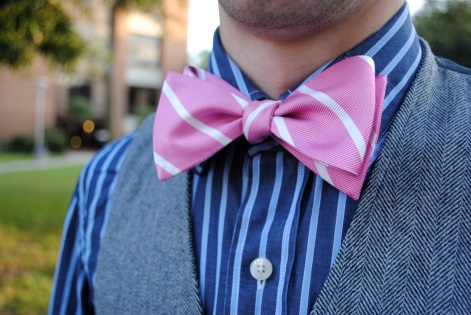 Jeffrey's bright pink bow tie is what first made me notice him on campus. It provides his outfit with a wonderful pop of color and is a great throwback to those Buddy Holly years Jeffrey strives to emulate.
2. Pocket Watch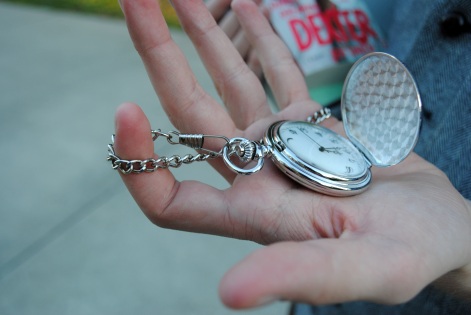 When I was talking to Jeffrey about his outfit, he casually pulled out his pocket watch, a gift from his mother, and a fabulous alternative to wearing bulky watches. A pocket watch is effortlessly cool and a great way to tell someone the time instead of pulling out a cell phone.
(And speaking of this picture, if you're a Dexter fan like me, you'll note Jeffrey is reading the series!)
3. Mismatched Socks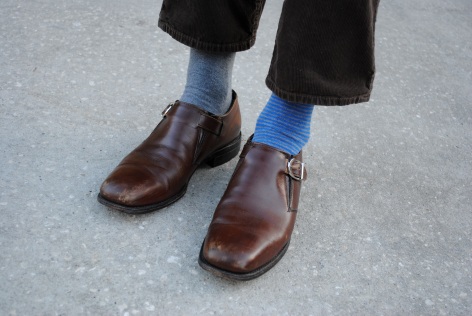 To complete his "vintage nerd" ensembles, Jeffrey dons mismatched socks daily. He says you'll never see him wearing a matching pair, a practice that puts a unique twist on every put-together ensemble.
What do you think?
Do you like Jeffrey's outfit? How would you emulate his "vintage nerd" style? What are you wearing this fall? Let us know with a comment!