The most essential staple for any girl living in the midwest is a great coat. Different outerwear is the most important because the weather can go from snow to sunshine in an instant. Jaime's coat stood out to me among the sea of black parkas on campus.
Jaime 101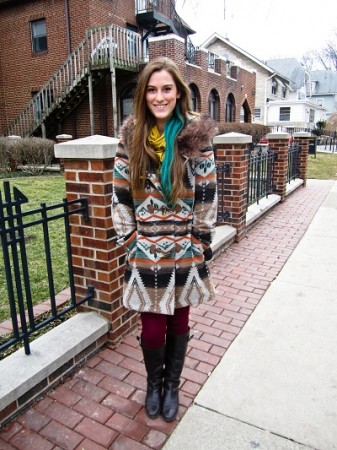 Name: Jaime
College: University of Iowa
Class Standing: Sophomore
Major: Elementary Education and Dance
Let's Talk Fashion
What inspires your style? "The brand Free People has amazing style – I follow them on Instagram. I'm also really inspired by nature and the weather. I usually just choose my outfits based on that."
Where are your favorite places to shop? "I shop at Urban Outfitters (where this coat is from), H&M, and thrift stores."
What are your other hobbies or interests? "Dancing is one of my passions. I also like painting, exploring, photography, and coffee."
How would you describe your style? "An easy way to describe my style would be a combination of Free People and Urban Outfitters with a splash of American Apparel. I love clothes that can make a statement and I use my style as a way to express myself! A lot of my clothes are inspired by nature – I love feathers, florals, and furs. But I still like to keep an urban spin to my outfits."
Elements of Jaime's Outfits
1. Fur Collar Coat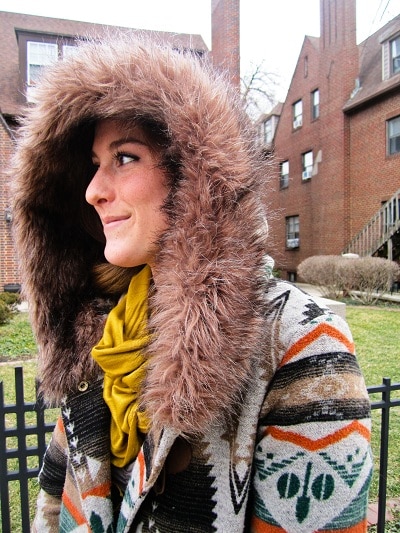 When picking out a winter coat, most people tend to gravitate towards black. I love that Jaime picked a beautiful and bold print instead. Fur is a huge trend right now and the fur collar on her jacket is perfect for blocking out the cold winds!
2. Color Pop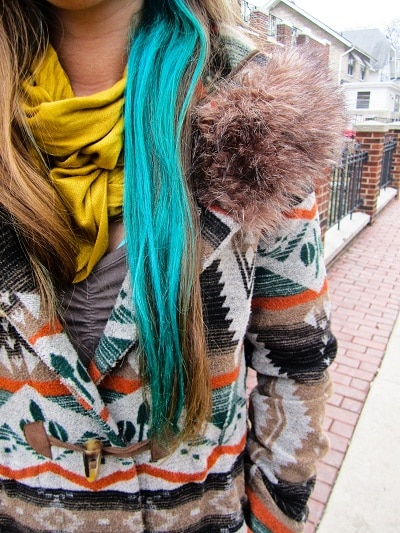 Jaime's outfit is a combination of intense colors. You can see the mustard yellow scarf beneath her jacket. In addition, Jaime's hair has a turquoise dyed streak. This pop of color is perfect for spring! These many bold colors all work together to create a unique look.
3. Colored Pants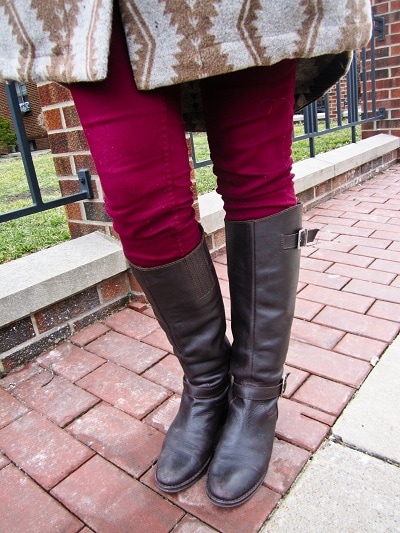 Finally, we see Jaime has also picked up on the colored jean trend. Her cranberry-colored jeans are just visible beneath her coat. She managed to incorporate this trend in a subtle way, using the jeans to add a pop of color that doesn't take away from the main part of her outfit.
What do you think?
What do you think of Jaime's outfit? What kind of coat are you wearing this winter? How do you incorporate color into your outfits? Have you worn a pair of colored jeans before? Let us know with a comment!