It's incredible what a change of scenery can do to one's entire outlook, fashion-related or otherwise. Case in point: upon returning home from another busy year at Indiana University, I've found myself embracing my Oregon roots more fervently than ever as I notice my fellow Portlanders and their style. The vintage jewelry! The relaxed silhouettes! I simply can't get enough of it.
I think Jamie captures the quintessential Portland look in an incredibly individual and sophisticated way. I was lucky to spot her at a local shop where she graciously granted me an interview about her cool fashion sense. Read on to learn more about Jamie's unique style!
Jamie 101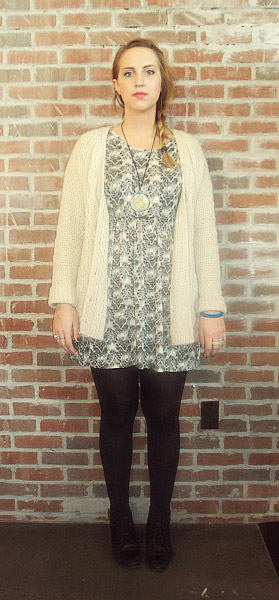 Name: Jamie
School: Portland State University
Major: Graphic Design
Hometown: Sherwood, Oregon
Hobbies/ Interests: "I like playing sports, I'm really into art, and I also like hanging out with my friends!"
Let's Talk Fashion
Who or what inspires your style? "I work at Urban Outfitters so obviously that influences my style, but in general I try to take from everything around me. Currently I'm really into the '80s so that's really influencing what I wear. I also read Nylon, Spin, and Ten."
Describe your sense of style in 3 words: "Eclectic, oversized, and fun."
Where do you like to shop? "Urban Outfitters, and I also shop at a lot of flee shops and secondhand shops. There are also a bunch of boutiques that sell old clothes in Portland like Buffalo Exchange, Magpie, Fringe Vintage…"
What fashion advice would you give to other students looking to improve their style? "Just do what's comfortable and what you feel right in, because the biggest thing is feeling comfortable in your own skin and expressing how you feel. Also, in general don't take life too seriously but work hard and have fun!"
If you could raid anyone's closet, who's would it be? "I would love to raid Chlöe Sevigny's closet!"
What are some of the spring or summer trends that you are most looking forward to? "I love that longer skirts are coming back in, because I'm taller! And I love the lighter colors, especially the creams."
Who is your favorite designer? "Marc Jacobs."
Elements of Jamie's Outfit
1. Oversized Pendant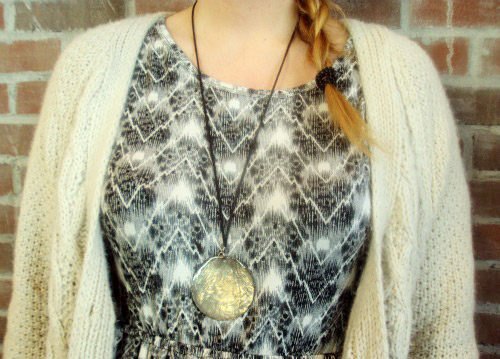 Jamie clearly has a great eye for style. I love that her oversized necklace works so harmoniously with the cool feather print of her dress. The necklace complements the ensemble nicely: The shine from the pendant not only brings attention to the detailing on the dress but also pulls in the color of the cardigan. Such a simple, classic touch!
2. Funky Rings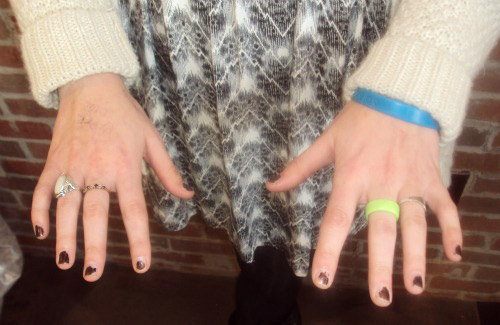 Jamie's diverse mix of rings brings freshness to her look. I love that she's not afraid to mix and match different accessory sizes and textures. Who says neon plastic can't be worn next to a simple ladylike band? I think this is incredibly inspiring!
3. Stylish Shoes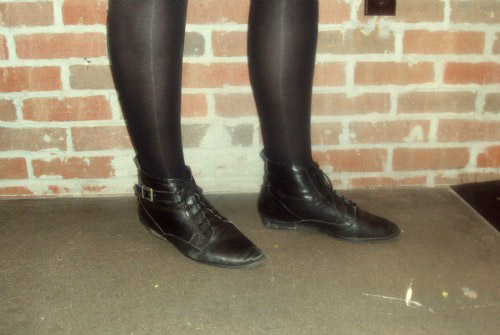 These smart buckle lace-up booties add a unique vintage feel to Jamie's outfit. They work seamlessly with her black tights and seem built just for stomping around the city. A stylish and practical choice!
What do you think?
What do you think of Jamie's style? Would you wear her outfit? Do you like her funky rings and oversized necklace? Aren't her lace-up shoes adorable? Let us know with a comment!