Winter is upon us, and it's especially true here in Oregon. In the small college town of Corvallis, we've had snow, rain, flooding, and even more rain, coupled with school delays and cancellations (which are very rare) all in one week! Finally, we're past that craziness and a little rain here and there can't dampen our spirits about looking positively fabulous, rain or shine.
I had seen Jamie in class every now and then, since we are the same major, and had often noticed her impeccable sense of style. But on this particularly dreary day, she walked into lecture with an outfit so sweet and happy you would have expected it to be 65 and sunny outside. Her lace-up boots, adorable printed dress and pink bow caught my eye the minute she took off her scarf and raincoat – a stylish one, at that. Read on to learn more about Jamie's unique style!
Jamie 101
Name: Jamie
College: Oregon State University
Major: Apparel Design with minors in Merchandising and Business
Year: Junior, class of 2013
Let's Talk Fashion
Who or what inspires your style? "Street style blogs, Alexa Chung. Anything cool that I find online."
Where do you like to shop? "H&M is always good, Forever 21, Saver's – a thrift store from my hometown, and secondhand shops in general."
How would you describe your sense of style? "Well it really changes with the day… clean, I guess? Very put-together. I like to look nice."
Why did you choose this particular outfit? "The jacket because of all the rain, and then this is my new favorite dress, it's only the second time I've worn it! It has a really cool back cut-out."
What fashion advice would you give to other students looking to improve their style? "No sweats! Haha. What you wear doesn't necessarily have to be trendy, but stuff that you're comfortable in, and don't look like you just woke up. Be yourself."
What are you favorite trends right now? "Collared shirts, buttoned up – they're everywhere. Especially the Peter Pan collar, like the one on my dress! I also really like the high-low hemline of dresses or skirts where they are longer in the back than the front. That's gonna be all over my spring wardrobe!"
Who are your favorite designers? "Betsey Johnson, Vivienne Westwood, and Anna Sui."
What do you like to do for fun? "Well, if I have time, reading. And, of course, listening to music, hanging out with friends… We tend to play a lot of board games. This is only if I have all my homework done! I also like to sew to get my mind off things and relax."
If you could raid anyone's closet, who would it be and why? "Anyone?! Hmm… Alexa Chung!"
Elements of Jamie's Outfit
1. Large Frames and Pink Bow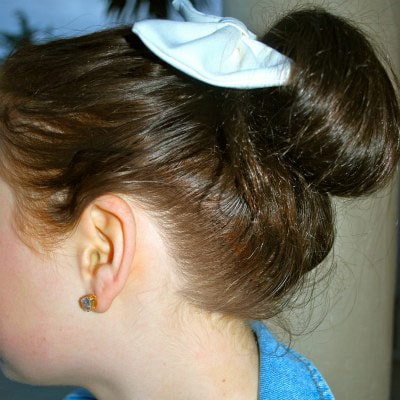 Jamie pulls off the large-framed look of her glasses with shiny, sleek hair and an eye-catching bow. When wearing large frames, it's a good idea to keep the rest of your look minimal to avoid overpowering them. Also seen here is the front view of her dress and its lovely Peter Pan collar – a huge trend popping up all over the runways.
2. Navy Print Dress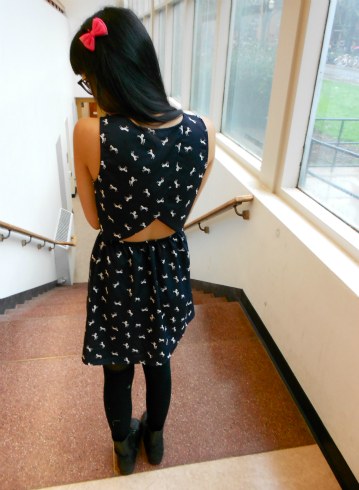 This lightweight dress is really unexpected for a winter outfit, which makes it that much more exciting! The white all-over horse print is really cute, and the interesting back cut out is so unique – have you ever seen a dress like that? This dress is perfect for layering in winter, as Jamie did here (though she took off the layers for our detail shots), and wearing by itself into summer.
3. Black Lace-Up Boots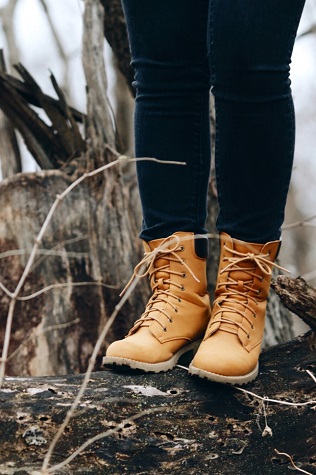 Basic black lace-up boots can add an edge to any outfit. Here, Jamie pairs hers with black tights and knee-length socks to keep her legs warm while staying stylish. I have a similar pair that I love to wear with cozy black leg warmers over skinny jeans. It's very fun to wear them with something feminine like Jamie's dress or anything with ruffles and lace.
What do you think?
What do you think about Jamie's style? Would you wear tough, lace up boots? Large frames? How about that awesome cutout dress? Let us know with a comment!