Spring has finally arrived in Ithaca and the beautiful sixty degree weather had everyone abandoning their bulky winter coats at last! I ran into Jade on a particularly beautiful Sunday afternoon, weaving her way between the hordes of students hanging out on the quad.
Jade's simple and elegant style stood out in a sea of sundresses and shorts. Even though she was completely covered up, she still looked cool and comfortable.
Jade 101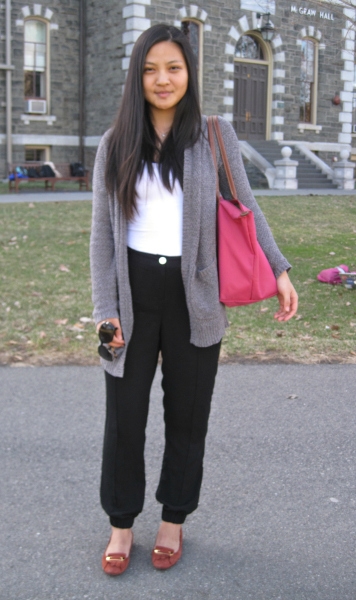 Name: Jade
Year: Freshman
Major: Hotel Administration
Origin: China
School: Cornell University
Let's Talk Fashion
Why did you choose this particular outfit today? "The weather is nice, so I can finally take off the jackets and stuff, and it's really comfortable. I'm [going to] just go to the library and study, and it's really comfy, so that's why I chose it."
How would you describe your sense of style? "I prefer black and white in general, and then [adding] a little bit of bright color, like my bag and my shoes and stuff. And also I'm part of Thread magazine. I'm on the business team, and we go out to do photoshoots and stuff. That also inspires me."
Where do you like to shop? "Everywhere! I think recently my favorite shop is Ted Baker, 'cause it's spring and the colors they use are really light."
Do you have a favorite fashion designer? "My favorite designer… I would say Marc Jacobs recently. It changes a lot though."
What do you like to do for fun? Any hobbies? "I like horseback riding."
Elements of Jade's Outfit
1. Moccasin Flats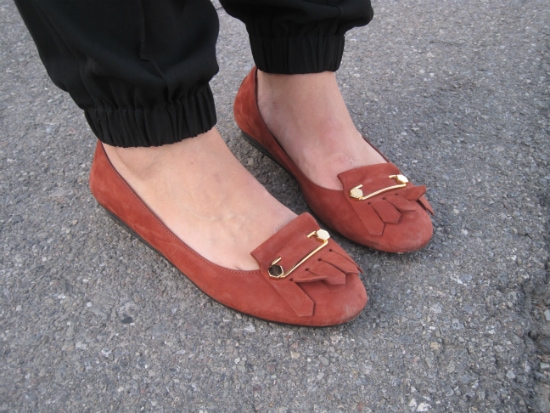 Jade picked up these flats in Australia. The reddish-brown hue contrasts nicely with her black pants, white top, and gray cardigan. These moccasin-style slip-ons are unique, and we love how the gold detail adds a bit of a shine to her outfit.
2. Bright Tote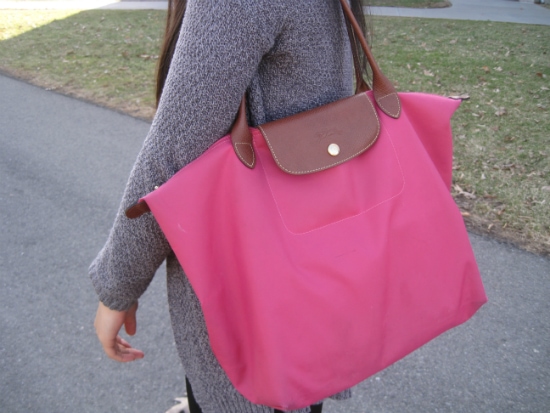 Jade added a pop of bold color to her look with this gorgeous Longchamp bag. The bright pink hue really punches up the outfit, plus the brown strap pairs well with her flats.
3. Sunglasses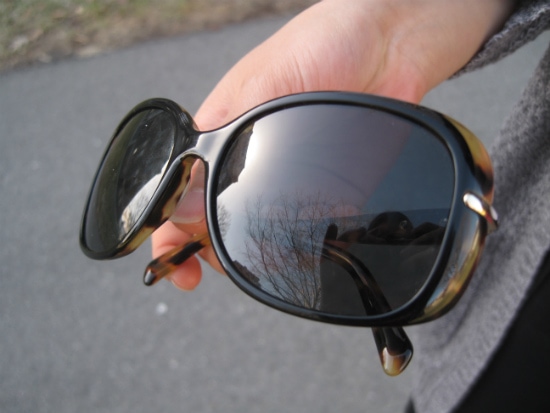 Jade was holding these in her hand when I approached her and I knew I needed to take a closer look. A good pair of sunglasses is a must-have now that the sun has finally returned to the Northeast.
What do you think of Jade's look?
Do you love her bag and shades? Would you wear her laid-back outfit for a trip to the library? Comment below and let us know what you think!