I was eating in the dining hall when Jacqui walked in. Her outfit immediately caught my eye – I wished that I had been wearing it myself! After accosting her while she made some tea, I learned all about Jacqui's classic sense of style.
Jacqui 101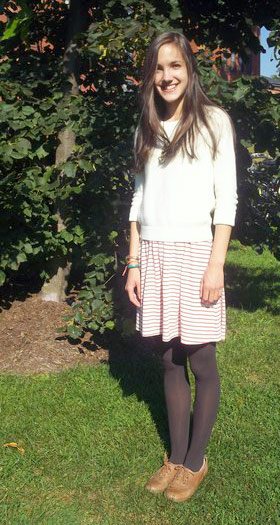 Name: Jacqui
College: Mount Holyoke
Year: 2016
Major: Undecided but possibly math and music
Hobbies/Interests: "I play violin and viola!"
Let's Talk Fashion
How would you describe your style? "I guess mostly I like classic items. If I'm going to spend the money, I'd rather buy timeless pieces. I don't want to waste money on things that'll go out of style in a week!"
Where do you like to shop? "Lately I've been really into J.Crew and Gap. Also, Madewell. I really like them right now!"
If you could raid any celebrity's closet, whose would it be and why? "I would say people with classic styles like Kate Middleton or Emma Watson. I like their styles since I'm not really into trendy clothing."
What are your favorite trends right now? "Fall colors, scarves, boots, light jackets, just things that remind you of fall and give you that fall feeling. I can't wait for winter and wool sweaters, though!"
How did you choose this particular outfit? "Completely by accident! I put the dress on and decided I didn't like it, so I was just going to change into this sweater and a pair of jeans, but when I threw on the sweater, I realized it looked cute with the dress!"
Do you like to follow the trends? "I don't really consider myself a trendy person. I don't want to possibly embarrass myself by wearing something totally out there, so I usually stick with simpler pieces that I know I love."
Elements of Jacqui's Outfit
1. Worn-in Oxfords and Opaque Tights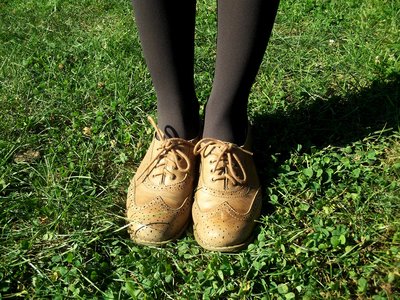 Jacqui's worn in oxfords with tights are the perfect choice for a crisp fall day. Oxfords are such a great staple in fall wardrobes. The tights are also perfect for keeping you warm during the occasional fall breeze but cool enough for walking in the sun.
2. Pull-Over Sweater
I really loved Jacqui's choice of a pullover sweater over a dress: It's the perfect way to transition your summer dresses into fall! She paired her basic, cozy sweater with a cute necklace that has both a compass and butterfly charms – pretty adorable, right?
Your Thoughts?
What do you think of Jacqui's look? Do you ever pair a pull-over sweater with a dress? What are you wearing for shoes this fall? Have you worn tights yet? Let us know with a comment!