With such a diverse campus, Pratt attracts visitors from all over the country. I spotted Jacqueline (a visitor herself) in one of the main buildings. Her bundle of cameras, layered look, and cool-chic swag immediately drew me to her. Jacqueline's sense of style is truly inspiring.
Jacqueline 101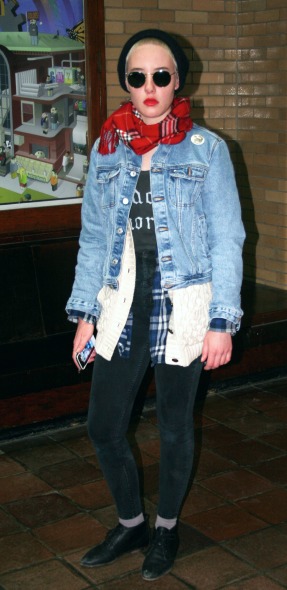 Name: Jacqueline
School: Northern Virginia Community College
Major: Associate in Applied Arts
Let's Talk Fashion
Who or what inspires your style? "It's not really anyone in particular. Hedi Slimane – what he captures really inspires."
Where do you like to shop? "I'm actually learning to make my own clothes."
How would you describe your sense of style? "Grunge, but still put-together. Usually I like 1950s style, with like a petticoat underneath."
Why did you choose this particular outfit? "It's warm. I thought it was going to be cold outside, but it's actually pretty nice. I'm a little sick, so got a little scarf action going on."
What fashion advice would you give to other students looking to improve their style? "I'm in no position to tell other people what to wear. Wear what you're comfortable in. Don't wear leggings as pants, because sometimes they're see-through."
What are your favorite trends right now? "I like sunflowers; that seems to be a big thing."
Do you have any favorite fashion designers? If so, who? "Rick Owens. I like his shoes."
What do you do for fun? Do you have any unique hobbies or interests? "I used to be a hair model and then I turned [into a] photographer for them. [I shoot] beauty [and] fashion photography."
If you could raid anyone's closet, who would it be and why? "People that you see off the street – people you see who have good fashion sense."
Element's of Jacqueline's Outfit
1. Fun Accessories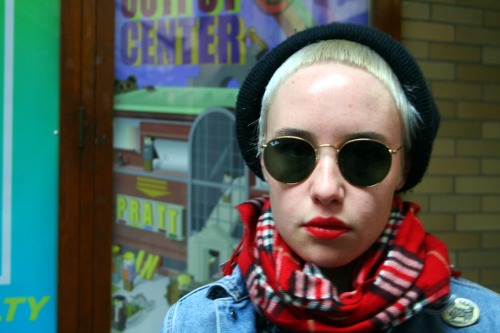 A good pair of sunglasses, like these funky round ones, are perfect for the transition from winter to spring. Of course, Jacqueline's look is fantastic without accessories, but her bold lipstick, black beanie, and plaid scarf really make this outfit.
2. Boots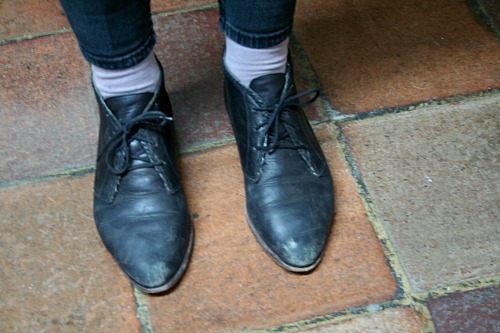 These vintage boots, a steal from Goodwill for just $5, are unique, comfortable, and ideal for anyone visiting the city. Not only is comfort a great factor, but these shoes are also very versatile. Whether they're paired with jeans or a dress, these lace-ups add a cool flair to any outfit.
What do you think of Jacqueline's outfit?
Do you think her cool shoes and accessories make this outfit unique? Do you ever mix denims they way she does? Let us know what you think!