Ivie is by far one of the best-dressed students on LMU's campus. She embodies personal style and truly dresses for herself and what she likes. I honestly wish I could feature her for every Looks on Campus post because every time I see her, she rocks a different look – and it's always unlike anything I've seen before.
Ivie strongly believes that fashion is one of the best forms of personal expression and exemplifies this in all of her outfits. She is living proof that dressing your best for school can be fun, affordable, and unique. Read on to learn more about Ivie, her look, and her thoughts on personal style.
Ivie 101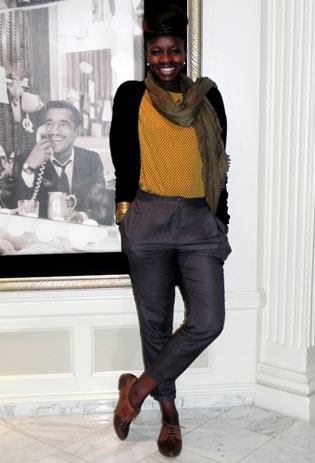 Name: Ivie
School: Loyola Marymount University
Class Standing: Senior
Major: Communication Studies
Hometown: Oakland, CA
Hobbies/Interests: "I really enjoy intellectual conversations, reading, meditating, exercise, tennis, and bargain shopping."
Let's Talk Fashion
Who or what inspires your style? "I can more easily tell you what does not inspire my style. My style is not inspired by what is accepted by the masses or what is 'in' for the season. I'm more inspired by what speaks to my eye.'"
Where do you like to shop? "I like to shop at Salvation Army and Goodwill for most of my clothes. I also like shopping at Urban Outfitters."
How would you describe your sense of style? "I really enjoy mixing the feminine and masculine styles together. I like adding a blazer to a dress or [wearing] a button down shirt with high-waisted trousers. I also like wearing bold colors. And I really, really enjoy material. I pay attention to the detail of material – that's really important. But I just wear what I like to wear. There are no limits. I'll wear things that would make most people say 'I couldn't pull that off,' things that wouldn't be most people's go-to items, but I branch out and make them work."
Why did you choose this particular outfit? "I didn't have many options [because I was on Spring Break]. I needed something that was nice, but casual and comfortable. I started with the trousers, because I knew I wanted to wear those; I usually pick one clothing item and work out the rest of my outfit from there. I wanted to add a bright top — not just some grey neutral piece — and then added the sweater and scarf."
What fashion advice would you give to other students looking to improve their style? "Mmm…I love this question! I would say that it is important to get dressed in the morning not looking for acceptance for what you are wearing but being more pleased with what you're wearing yourself. What gives you your own individual style is wearing what you want to wear, not what people are accepting. Because in the end, I wear what I want. Don't fit the mold – be you. Finally, when you're trying something on to wear, you shouldn't have to question if it looks nice – your immediate reaction should be one of confidence. If you have to question it, change something."
What are your favorite trends right now? "I don't really know what's trendy right now to be honest. I don't follow magazines. I'm not being cliche, I just wear what I like."
If you could raid anyone's closet, who would it be and why? "I would probably raid Rachel Zoe's closet, because Rachel Zoe rocks it down! Rachel has a way of putting odd things together and making it work and that's what style's all about."
Elements of Ivie's Outfit
1. Cropped Trousers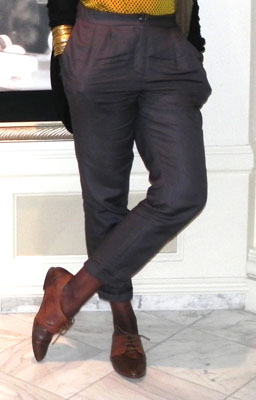 If you're looking for an alternative to your favorite skinny jeans, neutral cropped trousers are a great option! They are super comfortable and light so you won't feel weighed down. They can easily dress up an outfit if paired with a blouse and heels, or you can opt for a more casual look like Ivie does by wearing them with a top and sweater.
2. Bold-Colored Blouse & Olive Scarf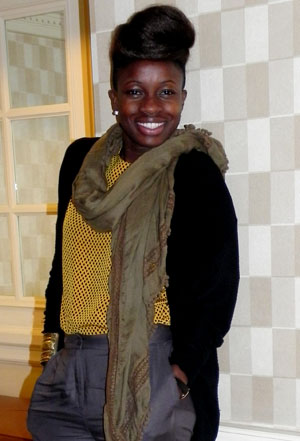 Mustard yellow and olive green might not be two colors you'd immediately think would go together, but Ivie pairs them perfectly. The combination works because the colors are muted and subtle, as opposed to bright and garish – in this case, they almost act as neutrals. So take a tip from Ivie and mix two muted but colorful shades this spring – you might create a gorgeous combination like hers!
3. Cognac Lace-Up Oxfords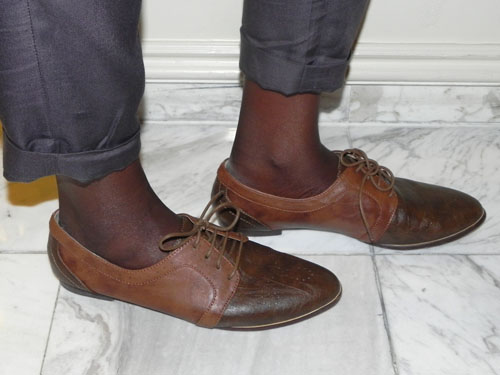 Ivie's cognac Forever 21 lace-up oxfords are a comfortable alternative to sneakers, and totally perfect for spring. Ivie loves menswear-inspired pieces and these are definitely dapper! The panels are two-toned and there are delicate perforations on the toe, giving the shoe more of a worn, vintage look. They really finish off her outfit.
4. Minimal Statement Jewelry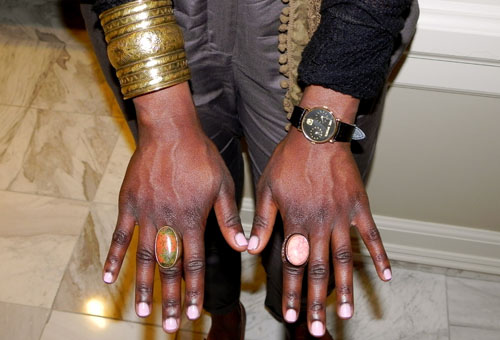 Fashion editors everywhere say that every stylish woman should own a cuff bracelet (it's number 50 in Nina Garcia's "The One Hundred"). Ivie's cuff is a classic rusted gold with ornate flower detailing. It's a simple yet bold piece that can easily make a statement in any outfit. She matched her bracelet with a couple of oversized rings and a thrifted black leather watch in similar gold tones. Ivie's accessories aren't overdone — they simply add a little more flair to her already unique look.
Share Your Thoughts!
Do you love Ivie's style as much as we do? Would you wear cropped trousers? What do you think of her mustard yellow and olive color combination? Do you have a pair of oxfords in your closet? How do you feel about statement jewelry, such as cuff bracelets and oversized rings? Share your thoughts with a comment!