Lucky for us here in Cadiz, Spain, fall weather is still nice and sunny, and most of us haven't even worn our jeans here since the semester started. But since real autumn weather is approaching, we now face a tricky scenario when temperature changes throughout the day.
Here, Inma shows off her chic yet comfortable look, where she incorporates autumnal touches in her outfit when the weather is still warm during the day.
Inma 101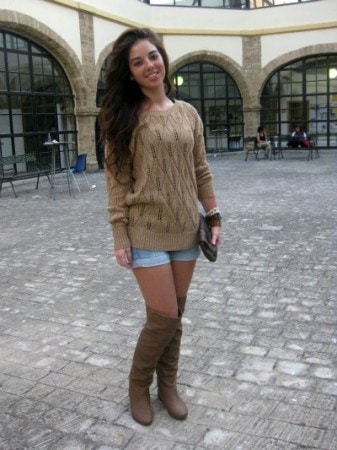 Name: Inma
College: University of Cadiz
Year: Freshman
Major: English Philology
Hobbies/Interests: "Sports, music, reading, and especially traveling!"
Let's Talk Fashion
Who or what inspires your style? "I usually get inspired by fashion magazines, TV, and celebrities – though I think I have my own style and I simply choose and combine what I like."
Where do you like to shop? "Usually I buy my clothes at stores like Zara, El Corte Ingles (the biggest department store in Cadiz), Blanco, Stradivarius, and Mango."
What fashion advice would you give to other students looking to improve their style? "I think that each person has her own style and way of dressing. But if I had to advise according to my tastes, I would say it's always nice to follow trends, but one should still dress with a personal touch that makes her style unique."
What are your items in your wardrobe? "I love dresses, super high heels and big bags. And I like wearing all kinds of accessories."
Elements of Inma's Outfit
1. Open-Knit Sweater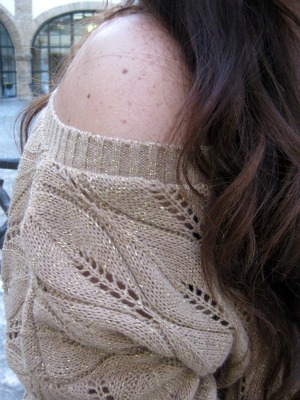 An open-knit, slouchy sweater is the perfect item for transitioning your wardrobe from summer to autumn. A sweater like this is cozy when the sun is out, but still allows your skin to breathe. And I love sparkle details on Inma's sweater – they're absolutely perfect for fall.
2. Color-Coordinated Accessories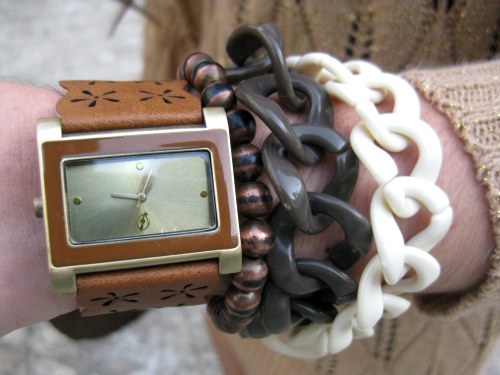 Color-coordinated accessories are among the easiest ways to pull off the monochrome dressing trend this season. Here, Inma mixes brown and white bracelets with an adorable watch with leather strap.
3. Knee-High Boots with Shorts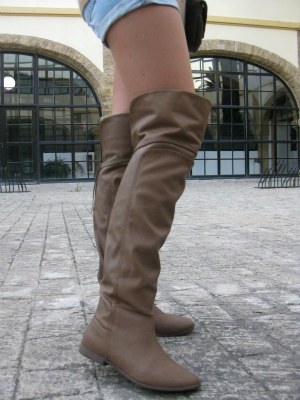 Knee-high boots with shorts are among my favorite outfit combinations for season-transition time: get the look before it's full-on winter outside! If it's cold where you are, you could always add high socks under the boots like Blake Lively did in NYC recently, or wear opaque tights for extra coverage.
Share Your Thoughts!
Do you love Inma's outfit as much as we do? Are you jealous of the still-warm weather in Cadiz? And what's your favorite way to transition your wardrobe as the season changes? Let us know with a comment!