Between interning at Community Lunch on Capitol Hill in Seattle and taking ballet classes, I'm almost always in a rush. Through the chaos though, I always notice the unique fashion of my fellow Seattleites. It was on one of these busy days that I was fortunate enough to spot the stylish Hui.
I was waiting for my bus home when I decided to take pictures around the University of Washington campus. That's when I saw Hui and her wonderfully put-together outfit. Not only was her outfit a delight, but she was an absolute peach!
Hui 101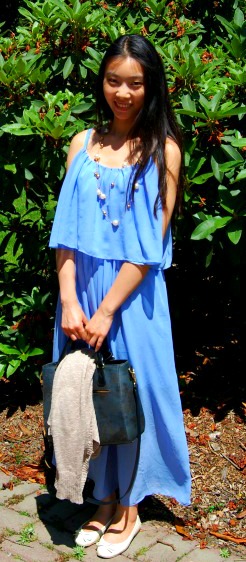 Name: Hui
Major: Informatics
Year: Junior
University: University of Washington, Seattle Campus
Let's Talk Fashion
Who or what inspires your style? "It's the summer, so I want to be colorful."
Where do you like to shop? "I like to shop in downtown Bellevue. I like to roam around that area."
How would you describe your sense of style? "Free and comfortable, almost like 'stylish comfort.'"
Do you have any favorite fashion designers? If so, who? "I like Miu Miu! I like it because it's comfortable, cute, and colorful. It's one of the best for young, college-age girls."
What do you do for fun? Do you have any unique hobbies or interests? "I like to read. I also like to go to the cinema and watch movies. Recently I saw Grace of Monaco."
If you could raid anyone's closet, who would it be? "When I was young, I always wanted to raid my mother's closet. Now that I've grown up, I would love to raid my last roommate's closet because we have a similar style."
Elements of Hui's Outfit
1. Bold Maxi Dress
Hui's dress is not your average spaghetti strap maxi! The unique cut and ruffled top make it incredibly flattering, and gives the dress a wonderful texture. And of course, that gorgeous blue hue is so bold and eye-catching. This maxi dress is perfect for summer, and can work for day or night.
2. Mismatched Earrings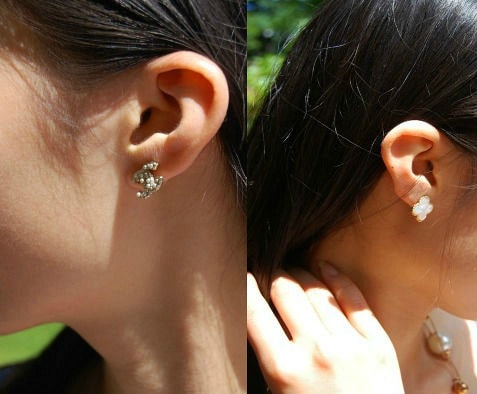 Hui's earrings really made her outfit stand out. While they weren't matching studs, both earrings looked chic and complemented each other wonderfully. Wearing mismatched earrings is a hot trend at the moment, and Hui shows us a classy way to rock this look.
3. Attention-Grabbing Purse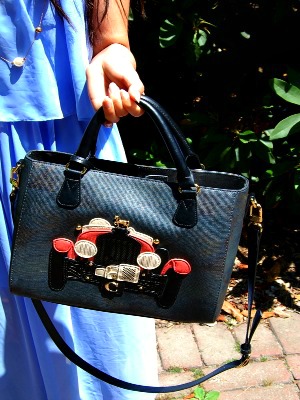 How unique is this embroidered handbag?! Hui's purse is a bold take on a very classic shape, and contrasted well with her dress without overwhelming it. The size of this bag is ideal for toting around all the essentials needed for a day spent on campus, which makes it a fun and practical choice.
Do you love Hui's dramatic dress?
Do you wear maxi dresses in the summer? What do you think of the mismatched earrings trend? Do you like her purse as much as we do? Drop a comment in the section below!