This week I ran into Houston. I could not help but notice her natural beauty and effortless style. What really caught my eye was the color palette of her outfit. I personally never thought of pairing brown, green, and white together, but I think Houston pulls it off wonderfully.
Who I Spotted: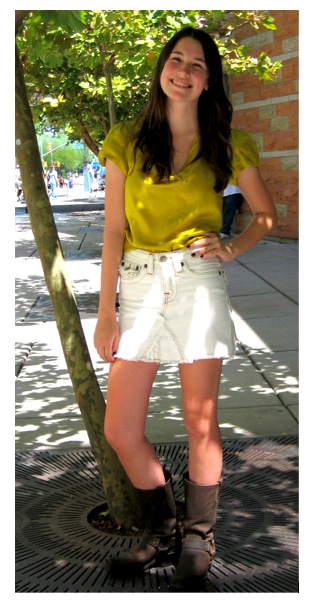 Name: Houston
Hometown: Tucson, Arizona
Age: 18
Year in College: Freshman
Major: Physiology
Hobbies & Interests: "I'm a big movie buff! I also like calligraphy, and of course, I study."
Describe your style: "It's hard to say because it changes every day depending on my mood. Some days I'm hard and tough with leather and studs, but other days, like today, I'm more simple."
Who or what inspires your style? "I like keeping up with fashion shows and checking up on my favorite designers. My favorite designers right now are Gucci and Balmain, and although I can't always afford their stuff I can look!"
Where do you like to shop? "I buy vintage things a lot. I also go to Buffalo Exchange and Off 5th [the Saks Fifth Avenue outlet store]. My mom is also a flight attendant, so when I travel to Paris or Madrid I try and pick up a new piece. I even got a fur vest in Paris!"
Why did you choose this particular outfit? "My mom bought me this shirt, so I wanted to wear it for her. Then, I decided this skirt goes well with the color."
Elements of Houston's Outfit:
1. Cowboy Boots!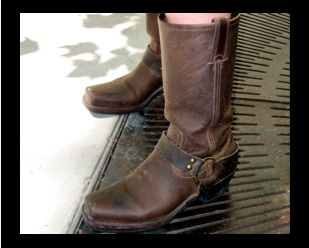 I really like these boots because they have cowboy touches, while still being very classic. They appear very well made and versatile (see below for more ways to wear them)!
When Houston and I were chatting, she mentioned that in college it's hard to find appropriate times to wear a heel to school. These boots have a small wedged heel that are still tasteful with her mini skirt.
2. Use of Juxtaposition!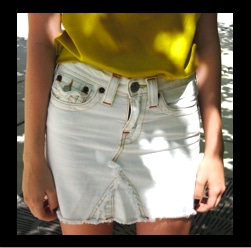 Although Houston's outfit appears simple, don't let that fool you! Her outfit screams juxtaposed details such as:
a) Color Contrasts: The use of green next to white! Who would have thought this could be pulled off so well! Her True Religion skirt also pairs white denim with tan and red seams!
b) Soft vs. Rough: The top is very silky and smooth, whereas the jean skirt has a cut-off, frayed look that is rather edgy!
3. A Great Fashion Philosophy!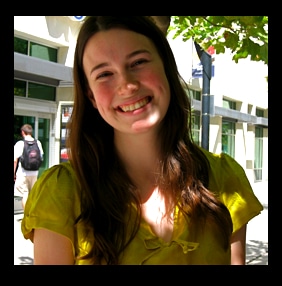 Houston emphasized that her mood really reflects her style. If she's feeling tough, she will sport leather and pieces with studded details. However, she also isn't afraid to tone it down and showcase her ability to throw together simple outfits.
Looks Inspired by Houston:
Through these outfits I'm trying to portray elements of Houston's style. These pieces are all available right now for purchase!
You may notice that my outfits are much more accessorized than Houston's. This may not be suitable for you, but I'm an accessory junkie! I love picking out accessories for outfits, so I hope you enjoy my picks!
What I would wear based on Houston's outfit: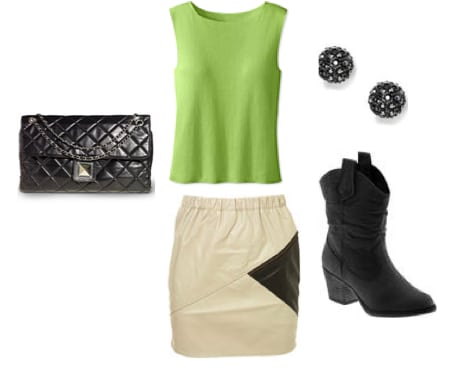 Product Information (clockwise from left): Black Quilted Satchel- Speigel, Green Top- Coldwater Creek, Black Earrings- Express, Black Boots- Piperlime, Skirt- TopShop
A variation of Houston's color palette: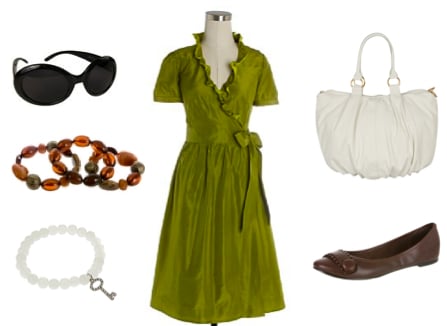 Product Information (clockwise from upper left): Sunglasses- Fred Flare, Green Dress- J. Crew, White Bag, Forever 21, Brown Flats- Charlotte Russe, White Beaded Bracelet- Max & Chloe, Brown Bracelets- Charlotte Russe