As soon as I returned home from school for the summer, I decided to take a look at what the college students around my hometown were wearing. As soon as I spotted Holly's gorgeous wrap bracelets and fun gladiators, I knew she was the perfect candidate for a Looks on Campus post!
Holly 101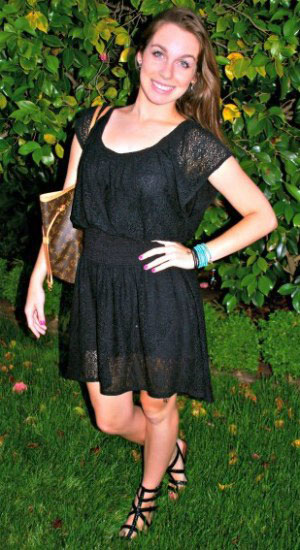 Name: Holly
School: Southern Methodist University
Age: 19
Year: Sophomore
Major: Marketing
Hometown: Menlo Park, California
Let's Talk Fashion
Who or what inspires your style? "My mother completely influences my style. She worked in the personal shopping department of Neiman Marcus for over 10 years, so I have full faith she'll make me look good."
Where do you like to shop? "Intermix is my go-to splurge spot, but if I wanna save some dough, I head over to Bloomingdales' sale section and Neiman Marcus's Last Call for awesome deals on trendy pieces."
Why did you choose this particular outfit? "I chose it because it is super comfortable yet fashionable! I find that dresses are the way to go when you're in college. You throw them on with a couple of accessories and you're good to go. Gladiator sandals in my opinion will never go out of style, so I wear these Michael Kors ones all the time."
What fashion advice would you give to other students looking to improve their style? "Wear what's comfortable and easy! Don't become a fashion victim and feel awkward trying to pull off trends that don't feel right. Find inspiration from what's out there today and incorporate it to your everyday style. Less is definitely more."
What are your favorite trends right now? "I am in love with asymmetrical (high-low) hemlines! Not only do they look cool, but they also elongate your legs which is what every girl wants these days."
Do you have any favorite fashion designers? If so, who? "Twelfth Street by Cynthia Vincent is new and funky. One of my absolute favorites. This little brand has all of the essentials you need."
What do you do for fun – do you have any unique hobbies or interests? "I love to dance! I'm on SMU's Pom Squad for next year!"
Elements of Holly's Outfit
1. Asymmetrical Hem Dress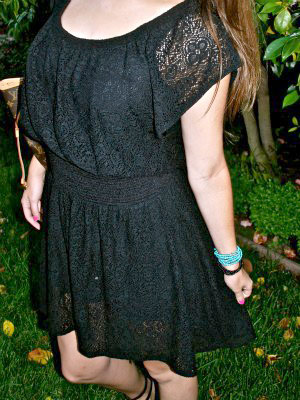 Holly's crochet hi-low hem dress is the perfect piece for this spring and summer. Asymmetrical hemlines are super trendy right now, and black makes this dress super versatile, while the lace texture keeps things light and fun for warmer weather.
2. Wrap Bracelets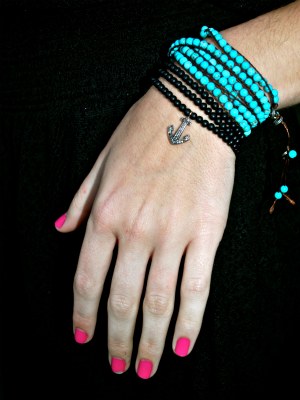 I simply love Holly's layered wrap bracelets – they were one of the first things that caught my eye when I saw her! The turquoise tones are perfect for summer and they look so great layered together. Not to mention, the little anchor charm is such a cute addition! Bracelets like Holly's can add such a fun boho touch to any outfit this season.
3. Gladiator Sandals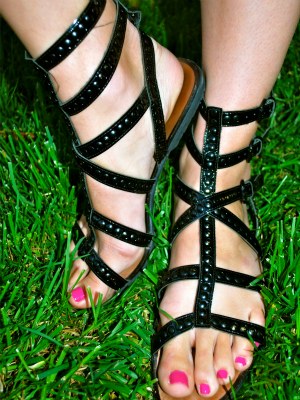 Great gladiator sandals can add flair to any summer sundress – they're both comfy and super stylish. Holly's studded, strappy gladiators create some great contrast with her super girly dress and pink toenails.
Share Your Thoughts!
What do you think about Holly's look? How do you feel about asymmetrical hem lines? What kind of sandals are you wearing this summer? Let us know with a comment!