It was a drizzly day at Hartwick College. While everyone was dressed in cozy clothes, I couldn't help but notice Holly's outfit. Her mint green maxi skirt with crisp, white accents was a breath of fresh air. On that gray and gloomy day, Holly's outfit was a delight for the eyes!
Holly 101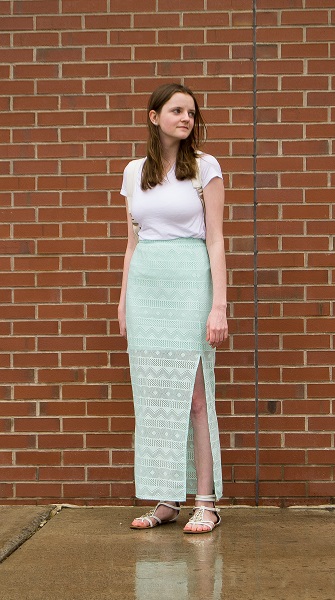 Name: Holly
Year: Junior
Major: Biology
Home State: Pennsylvania
Let's Talk Fashion
Who or what inspires your style? "Mostly other people I see. If I see someone wearing a cute outfit, I'll try to replicate it, but a little different."
Where do you like to shop? "Thrift stores and Forever 21."
How would you describe your sense of style? "Kind of girly. I'm not a big fan or wearing pants, so casual-dressy."
Why did you choose this particular outfit? "I was out shopping with a friend and we were saying how nice mint is and we walked by this skirt and I ended up buying it. I wanted to wear it as soon as possible!"
What fashion advice would you give to other students looking to improve their style? "Wear whatever makes you feel the most comfortable and ask your friends."
What are your favorite trends right now? "Nautical, maxi skirts, and different types of neon colors."
Do you have any favorite fashion designers? If so, who? "I can't say that I do. I don't keep track of fashion designers."
What do you do for fun? Do you have any unique hobbies or interests? "A lot of Netflix and I like going to the beach."
If you could raid anyone's closet, who would it be? "Natalie Dormer from Game of Thrones."
Elements of Holly's Outfit
1. Mint Green Maxi Skirt + Orange Nails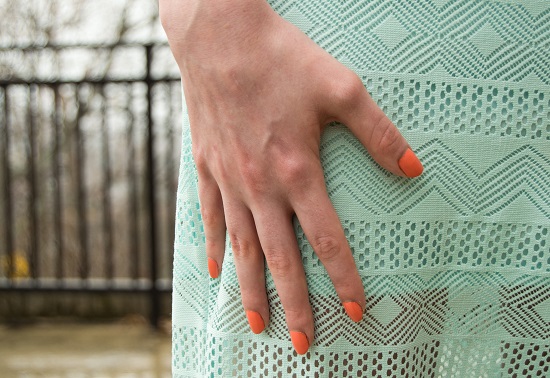 This mint green maxi skirt is the perfect addition to any spring wardrobe. The mint color is fresh while the subtle pattern and side slit keep the skirt fun and trendy. When paired with bold orange accent nails, this outfit is a total winner.
2. White Backpack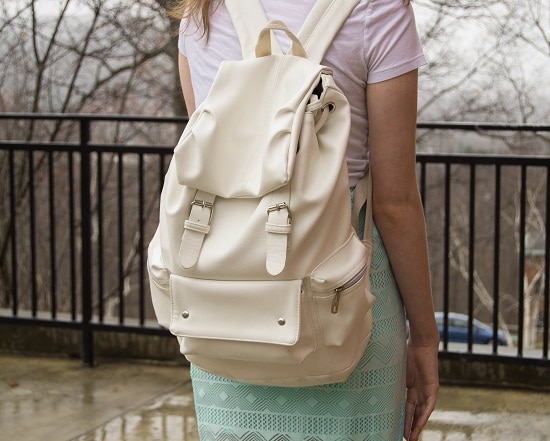 Why not ditch the typical backpack and go for a white leather bag like Holly? Not only would you be able to carry all of your books, but you will be able to tote them around campus with style!
Bonus: white is a versatile color, so you won't ever have to worry about a backpack like this clashing with your outfit.
3. White Sandals with Gold Accents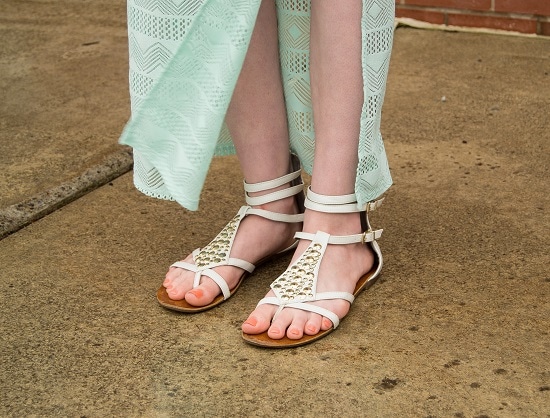 With the temperature rising, Holly proves it's okay to let your feet out from the confines of winter boots. This spring, try white sandals with gold accents for a fresh and sophisticated look.
What do you think of Holly's springtime look?
Would you wear this outfit? Do you love her maxi skirt? What about her white backpack? Leave a comment below and share your thoughts!