Hika, who is a close childhood friend of mine, has always had an incredible sense of style. Much of what she wears sums up everything I love about fashion: Her style is simple, feminine, and edgy, and is a major source of inspiration for me. So when I ran into her over break, I knew I had to interview her for CF! Read on to meet her.
Hika 101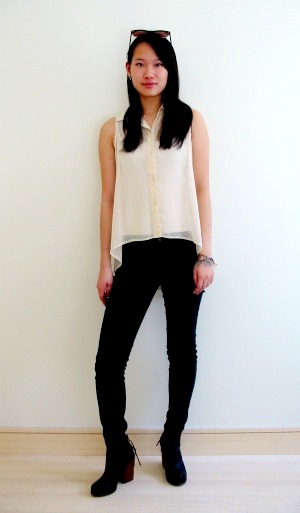 Name: Hika
College: McGill University
Major: Psychology, Minoring in Marketing and Communications
Year: Sophomore
Let's Talk Fashion
How would you describe your style? "I don't want to say the word hipster, but I don't want to say trendy either…but it is kind of trendy. Haha, I don't know – I like to make a statement, I guess. I am not much of a risk-taker, but I see myself as a person who likes to stand out in a more subtle way, if that makes sense."
What inspires your style? "Well, I went to LaGuardia High School where all the girls were cool in terms of fashion, so I was constantly surrounded by that, which definitely affected me. While working at American Apparel over the summer, everybody has to wear American Apparel while working in the store, and it was the first time I had to put together outfits before the morning of. Working at American Apparel was what got me started on wearing things that were weird, yet cool. Going to school in Montreal doesn't really inspire me much because I'm always studying, and I'm not exposed to fashion as much there."
What websites or blogs do you usually check out? "Lookbook, a French one I can't exactly pronounce…and uh, there's one called Wolf Club, which is really cool. A lot of these sites are more photography than fashion tips, so a lot of the photos are of crazy outfits that I'd never wear. But Lookbook is definitely the more wearable one."
What is your favorite accessory or article of clothing? "I recently got these studded earrings from Topshop, and I love them. My favorite thing is pretty much whatever I've bought recently. But something that I have had for a while is a grey shirt from Urban Outfitters which is cut in this really cool asymmetrical way. I can wear that shirt with pretty much anything to make my outfit instantly more stylish."
What stores do you usually shop at? "I shop at American Apparel, Urban Outfitters, Brandy and Melville, Metropolis, and Trash and Vaudeville for Jeans. There's also this vintage store called Monk that has awesome clothes. I recently got a blazer from there that's a vintage Club Monaco for $20. But lately, my go-to store has been Metropolis."
If you could raid anybody's closet, who's would it be and why? "Hmm…I really like Alexa Chung's style, and Rumi from Fashiontoast.com. I love how chic Rumi's clothing is, but my only problem is that she rarely seems to wear colors these days, and I just recently got into color. But her style is exquisite. I like her leather jackets, heels and studded things. Rumi's outfits are easy-to-wear, simple, and beautiful. I think they're the safest out there if you want to look fashionable, but not too over-the-top."
What advice would you give to others looking to improve their style? "Be exposed. I feel like usually the biggest problem is not being comfortable wearing things you're not used to, so just go through blogs and try to find a variety of different fashions. There is no style that is the 'correct fashion' because it depends on the person."
Elements of Hika's Outfit
1. Chiffon Shirt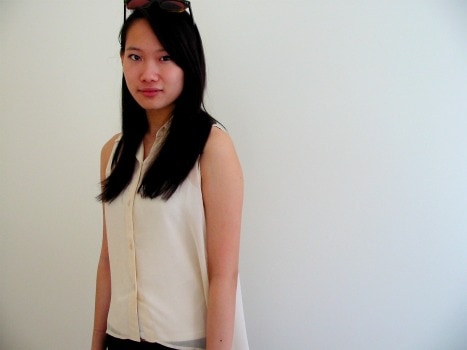 Hika's chiffon shirts are her latest obsession, and they are very easy to wear if you don't feel like dressing up, but still want to look polished. Here, she layers one with a tank top to keep from looking over-exposed.
2. Versatile Boots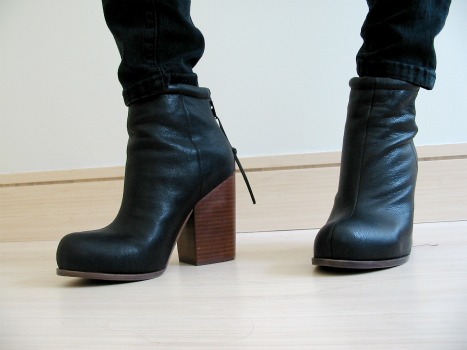 These pair of boots are great to wear with any outfit without looking too extravagant. The wooden heel helps tone down the shoe to a more casual level.
3. Interesting Jewelry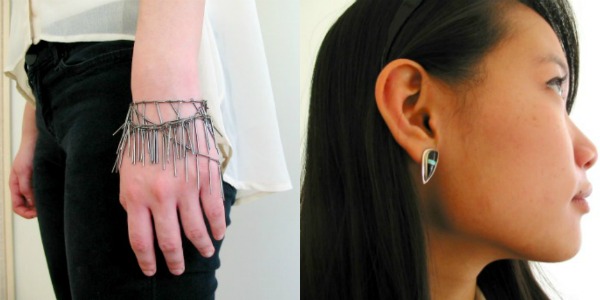 Hika doesn't have much jewelry on, but the earrings and necklace (wrapped around her wrist to be a layered bracelet) are interesting enough to keep from simply blending into the rest of her outfit. One or two favorite pieces of jewelry work well if you're going for a simple look that isn't too minimal.
What do you think?
Which aspect of Hika's outfit is your favorite? What pair of boots are you rocking this season? Do you rock sheer tops? Do you shop at vintage stores? Let us know with a comment!