I spotted Heather sitting outside of a classroom after taking a final at 8:30 in the morning. Her floral skirt and classic coat stood out on campus – most other students were rocking sweats and sloppy ponytails. I knew I had to talk to her and find out how she managed to look so cute so early in the morning!
Heather 101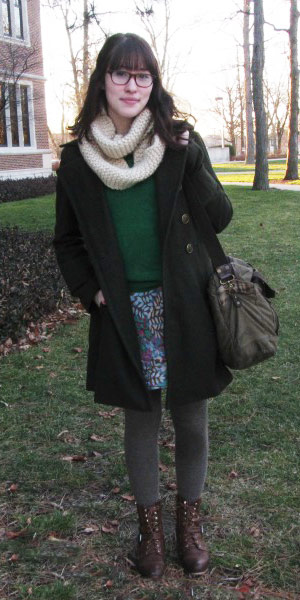 Name: Heather
College: Ball State University
Year: Junior
Major: Psychology
Let's Talk Fashion
Who or what inspires your style? "I'm very inspired by vintage things, and by my grandmother's wardrobe from when she was my age. I also just enjoy anything whimsical."
Where do you like to shop? "I shop everywhere. I don't discriminate against any store. I also really enjoy thrifting and upcycling clothes."
How would you describe your sense of style? "Eclectic."
Why did you choose this particular outfit? "For one thing, it was clean. Also, it's cold out, so I have sweater tights to keep warm."
What fashion advice would you give to other students looking to improve their style? "Don't be afraid to wear what you want, and keep trying new things."
What are your favorite trends right now? "I don't really follow trends, although I will admit that there are a lot of cute boots out there right now."
What do you do for fun – do you have any unique hobbies or interests? "I like going antiquing with friends. We go looking for projects. I also enjoy crafting, blogging, and traveling."
If you could raid anyone's closet, who would it be and why? "Ana Karina, and Jean Seberg. I really like the style from french new-wave films."
Elements of Heather's Outfit
1. Darling Glasses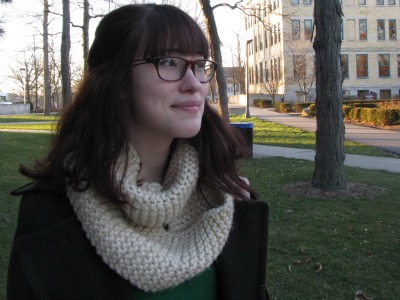 As a fellow glasses-wearer, I fell in love with Heather's frames. The unique shape of the lenses and the details on the side have a really cool effect that pulls her whole outfit together.
2. Strappy Boots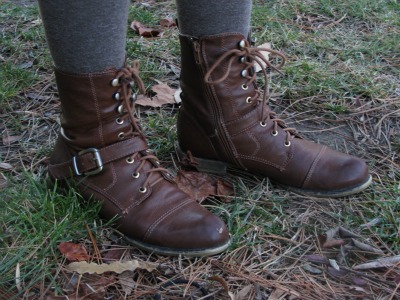 Heather and I discussed our mutual love of boots; we adore them in every style and color. The unique strap detailing on Heather's boots makes them stand out from all the other lace-up boots we've been seeing this season.
3. Military Coat and Hand-Knit Scarf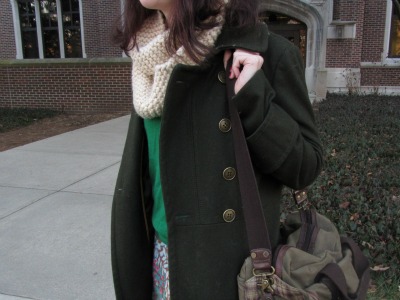 It's hard to resist bundling up in shapeless coats for winter in the name of "staying warm". However, cold weather shouldn't be an excuse to give up on your style. Heather's long coat looked incredibly warm, while still showing off her sense of style. Her chunky scarf (that she made herself!) was another detail that helped pull her whole outfit together, while keeping her toasty.
Your Thoughts?
What do you think of Heather's look? What kind of coat are you wearing this holiday season? Do you know how to knit? Let's decide: can glasses be stylish? Let us know with a comment!