I spotted Harry, a junior at Wesleyan University majoring in Film Studies and Studio Art, on the porch of Russian House.
Harry is a long way from home at Wesleyan – he is originally from Wisconsin, where his passion for sequins and embellishments first began! Harry's interest in the arts, including film and photography, is also apparent in the way he dresses. His unique style is highly creative – Harry finds inspiration in historic icons as well as everyday old ladies. Take a look!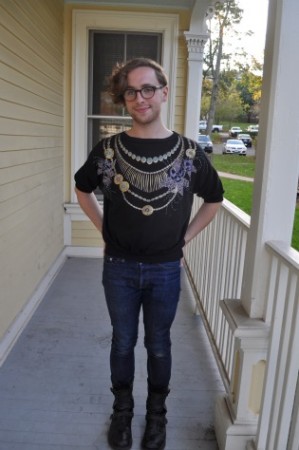 Harry 101
Name: Harry
Hometown: Milwaukee, WI
Year in College: Junior
Who or what inspires your style? "I am inspired by Grace Jones, Amanda Lepore, David Bowie and old women everywhere."
Where do you like to shop? "In a perfect world, everyone would have their own brand of couture, but thrift shopping is the closest I can get for now. With all the money I save, I can afford to buy a few nice pieces from boutiques or vintage stores."
How would you describe your sense of style? "Ostentatious and campy."
Why did you choose this particular outfit? "I am big into embellishments and boots… it is kind of my uniform. I like wearing outfits that can transition from day to night, and this one falls somewhere in between the two."
What fashion advice would you give to other students looking to improve their style? "Just because you don't wear it does not mean you shouldn't!"
What are your favorite trends right now? "Shoulder pads, mixing prints and androgyny."
Do you have any favorite fashion designers? If so, who? "Yes – John Galliano: I love the way he commits to certain themes and is really concerned about the context of his pieces."
What do you do for fun—do you have any unique hobbies or interests? "Photography, drag… and I spend more time online looking at female rappers than I would like to admit."
If you could raid anyone's closet, who would it be and why? "Anna Piaggi: given that she's never worn the same thing twice, I'm sure she'd hardly notice I was there – although I'd surely have a glamour-heart-attack at the sight of all her furs!"
Elements of Harry's Outfit:
Black patterned top: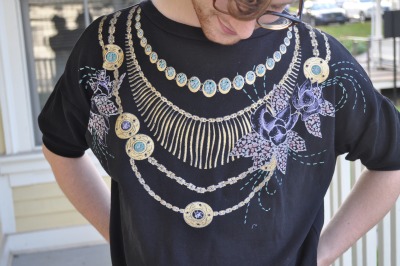 Harry's top is an important component of his outfit: it speaks to Harry's idea of creating outfits that can be worn for both day and night. It is from Value Village in Milwaukee, WI.
Black leather boots: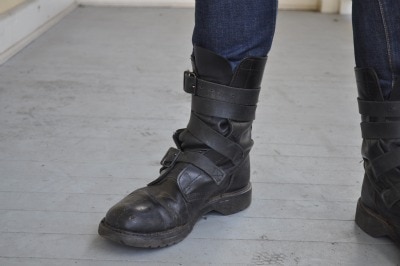 Harry's rough black boots complement his top perfectly, and add some interesting contrast to his look. His shirt is playful and decorative, while his boots are rough and edgy.
Glasses: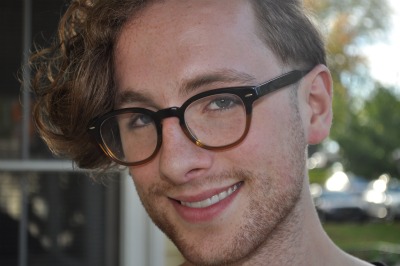 Last but not least, Harry's round glasses, by Giorgio Armani, finish off his ensemble. When I asked about them, Harry told me he alternates between two pairs, and undoubtedly, both are equally stylish! His glasses serve as a quirky and highly individualized accessory.
Share Your Thoughts!
I hope you found this post inspiring and that you loved Harry's style as much as we did! Do you think you could create outfits that transition easily from day to night? What pieces work for you to make this possible? Leave a comment and tell us!