When I first met Hannah, I was in awe of her fashion sense – her outfits are always bold and daring, and she definitely pushes the boundaries of college style. When I saw her wearing this particular outfit on the way to class, I had to photograph her and learn more about her fashionista ways. Read on to learn more about Hannah's sense of style!
Hannah 101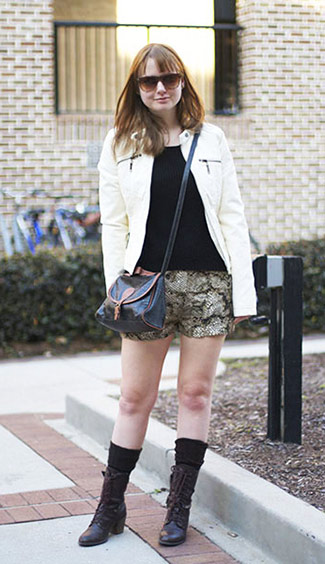 Name: Hannah Barnes
School: Savannah College of Art and Design
Year: Freshman
Major: Animation
Let's Talk Fashion
Who or what inspires your style? "I'm inspired by things that I see in art or in movies. It doesn't necessarily have to be an outfit, it can just be an idea!"
Where do you like to shop? "I like shopping at stores that sell one-of-a-kind pieces. I really enjoy going into thrift stores and shopping at the local boutiques around Savannah."
How would you describe your sense of style? "I would describe my sense of style as eclectic. It definitely depends on the day and the mood I'm in. I like to mix girly styles with edgier pieces [to tone down the girliness]. I definitely dress to be comfortable, too!"
Why did you choose this particular outfit? "I chose this outfit because I love to mix neutral colors together. I also like that this look has a bit of an edge to it, so it's not too girly and feminine."
What fashion advice would you give to other students looking to improve their style? "Focus on getting unique pieces and center your outfit around them by layering."
Do you have any favorite designers? If so, who? "I don't have any favorite designers. I like to focus on the individual pieces over the brand or the collection – that way, I can put together something that is personal and unique to me."
What do you do for fun? Do you have any unique hobbies or interests? "I enjoy creating art in any form — drawing, painting, sketching. I also love going to art museums and exhibits."
If you could raid anyone's closet, who would it be and why? "Zooey Deschanel! She has a girly, feminine style with a vintage flair to it that I absolutely adore."
Elements of Hannah's Outfit
1. Simple Pieces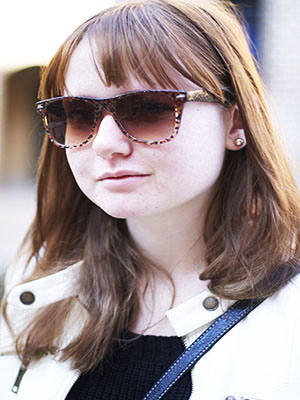 Hannah created a great contrast by pairing a simple black oversized sweater and a white leather jacket. The combination allows the bold pattern of her shorts to pop. She kept her accessories sweet and simple: subtle gold studs and a pair of tortoiseshell wayfarers are perfect for her life on the go.
2. Lace-Up Boots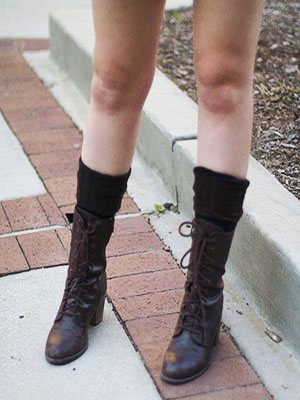 Hannah's brown leather high-heeled boots and chunky socks really tie the look together. Her footwear also adds a hint of edge in her outfit and keeps it from being too feminine for Hannah's taste.
Your Thoughts?
What do you think of Hannah's look? Are you obsessed with her boots as much as we are? What's your opinion of white leather? Let us know with a comment!