Bonjour! While on a family trip in Avignon, I spotted a girl walking confidently in her zebra-print maxi dress. When I finally had the guts to approach her in French, I realized she's actually an American girl! I don't know if it's France that refined her style or the fact that all fashionistas naturally gather together in the fashion capitol, but I knew I couldn't wait to learn more about Hannah and her style.
Hannah 101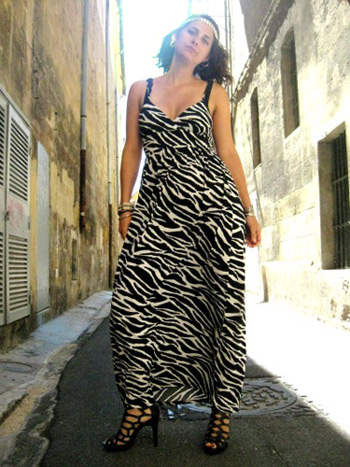 Name: Hannah
Year: Senior
Major: Biology and French
Hometown: Chicago, IL
Hobbies/Interests: "Running, volleyball, vegan cooking/baking, reading magazines, volunteering, anything French, going to museums, and watching movies."
Let's Talk Fashion
How would you describe your style? "Mix of retro sexy and bohemian with a slice of sex appeal. I like to show skin, because I think the human form is beautiful, and I'm always warm! I love chunky gold jewelry and weird prints from leopard to paisley."
Who or what inspires your sense of style? "Too many people to count. Classics like Brigitte Bardot and Jackie O. to Ke$ha and Lady Gaga. Super models like Kate Moss and Gisele Bundchen, Erin Wasson, Daria Werbowy, so effortlessly beautiful. I also read magazines like Vogue, W, and Elle."
Where do you like to shop? "Vintage/Salvation Army, Urban Outfitters, Nordstrom, Forever 21."
Any fashion tips? "Be yourself, be comfortable, be confident, and don't be afraid to take risks."
What motivates you to dress up? "It's fun! Fashion is artistic; it's expressive but incredibly vain and I love it."
What trends are you loving this season? "I'm loving the long silhouette, in particular maxi dresses in animal prints from Cavalli to the knee-length pencil skirts of Versace."
Elements of Hannah's Outfit
If I had to choose one thing I love the most about Hannah's outfit, it would have to be its simplicity. Although this outfit almost seems difficult to replicate at first sight, it is actually easy to mimic such a sexy and chic look even on a lazy day. Below are the standout elements of Hannah's ensemble.
1. Animal Print Maxi Dress
The maxi dress has been enjoying its popularity before summer started, and I'm sure many of you have been experimenting with this trend or rocking it already. Hannah proves again how simple it is to pull off the trendy maxi dress even if you've only got a few minutes to get ready in the morning – just add choice accessories and go.
Also, I love that Hannah's dress is zebra print – it adds a little something extra and makes the look really stand out. And if zebra print is too snazzy for you, try the print in an inconspicuous accessory first!
2. Chunky/Bohemian Accessories
One of the biggest advantages of a simple outfit is the amount of creativity we can use in accessories. To keep her outfit simple, all of Hannah's accessories are gold and bohemian, which cleverly complement her zebra maxi dress. I'm absolutely obsessed with her statement-making headband and leaf-shaped bracelet – they're so unique and fabulous!
What do you think?
So what do you think of Hannah's zebra maxi dress? Do you love her bohemian accessories as much as we do?What would you wear in France? Let us know with a comment!