I spotted Haley enjoying the beautiful weather we've been having in Columbia lately, and she was looking quite fashionable doing so. Haley's colorful, flowery ensemble reflects how beautiful Mizzou's campus looks this time of year and how students' style amps up when the temps go up.
Haley 101
Name: Haley
Grade: Sophomore
Major: Business Marketing and Art
Hometown: St. Joseph, MO
Let's Talk Fashion
Who or what inspires your style? "I honestly don't have an inspiration for my style. I like things that are flattering on me."
Where do you like to shop? "I like to shop at cute little boutiques downtown in Columbia, Pacsun, and American Eagle."
How would you describe your sense of style? "Carefree, go with the flow, [and] comfortable."
Why did you choose this particular outfit? "I have recently gotten into rompers, and I really liked the floral pattern and colors on this one."
What fashion advice would you give to other students looking to improve their style? "I personally am always trying to improve my style, so I look on Pinterest and ask others that I know are very fashionable where they shop. I would advise those that are afraid to go outside of their comfort zone to try things they would not normally wear."
What are your favorite fashion trends right now? "Some of my favorite fashion trends right now are layering simple necklaces and bracelets. I love rompers and booties to dress up any outfit."
What do you do for fun – do you have any unique hobbies or interests? "I love to be active outside whether it be working out or playing sports. I enjoy doing crafts, going to Hobby Lobby, and working on my web portfolio."
If you could raid anyone's closet, who would it be and why? "Hmmm…that's a hard one. I would raid Ellie Goulding's closet for an edgy concert look, Vanessa Hudgen's for a boho, fashionable look, and Lauren Conrad's for a classy and cute everyday look."
Elements of Haley's Outfit
1. Flowy Ruffles & Matching Nails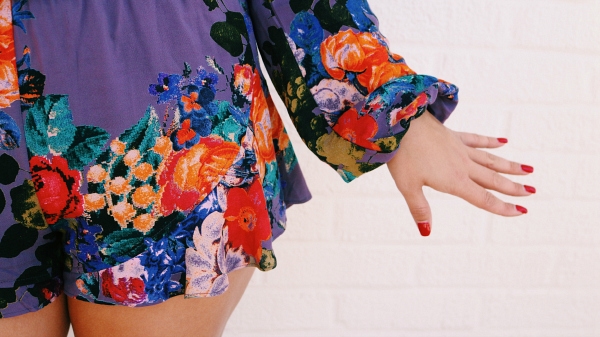 Since the temperature is constantly changing, rompers are perfect for springtime. Haley's long-sleeved, jewel-toned romper is a nice mix between girly and boho. Also, not only do her bright red nails match the flowers found on the romper, but it's a classic mani color that is versatile enough to work with many types of outfits.
2. Layered Necklaces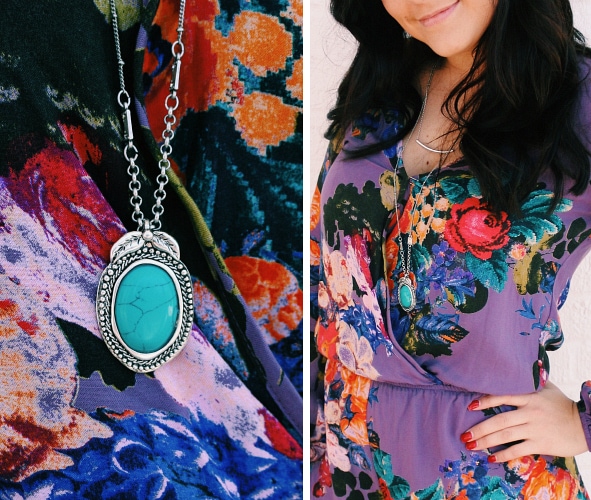 Layering necklaces has become a new option for those who feel a statement necklace is just too bold or bulky for their look that day. Haley demonstrates this trend with a platinum gold curved bar necklace and a boho turquoise pendant.
What do you think of Haley's bright romper?
Do you like her adorable look? Would you wear a floral print romper? What do you think of her layered necklaces and wedges? Comment below and share your thoughts!