Staying warm and maintaining good style while walking to class in the winter can be a difficult task. However, Haley's winning combination of a comfortable sweater and classic boots have her feeling cozy and looking cute on campus at Eastern Illinois University.
Haley 101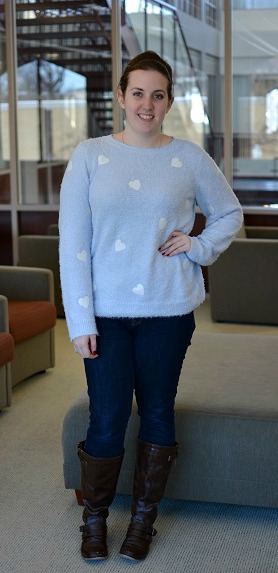 Name: Haley
Year: Junior
School: Eastern Illinois University
Major: Communication Studies
Let's Talk Fashion
Who or what inspires your style? "I see various different styles in the media, but mostly it's just sort of when I'm at the store and whatever I'm feeling that day."
Where do you like to shop? "A variety of places. I used to really like Forever 21, but I'm trying to move past that into a little bit more mature of a style. I actually find a lot of stuff at JCPenney that I really like."
How would you describe your sense of style? "It depends on the season, I guess. Sometimes I've had people tell me I'm a hipster, but that is only certain outfits. It depends on my mood for that day. In the winter, I really like cozy big sweaters, but during the summer I'll go a little bit more casual with sundresses and Converse."
Why did you choose this particular outfit? "My biggest thing that guides my style is I'll go through color kicks. So right now, I really like powder blue, so that's why I went with this big, cozy sweater for winter."
What fashion advice would you give to people who are looking to improve their style? "Just stay true to yourself. I think it's really important. That's all I do, just whatever I'm feeling when I walk into a store. And try not to look crazy, but don't let what other people are going to think of you influence you. Be comfortable with what you're wearing."
If you could raid anyone's closet who would it be and why? "I really like Demi Lovato. She's a little edgier and it's not something that I typically portray, but it would be cool to change things up."
Elements of Haley's Outfit
1. Heart Print Sweater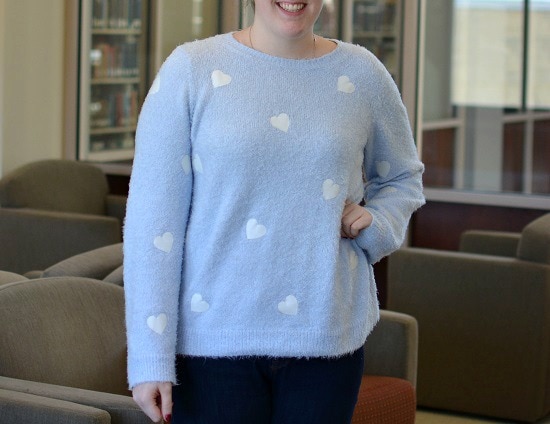 This powder blue sweater from Kohl's is such a cozy piece to wear during long winter days. We love the idea of wearing pastels during the colder months of the year because it stands out in a sea of darker-colored clothes.
2. Flat Boots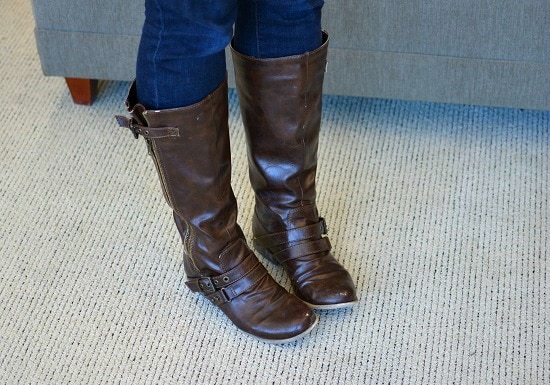 These classic riding boots are perfect for the cold weather here in Illinois, and are casual enough for a day spent on campus. The dark brown hue also creates a nice contrast against the lighter colors found on Haley's sweater.
What do you think of Haley's outfit?
Would you wear her cozy, pastel sweater? What about her riding boots? Comment below and share your thoughts with us!