Grainne is a nutrition major at the University College Cork in Ireland spending the summer here in Massachusetts. I met Grainne shopping in town and asked her about her sense of style and how fashion in Ireland compares to that in the United States.
Grainne 101
Name: Grainne
Year: Junior
School: University College Cork, Ireland
Let's Talk Fashion
Where do you like to shop? "I love Topshop and River Island. That's where my shorts are from. I also like to shop at local vendors and try secondhand stores. This necklace is actually an antique from my mother. You can also find good steals at discount stores like [JC]Penney's, which is where I found my scrunchie."
How would you describe your sense of style? "I would describe my style as a mix of classic silhouettes with modern accessories. Trends continue to change, but a few staple items that are flattering will last you far longer."
Why did you choose this particular outfit? "I was just out getting coffee in town so this outfit was casual without looking sloppy. The silhouette is flattering without being too trendy."
What are your favorite trends right now? "I like to keep my pieces simple and classic, so basic white pieces and statement nail styles are my current go-to. White gives a summer vibe while allowing for a pop of color, while nails can provide a unique accent to any outfit."
What do you do for fun? Do you have any unique hobbies or interests? "I'm here on a summer visa, so while I'm on break I'll be waitressing on the Cape and traveling the US as much as possible."
What fashion advice would you give to students looking to improve their style? "Try different looks! Experimenting is such a huge part of fashion. If you want to pull something off, all you need is the confidence. Just have fun with it and [don't] take it too seriously and you will find the right look for you."
Elements of Grainne's Outfit
1. High-Waisted Shorts + Slashed Sleeves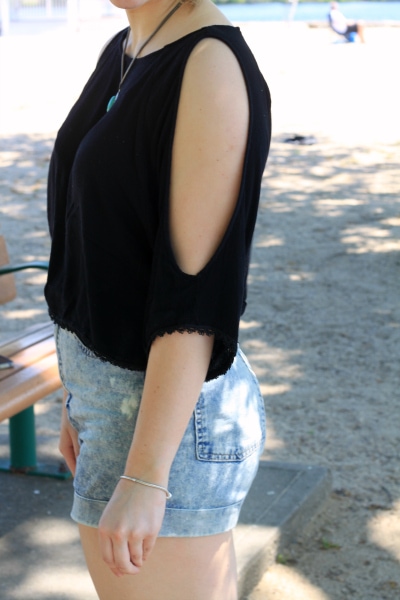 Grainne manages a classic but trendy look with high-waisted shorts, a black top, and Birkenstock sandals. The open sleeves on the shirt add interest to an otherwise basic black tee, while the acid wash shorts amp up the trendiness. There's no denying it: this outfit just screams "summertime!"
2. Turquoise Pendant
Grainne accessorized her classic look with personal items, like her mother's turquoise necklace. It adds a vintage flair and stands out nicely against her black top.
What do you think of Grainne's look?
Are you a fan of acid wash shorts? Would you wear this look in the summer? Comment below and let us know what you think!