Most students prefer to "bum it" over winter break while home from school, but I spotted Grace in a casual yet cohesive look on an unseasonably warm day in January. Her look was effortlessly gorgeous and we can all take style cues from her weekday outfit.
Grace 101
Name: Grace
School: Creighton University
Year: Freshman
Major: Exercise science/Pre-Med
Hometown: Iowa City, IA
Let's Talk Fashion
Who or what inspires your style? "I'd say I take fashion inspiration from as many places as I can. I'm always the first to ask where a girl got her cute boots or her awesome scarf. Also, I couldn't go a week without Pinterest. Whenever I have fashion questions or need some new inspiration Pinterest is always my go-to."
Where do you like to shop? "My favorite places to shop overall are probably Von Maur or Francesca's, but I also love finding new boutiques or places to shop. Although you know I'm obviously heading straight to the sale rack."
How would you describe your sense of style? "In general I would say I dress a bit 'preppy,' but my fashion sense overall is sort of like my music sense; every different occasion goes with a different outfit and playlist."
Why did you choose this particular outfit? "Mostly I chose this outfit because it incorporates my favorite things from my closet: boots, jeans, sweaters, and scarves. Also, I knew I was going to be outside, so staying warm while not looking completely like a layered marshmallow was important for me. Winter is the perfect season for me because I love to layer, so all outfits give me the excuse to wear a minimum of three layers."
What fashion advice would you give to other students looking to improve their style? "Don't be afraid to try new things! My sister used to always say to me, 'You can rock any outfit as long as you believe it!' and as cheesy as that sounds, it is completely true. Draw inspiration from everywhere and don't worry if you look ridiculous; trial and error is the best way to find what fits you."
What are your favorite trends right now? "I'm wearing one of my favorite trends right now actually: my 'work' boots are new to my closet and I love them! I also am a big fan of mixing patterns and colors that normally wouldn't go together."
Do you have any favorite fashion designers? If so, who? "I have never seen a Lauren Conrad design or outfit that I didn't like. Also, although I could never afford to wear one of his dresses, I think the dresses that Zac Posen designs are incredible. Each one of them is so different and he seems like such a cool guy."
What do you do for fun – do you have any unique hobbies or interests? "Anytime I can be active I know I'll be having a good time. I love to run and play soccer, but I also would never turn down a spontaneous dance party."
If you could raid anyone's closet, who would it be and why? "As I said before I love Lauren Conrad's style, so I would love to see what she keeps around, but I also am obsessed with the crazy combinations Stacey Bendet, the designer of Alice + Olivia, puts together. Even meeting either of those two people would be incredible."
Elements of Grace's Outfit
1. Faux Timberlands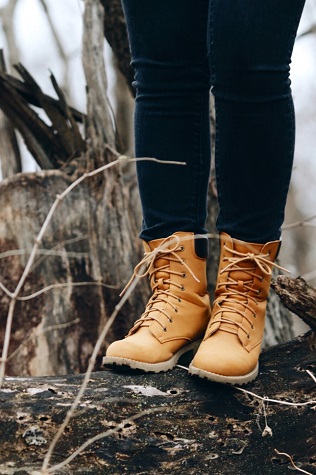 These boots are an incredibly versatile piece in Grace's closet and she has worn them with everything from a dress to leggings. I think the "menswear for girls" trend has become a classic and nicely offsets the feminine aspects of this outfit.
2. Plum Lipstick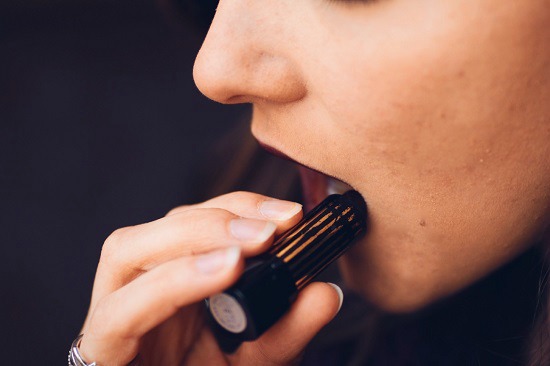 Grace actually raided her grandmother's makeup cabinet for this element of her look. The lipstick's bold, dark hue also matches perfectly with the beautiful scarf in her ensemble.
3. Wool Infinity Scarf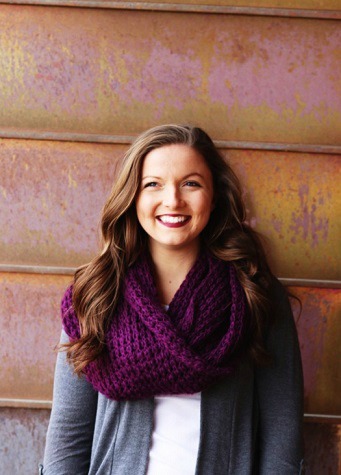 Bundling up doesn't always have to include boring, bulky layers. Grace's chunky scarf provides a pretty pop of color, but is also functional since it provides warmth.
Would you wear Grace's look?
Do you love her plum-colored lipstick and scarf? What do you think of the work boot trend? Comment below and share your thoughts!