I spotted Georgea as she was heading back to her apartment after another one of her endless exams. Even during finals (the semester is about to be over here in Brazil) she managed to look polished and trendy. A girl that keeps up her style during these stressful situations? That's dedication– and a love for fashion!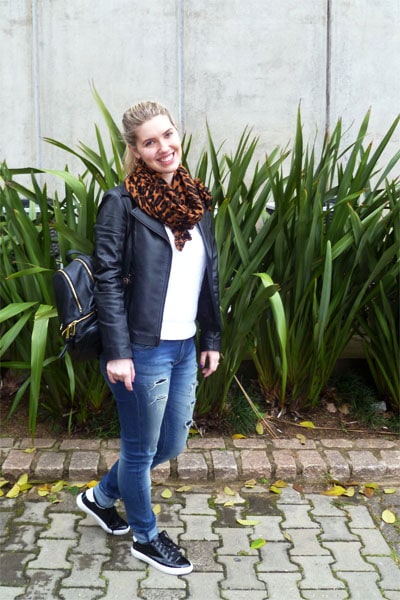 Georgea 101
Name: Georgea
School: Pontifícia Universidade Católica do Rio Grande do Sul (PUCRS)
Year: Second
Major: Medicine
Let's Talk Fashion
Who or what inspires your style? "I'm always reading fashion blogs and websites. I don't have a favorite kind of style, so I like to read and look at a bit of everything. I love getting ideas from looks I see online and adapting them to my everyday style."
How would you describe your sense of style? "I don't think my style is very defined. I love versatile pieces that I can wear with both classic and modern outfits. I guess for me, in the end, the most important thing is to feel good in what I'm wearing."
What are your favorite trends right now? "Right now, I'm really loving sneakers! They're so comfortable and can transform a basic composition into a stylish outfit."
If you could raid anyone's closet, who would it be and why? "I'd certainly raid Chiara Ferragni's, an Italian blogger [The Blonde Salad]."
Elements of Georgea's Outfit
1. Animal Print Scarf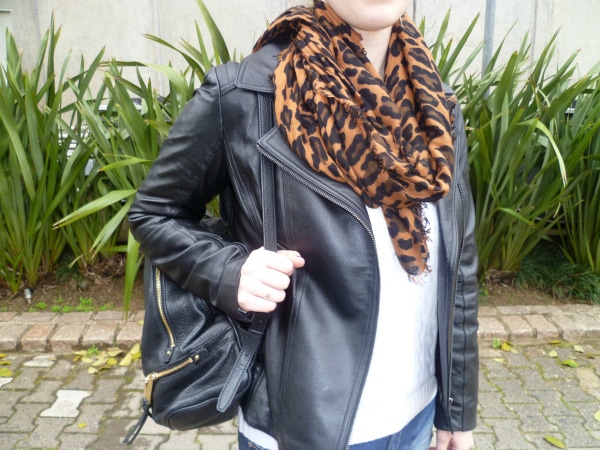 Georgea brings life to an otherwise neutral look with her leopard print scarf. Wearing printed accessories rather than, say, a dress, is a great way to try something bold without having to get out of your comfort zone. Also, this scarf is ideal for people who, like Georgea, live in cities where the weather is quite unpredictable.
2. Leather Backpack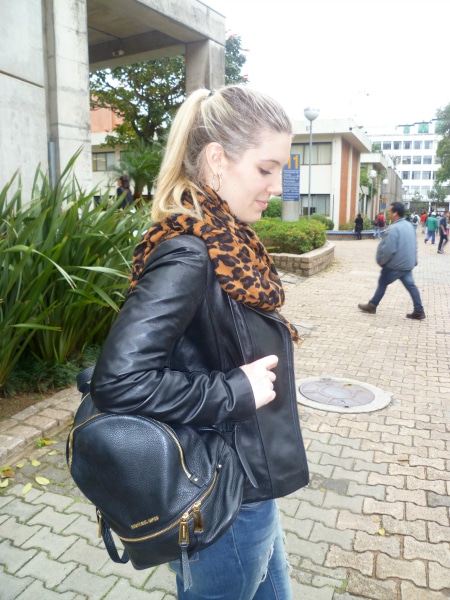 Every college student should invest in a good backpack. Georgea's leather Michael Kors knapsack instantly adds polish to any look, yet it's still comfortable and easy to carry. Another style tip we can borrow from Georgea? Choose to invest in a neutral-colored bag. You'll wear it much more frequently than one with something like pink flamingos on it (yep, that one's on me).
3. Leather Sneakers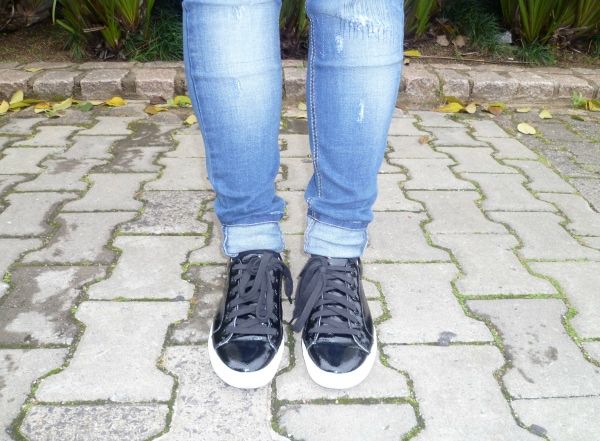 Much like Georgea, I'm loving the whole sneakers trend. It's truly a blessing for college students who have to run from building to building with whatever energy they got from that last cup of coffee. If you like these shoes, here's a pair of Steve Madden sneakers that look similar to Georgea's.
What do you think of Georgea's style?
Are you also loving sneakers? During finals, do you just not care about what you wear or do you still try to have fun with your looks? Comment below and share what you think!