I ran into Genesis on a particularly dreary winter day. Surrounded by students wearing rain boots and leggings, Genesis stood out in bright and playful colors. She brought her floral dress into the winter season through interesting layering, and she definitely showcased her personal style. Read on to learn more about Genesis!
Genesis 101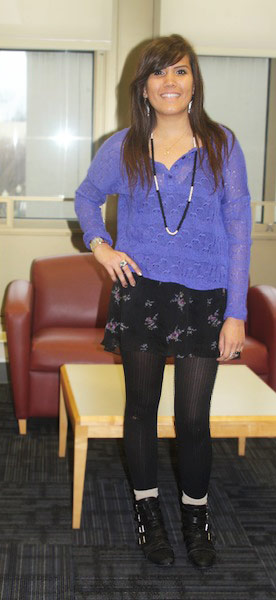 Name: Genesis
College: American University
Major: Film and Media
Hometown: Diamond Bar, CA
Year: Senior
Hobbies: Photography, going to concerts, and visiting museums
Let's Talk Fashion
Who or what inspires your style? "Zooey Deschanel and Mary-Kate Olsen. I'm inspired by grunge, and I also love to seek out unique pieces that no one else has."
Where do you like to shop? "I like thrift stores, consignment shops, [and for mainstream shopping], Urban Outfitters, and Zara."
How would you describe your style? "My sense of style is my own. I would say the only constant is that I never wear pants."
What fashion advice would you give to students looking to improve their style? "Don't be afraid to venture out of your comfort zone. You can pull something off if you think you can. It's all about confidence."
Do you have any favorite fashion designers? "Alexander McQueen, hands down. I will also always love Chanel bags."
If you could raid anyone's closet, whose would it be and why? "My mom's. I do that already, though! I also love Leandra Medine of the Man Repeller, because she doesn't listen to fashion rules. She wears what she wants, and her confidence makes it look great!"
Elements of Genesis's Outfit
1. Crocheted Top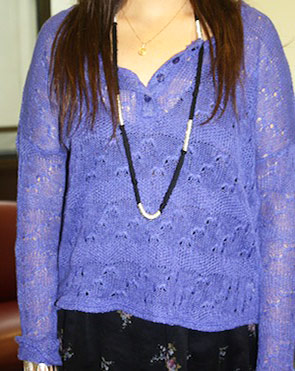 Genesis channels this season's lace trend with a vibrant crocheted shirt. Slightly warmer than the lace alternative, this shirt is a funky and vibrant cover-up. I particularly love that Genesis wore it over a floral dress!
2. Floral Dress and Ribbed Tights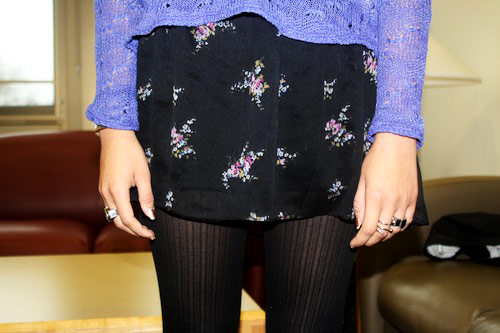 Genesis brings her floral patterned dress into winter by pairing it with season-appropriate ribbed tights. The ribbed tights add another interesting layer of texture to her outfit.
3. Sequined Backpack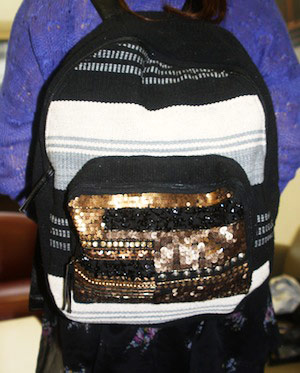 I immediately fell in love with Genesis's sequined backpack! The colors are simple enough to go with almost everything, and the sequins elevate the backpack into a statement accessory.
Your Thoughts?
What do you think of Genesis' look? How do you incorporate floral patterns into your style? Do you love Genesis' sequined backpack as much as we do? Let us know with a comment!