What started off as a shopping day with my best friend Gabs quickly turned into me obsessing over her outfit. It was my day off from Nordstrom, where I work as a salesperson, when I called up Gabs and asked if she wanted to go to some of our favorite stores in Georgetown. The answer was obviously yes.
As you can see, Gabs' style is distinctive and fun. She's sure to carefully choose each piece she wears, from her necklace to her sandals, achieving an aesthetic that makes you look twice.
Gabs 101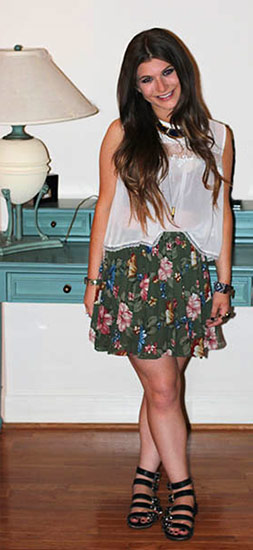 Name: Gabs
School: University of Maryland
Major: Business
Activities on Campus: Delta Phi Epsilon Sorority
Hometown: Potomac, MD
Year: Junior
Let's Talk Fashion
Who or what inspires your style? "My grandma really inspires me. She loved to wear a classic bag and a bright lip – she always looked flawless. I'm also really inspired by bohemian styles and vintage pieces."
Where do you like to shop? "Most of my favorite stores are in New York since that's where the fashion is! I love to shop at LF, Brandy Melville, Urban Outfitters, Topshop, Nasty Gal, and Etsy for anything vintage or homemade."
How would you describe your sense of style? "I would say my style is largely a mixture of bohemian and vintage styles."
Why did you choose this particular outfit? "Well, I was going shopping in Georgetown (one of the more cultural and fashion-forward areas around here) and it's such a hot day so I wanted to keep cool but also look trendy at the same time. This flowy skirt is cool and the floral pattern is a popular trend this summer. White is always the color of summer, so I knew I couldn't go wrong with this sheer top. I love chunky necklaces as well – black and gold all the way!"
What fashion advice would you give to other students looking to improve their style? "Not all fashionable pieces are expensive. There are lots of stores that have a great prices and carry lots of items that are versatile and can be mixed and matched."
What are your favorite trends right now? "Oversized sweaters and maxi skirts. I also love anything lace, cream-colored, or featuring peacock feathers or prints."
Do you have any favorite fashion brands? "Yes! Marchesa is my absolute favorite. The detailing and beading are to die for. Each dress is a piece of artwork."
What do you do for fun – do you have any unique hobbies or interests? "I am a makeup artist. I love doing makeup and I am interning this summer under a makeup artist near where I live. Besides that, my hobbies include shopping and surfing the internet for fashion blogs."
If you could raid anyone's closet, who would it be and why? "Vanessa Hudgens! She has a very, very bohemian sense of style but to me, she never looks sloppy. Her style is tasteful but she takes a lot of risks in her outfits!"
Elements of Gabs' Style
1. Silver Metal Cuff & Boho Style Ring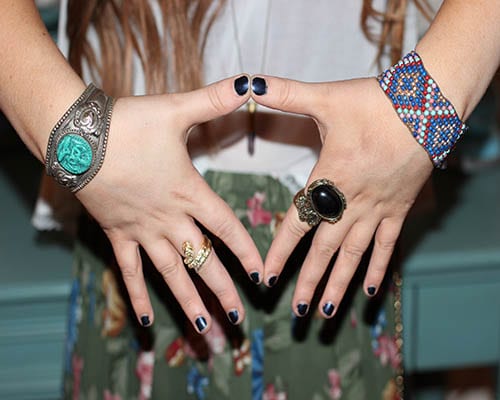 "Arm candy" is what Gabby calls her jewelry, adding that '"no look is ever complete without some." Today she was feeling the chunky look, as you can see from her thick metal necklace to her black and gold ring. As you can see, she also loves to mix metals. "Never feel afraid to mix gold and silver jewelry. I do it all the time and it blends together, creating an artsy look," Gabs said.
2. Black Gladiator Sandals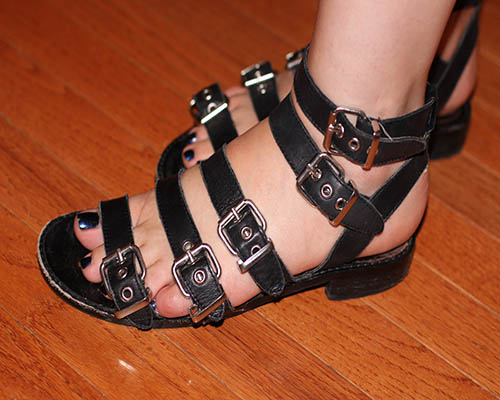 The gladiator sandal is an easy go-to shoe for spring and summer, and Gabs chose a chunky heeled pair for a hint of height and a fun take on the trend. The silver buckles on these straps spice up the sandals, giving them an edgier look.
3. Vintage Chanel Handbag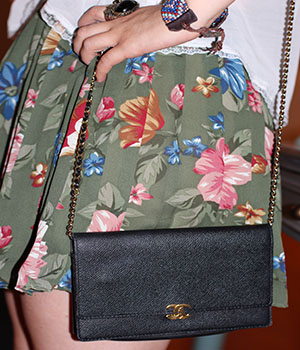 "Since this was once my grandma's bag and because I adore anything vintage, this bag is perfect for me," Gabs explained.
As always, you can't go wrong with a classic black bag. The twisted chain on this one adds flair, while its size makes it perfect for toting your choice essentials for a night out. With its lengthy chain, this bag can even be worn cross-body if you want to switch up your look.
Your Thoughts?
What do you think of Gabs' look? Do you love Gabs' vintage bag as much as we do? What kind of jewelry are you wearing this summer? Let us know with a comment!