Gabrielle considers herself to be new to style and fashion, but she looks like an old pro. Her blue hair caught my eye on campus before, and has rapidly become her signature look.
Friendly, adorable, and smart, Gaby wants to be a doctor so she can help others. While she still is learning about fashion, she was full of tips for developing a signature style that will help other students before she even walks into medical school.
Gabrielle 101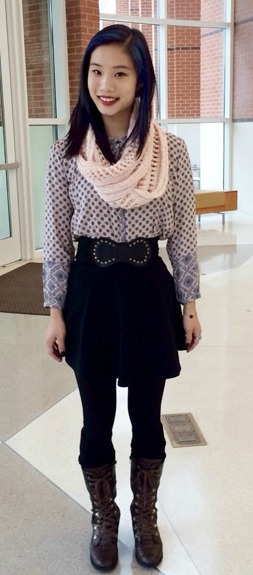 Name: Gabrielle
Year: Junior
Major: Biology/Psychology
School: DePauw University
Let's Talk Fashion
How would you describe your style? "It's simple but interesting. I like to dress cutesy but practical."
Where do you like to shop? "I mostly shop at little boutiques, especially Asian ones. People think they have less variety than bigger stores, but they really have fewer quantities of less uniform things. Instead of a whole rack of the same scarf, every item will be unique. You can find some really interesting and eye-catching things."
What does fashion mean to you? "I really don't consider myself very fashionable. I started paying more attention to my clothes last summer. Before that I dressed more like a tomboy. But I've matured more and am attending more formal events, so I'm becoming more conscious of my image.
When I put together cute outfits, it makes me feel good and boosts my self-esteem. I've also noticed that when I'm dressed up more people will come up to talk to me, which really makes my day. When I look good, I feel good!"
What kind of styles do you like? "I really like business casual. I love the look of blazers and I wish I could wear business clothes all the time. I also like the Asian cutesy oversized look. I'm from California, so there are a lot of little Asian boutiques with cute pieces where I live."
Who inspires your style? "I have a really stylish family! My parents have different styles, but they work together really well. They're always pointing out cute things when we're shopping together."
Do you have any tips for boutique shopping? "Look carefully. Nothing is the same in boutiques, so you can't shop the same way that you would in a department store. In larger stores you can look for things in chunks because they'll group similar things together. In boutiques, everything is different, so you need to look at each individual item. Be patient; it's worth it."
What advice do you have for people looking to start developing their style while remaining true to themselves? "Go through your closet and take out the things that you don't want anymore. You don't need to get rid of everything. Keep the things that you really love and use them to transition into a new style. I really love t-shirts so I kept my favorite ones, and I've worn them with new pieces to create outfits while remaining comfortable in my new clothes.
When you've decided what you're going to keep in your wardrobe, keep those pieces in mind while you're shopping for new things that will work with them. But most importantly, have fun with what you wear. Pretend you're playing dress up."
What are your hopes and dreams? "I want to hopefully go to med school and become some kind of doctor. I want to help people so I can do something really meaningful with my life. I also want to dress nicely every day and move back to California. I would really like to live in San Diego!"
Elements of Gabrielle's Outfit
1. Leg Warmers + Combat Boots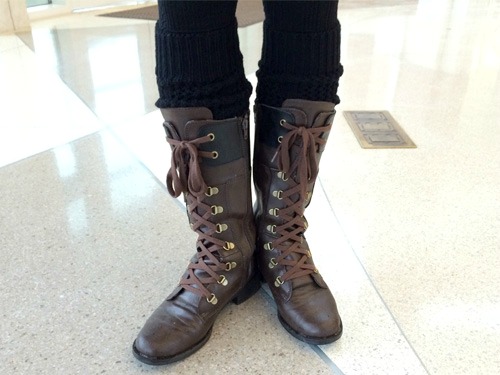 Think leg warmers were left behind in the '80s? Not anymore! Gaby is bringing 'em back with these Francesca's leg warmers, which have a cozy flair. Leg warmers are a great way to fill the gap at the top of boots. She prefers ones with a non-linear pattern, so she doesn't have to worry about the lines becoming distorted and wavy throughout the day.
Gaby also loves combat boots, and these fabulous lace-up boots appeal to her sense of style and keep her warm throughout Indiana's harsh winters.
2. Colorful Yet Neutral Scarf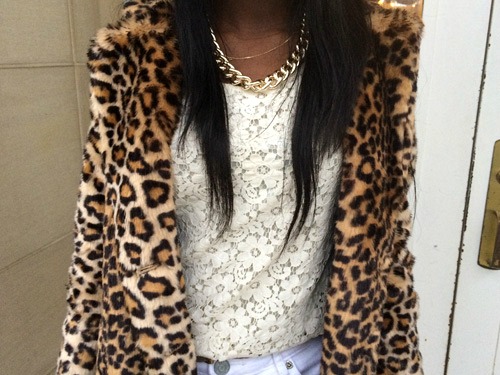 Finding a scarf that works with everything doesn't have to mean wearing black. This baby pink scarf brings color to Gaby's outfit, but is also understated enough to act as a neutral against the various patterns and textures in this look.
3. Eclectic Jewelry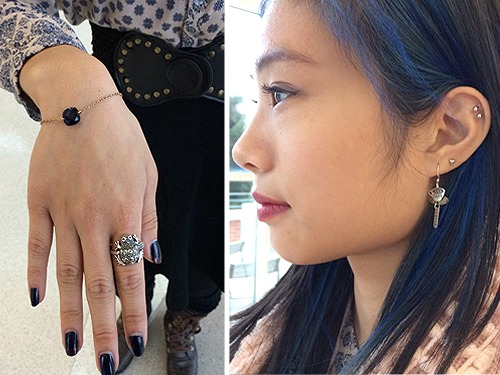 Gaby's accessories are nothing but adorable. I was devastated to find out her coffee cup earrings are from a boutique in California, because I wanted to snatch up a pair for myself! Her elegant bracelet is from Spain. She has a keen eye for style after scouring boutiques for interesting pieces, and this frog ring proves that you can find treasures in unlikely places (like Costco!), much like Gabrielle herself.
Do you love Gabrielle's adorable outfit?
Are you a boutique treasure hunter? Are you also rocking leg warmers this winter? What are your tips for developing your personal style? Were you also disappointed that her earrings are one-of-a-kind? Let us know in the comments!