As I debarked the plane from New York to Nicaragua, I met my friend and fellow fashionista, Gabriela. She's always had an impeccable sense of style; her mother runs a local boutique with original fashions. Not only is Gabriela a great artist, but she's a great dresser, too!
Gabriela 101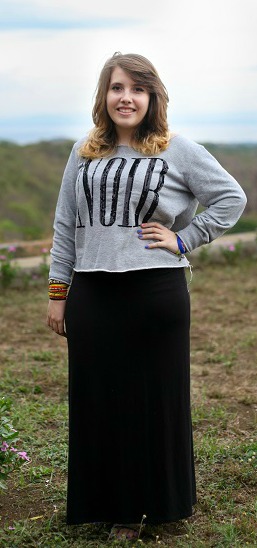 Name: Gabriela
Year: Sophomore/Gap Year
School: Massachusetts College of Art and Design
Major: Painting and Fibers
Hometown: Managua, Nicaragua
Let's Talk Fashion
Who or what inspires your style? "It's kind of a combination of Nasty Gal and things I see on Pinterest. I'm inspired by people I see on the streets. Whenever I see someone wearing something I like, I think, 'Oh, I could try that.'"
Where are your favorite places to shop? "American Eagle, Marshall's. I love Free People, but I can't buy anything there because it's too expensive."
What are your favorite trends? "I love high-waisted things and cut-outs."
Do you have any unique hobbies or interests? "I'm obsessed with playing the ukulele right now. I've been playing for two months, maybe a little more?"
Do you have any favorite designers? "Not really; I just really love the creative directors at Free People. I love how they design their stores and how they present their clothing lines."
Elements of Gabriela's Outfit
1. Graphic Sweater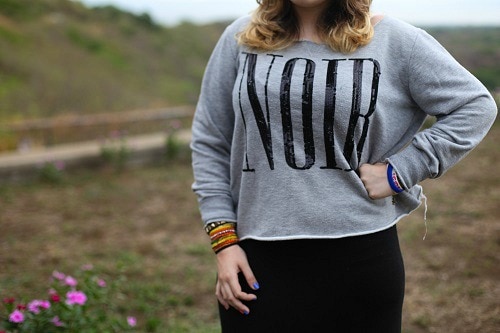 Gabriela pairs a beautiful high-waisted black jersey skirt from Guess with a comfy gray sweater. The looseness of her graphic sweater complements the length of the skirt, and makes for a comfy yet chic ensemble. In addition, the black of the skirt and the idea of noir on top adds a sense of worldly allure.
2. Metallic Sandals and Bright Polish
Gabriela's shoes are reminiscent of snakeskin and are lined with a touch of black, which really makes the texture pop. These metallic sandals pair nicely with the outfit, and add a summery touch. We also love how her bright blue nail polish adds a fun splash of color against the neutral-hued shoes.
3. Stacked Bracelets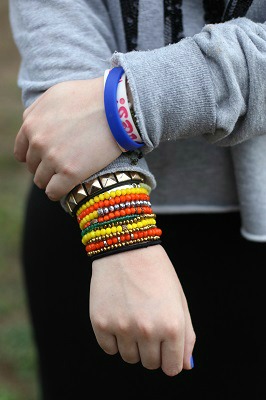 As far as accessories go, Gabriela combined texture and color for a unique arm party. The beaded bracelets come from her mother's boutique, Spices & Sugar. They are handmade, and the bold colors really stand out against her otherwise monochrome outfit.
4. Ombré Hair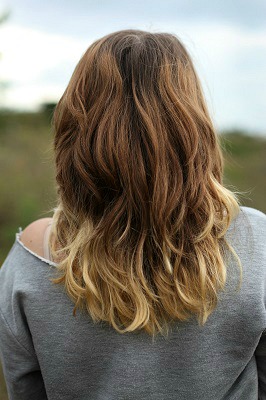 Gabriela is totally rocking her ombré hair. The shorter cut and ombré effect work well together, and we love how it looks with her naturally wavy locks.
Do you love Gabriela's look?
Does she have a similar sense of style as you? Do you wear maxi skirts and flowy sweaters? What about that bold nail polish? Let us know what you think by leaving your comment below!