Take a five minute stroll around RISD and you'll find a plethora of fashion-savvy men on campus. One of these stylish guys is Gabe, a foundation year student with a knockout sense of style and excellent bargain-hunting skills. I met up with Gabe at the Carr Hous café on campus to chat about his sartorial sensibilities.
Gabe 101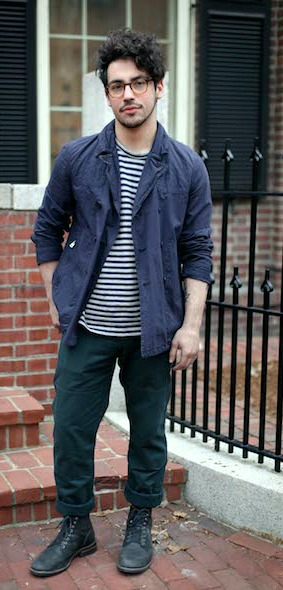 Name: Gabe
Year: Freshman
School: Rhode Island School of Design
Major: Film/Animation/Video
Hometown: Evanston, IL
Let's Talk Fashion
What inspires your style? "I've been interested in Japanese menswear. I'm a big fan of Undercoverism and Creep and Engineered Garments. I'm also interested in the current trends in men's fashion, such as heritage wear and the recreation of traditional silhouettes in modern fabrics.
I get a lot of inspiration from blogs I follow, [including] Four-Pins. It's just exclusively men's stuff and it's also satire. They make fun of clothing, yet are telling you that it's cool, and you buy it. They make fun of asking you to buy a pair of their $600 leather shorts or something."
What are your favorite trends right now? "I've been into the fisherman trend. I like extended hems. The hem-game is really strong in men's fashion."
Where are your favorite places to shop? "I actually shop on eBay a lot. I know what brands I'm interested in and I know I can't actually afford any of those brands, so eBay has been my go-to. The jacket that I'm wearing now retails at $500 or so, and I got it for $35 on eBay. I'm wearing a Wings+Horns shirt, which I think retails around $80-90, and I got it for like $20 on eBay.
I think [my] silliest purchase by far is [buying] White Mountaineering alpaca shorts with black fringe and a Nordic pattern. Those retail around $600-700 in Japan, so exported, they're probably sold for $1000, and I got those for $40 on eBay. Yeah, they're super silly."
How would you describe your sense of style? "It's all over the place, usually. I look like a greaser on some days and others I look like I should be on a boat, fishing. I really gravitate toward those two styles recently."
What advice would you give to people looking to improve their fashion? "I got into clothing from my dad. He was a big Ralph Lauren polo dude. He had a lot of beautiful suits and more heritage stuff, like tweed jackets and [pieces] inspired from golf clothes.
[My advice is to] try to draw inspiration from what's around you, and then move from there into more interesting realms. Do what inspires you and what you feel comfortable in."
Elements of Gabe's Outfit
1. Cool Color Palette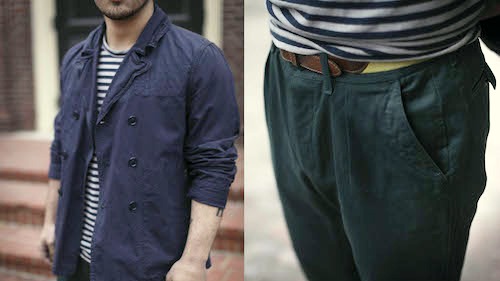 Gabe paired his navy blue fisherman jacket with trousers in another cool-toned hue. To add some interesting lines and break up the color-blocking, Gabe opted for a striped shirt, which matches nicely with the jacket.
His pieces have really unique details, which helps demonstrate the quality of his menswear. We love that he snagged such expensive items for way less than the retail price!
2. Shoes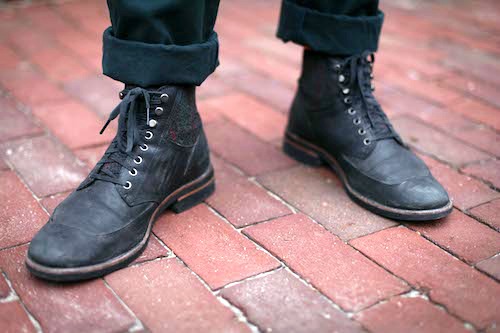 Again, the best part about Gabe's choice in clothing is the attention to detail, which is perfectly demonstrated in his shoes. These classic combat boots are transformed into something modern and sleek thanks to the high-quality material and quirky twist of texture.
3. Glasses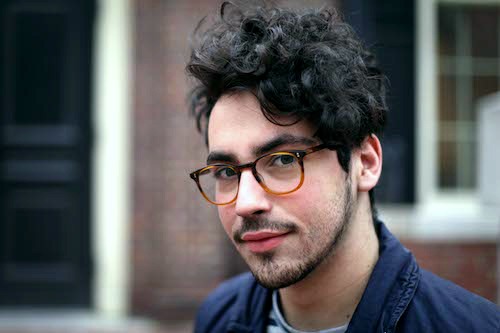 Gabe's glasses add the perfect finishing touch to his ensemble. They frame his face well and play up the retro-cool vibe found throughout his attire.
What do you think of Gabe's look?
Do you love Gabe's cuffed jeans and combat boots? What about his cool color pairings? Let us know what you think by leaving a comment below!