I spotted Gabby at a graduation party donning the "hippie" trend many college students like to sport, especially during the summertime. Her style was laid-back and perfect for the warm weather, so I had to photograph her and chat about this look.
Gabby 101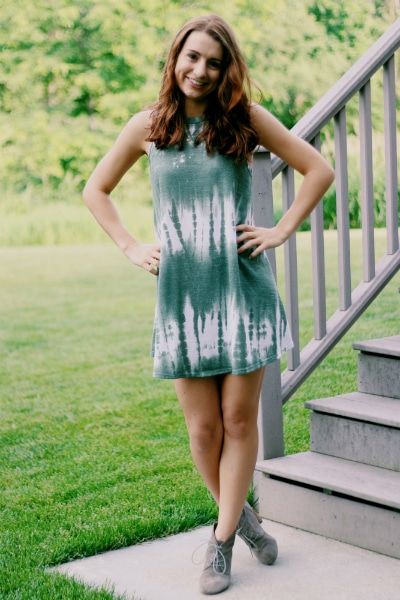 Name: Gabby
Year: Sophomore
Major: Management Information Systems
Hometown: Iowa City, IA
Let's Talk Fashion
Who or what inspires your style? "My older sister has a really good sense of style and I always raid her closet when I can't find anything to wear."
Where do you like to shop? "I like Francesca's, Dry Goods, Von Maur, and small local shops and boutiques."
Why did you choose this particular outfit? "I had a lot of grad parties [to go to] today so I wanted to be comfy. I picked boots with a low heel and a loose dress that I could eat a lot of food in!"
What fashion advice would you give to other college students looking to improve their style? "It's always better to be overdressed than underdressed, but never underestimate the importance of being comfortable."
What are your favorite trends? "I don't really like to follow trends. I like timeless looks that never go out of style and really just anything that looks good."
Do you have any favorite fashion designers? "I love dresses by Elie Saab, and it's cool to find old, vintage designer pieces at thrift stores."
Do you have any unique hobbies or interests? "I love to read. I just finished The Handmaid's Tale by Margaret Atwood and loved it. I also play intramural soccer and run in my free time at school."
If you could raid anyone's closet, who would it be and why? "Probably Gossip Girl's Serena van der Woodsen, especially her shoes. Or maybe Revenge's Emily Thorne; her clothes are super classy."
Elements of Gabby's Outfit
1. Tie-Dye Dress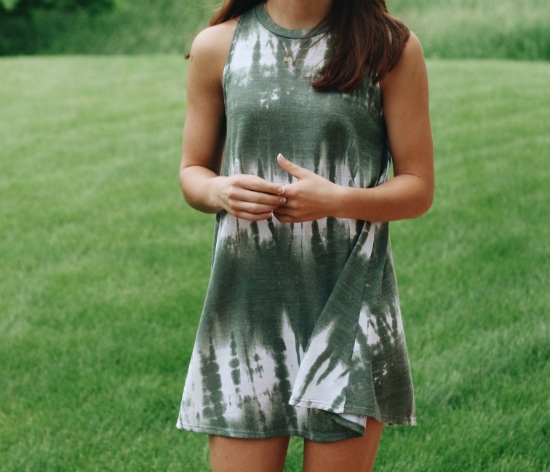 This flowy shift dress is perfect for that semi-awkward transition from spring to summer. The comfortable fabric makes it breezy and breathable, while the unique pattern keeps it on-trend.
2. Delicate Gold Jewelry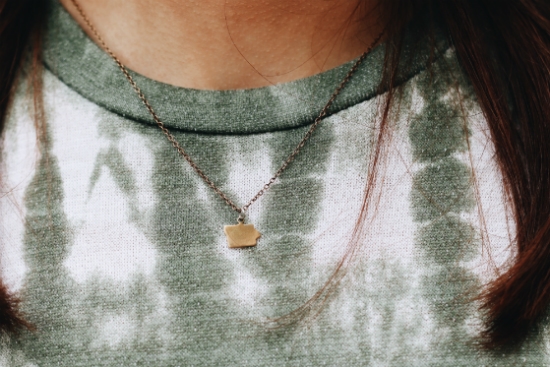 This adorable necklace pays homage to Gabby's home state of Iowa and adds a subtle little glisten of gold without being overbearing. We love versatile jewelry like this– it's something she can wear every day.
3. Gray Suede Booties
Gabby thrifted these shoes for just $15. "I think style should be both cute and affordable," she said. These booties would rock with essentially everything, but look especially chic when paired with a short dress.
What do you think of Gabby's look?
Would you rock her tie-dye dress? What about her booties? Comment below and let us know what you think!