Rainy weather often puts a damper (no pun intended) on the fun, breezy styles of late summer. However, it can also make way for some great accessories. Coming down the campus stairs, Fran immediately caught my attention with her bright umbrella. Against the misty backdrop of a light drizzle, Fran's entire outfit really popped; even in stormy weather, she managed to look perfectly polished.
Fran 101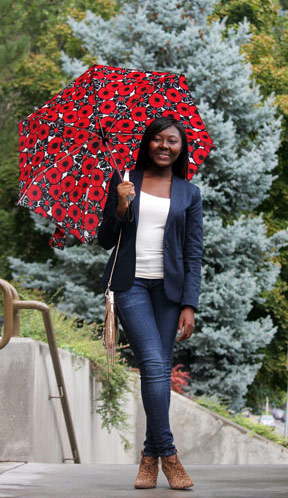 Name: Fran
Year: Junior
School: Brigham Young University
Major: Communications with an emphasis in Journalism
Hometown: Washington, D.C.
Let's Talk Fashion
Why do you dress up? "[You never know what might happen during your day, so] you always want to be dressed for every opportunity. I never want to feel underdressed. I want to meet whatever occasion presents itself."
Where do you like to shop? "Nordstrom Rack, Zara, Mango, Steve Madden for shoes. I find the nicest things on sale on the Urban Outfitters website."
How would you describe your style? "Urban chic."
What fashion advice would you give to other students looking toimprove their style? "Once in a while, try to find a piece you wouldn't normally wear. Be a little adventurous when you shop."
What are your favorite trends right now? "I'm really into ankle boots. They're fun and they're comfortable enough to wear all day. I also love metallics, specifically rose gold – it's very feminine. And I love wide-brimmed hats and cowl neck tops."
Do you have any favorite fashion designers? "If I had the money, I'd say Chanel. I also love Rebecca Minkoff: I have a laptop case and a cross body bag from her. She's very modern, but [her pieces are] functional. And Tory Burch: I have this beautiful quilted jacket from her line."
What do you do for fun? "I'm very studious, so I definitely indulge when I'm not occupied with academics. I love to pamper myself. I will waste my life savings on eyelash extensions! The hair salon is my best friend."
If you could raid anyone's closet, who would it be and why? "Blair from Gossip Girl! Blair is very polished and feminine. She just looks so fabulous. She wears those outfits, they don't wear her. It's the whole package: from her hair, to her makeup, to the way she cares herself– to me, that is style."
Elements of Fran's Outfit
1. Rose Gold Bag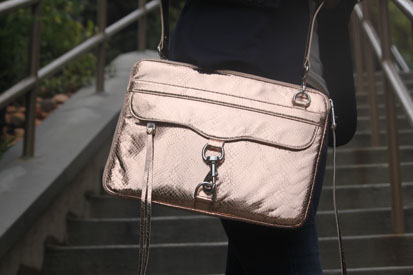 Fran mentioned that she loves metallic pieces, specifically rose gold, and this purse is proof. It manages to be on-trend while still looking unique and different. Popping against her navy blazer, Fran's purse really takes her outfit to the next level, while also remaining functional enough for everyday academic needs.
2. Leopard Booties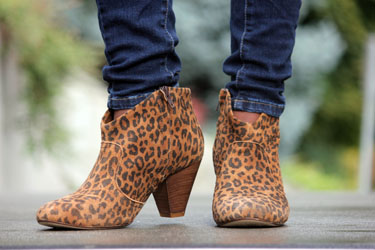 The low heels of Fran's booties make them comfortable enough for long treks across campus, but they're also a literal step up from the everyday ballet flats we all see everywhere. The fierce leopard pattern matches Fran's vivacious personality, and truly goes with everything. (Remember what we always say: Leopard is a neutral!)
3. Poppy Print Umbrella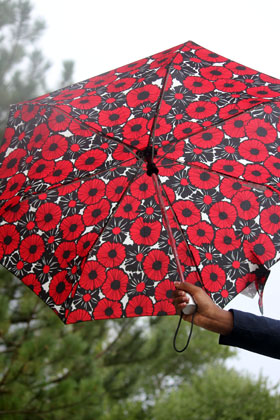 Umbrellas are non-negotiable on rainy days, and can be a great way to "wear" color during stormy weather. Fran's pretty red umbrella stands out, bringing a little bit of sunshine to a gloomy day.
Your Thoughts?
What do you think of Fran's look? What kind of ankle boots are in your closet? What color is your umbrella? What is your favorite part of Fran's outfit? Let us know with a comment!