With so much studying to do during finals week, it is often challenging to feel motivated to do anything aside from schoolwork, especially to get dressed up. As one of those students, I was thoroughly pleased to see that finals hadn't hindered Fiona's ability to wrap herself in this lace minidress. As we spoke, I quickly discovered that her cream lace dress is only one amongst many other flirty numbers in her closet. Read on to learn more about Fiona's distinctive look!
Fiona 101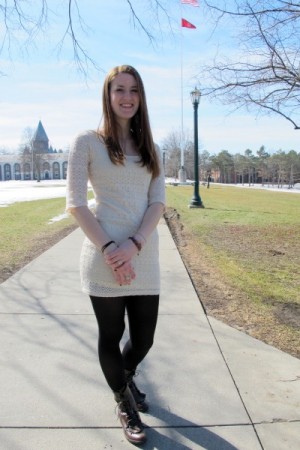 Name: Fiona
School: Union College
Class standing: Freshman, Class of 2014
Majors: Theater and Political Science
Hometown: Ridgewood, New Jersey
Hobbies/Interests: "Singing in choir, acting, traveling, reading poetry, writing, and any kind of dancing."
Let's Talk Fashion
Who or what inspires your style? "My parents and people I see on the street."
If you could raid anyone's closet, who would it be and why? "Eric Daman, the costume designer for Gossip Girl – I'd go straight to the source of the best-dressed cast on television."
What inspired this outfit today? "This dress is very comfortable and looks clean cut without feeling too overdone. These boots were a last minute purchase but I feel they are the perfect way to segue from winter to spring, especially when you can feel the seasons changing here at school."
Where do you like to shop? "I like to shop at Urban Outfitters, J.Crew, Forever 21, and Anthropologie. I have a knack for combining all the brands to create a unique look."
What are your favorite trends right now? "I really like short motorcycle boots, color blocking outfits, and the blues and golds that are coming back in, which never really went out for me."
Describe your style in three words. "Sexy, laid-back, and poppin'."
What are your favorite cities in the world to go shopping? "My favorite cities for shopping are London, Milan, and New York City, because I feel those cities have a lot to offer fashion wise. The clothing that can be found in these cities are interesting, cosmopolitan, and fashion-forward."
Elements of Fiona's Outfit
1. Simple Lace Dress

Fiona is on top of this spring's fashion trends as she embraces lace's fashion comeback, but keeps herself warm in elbow-length sleeves as winter continues to dissipate. Her lace dress is the right shape and gives off just the right amount of "sexy," as she explained when asked to describe her style. She keeps the outfit clean by not overloading it with heavy accessories, as the pattern itself is busy.
2. Lace-Up Boots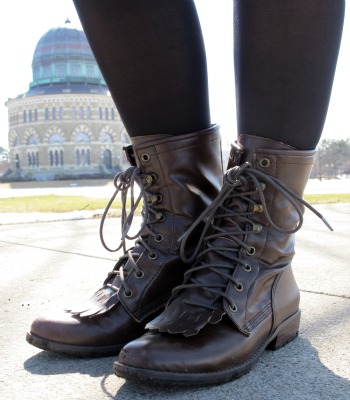 The combination of antique lace with contemporary short lace up boots is another reason why Fiona's outfit is truly unique. Fusing old and vintage items with a modern trend illustrates the range of her wardrobe. The feminine lace juxtaposed with the rough and tough edge of her boots creates an appealing contrast in this whimsical ensemble.
3. Owl Earrings: What a Hoot!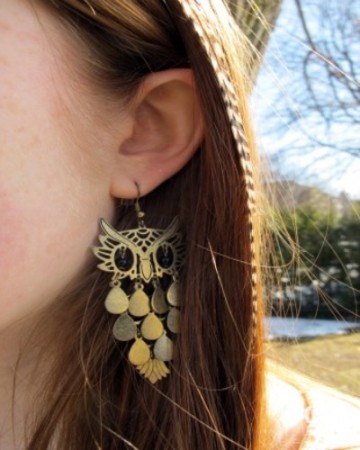 Fiona's approach to fashion involves adding her own unique flavor to her outfits. She also has a knack for finding one-of-a-kind jewelry. Her owl-inspired dangly earrings are a great example: They're flirty, fun, and frame her face nicely without taking away from the overall look.
4. Gold and Silver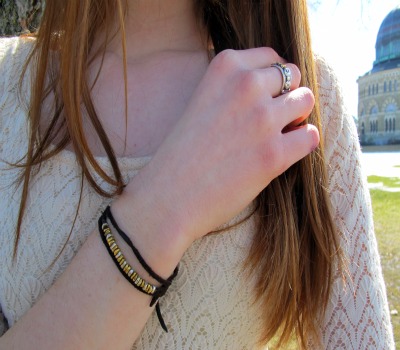 This brown leather rope wrap around bracelet with gold and silver accents is another simple way Fiona enhances the soft and creamy nature of her dress. This delicate bracelet is the perfect complement to her soft, feminine dress.
What do you think?
Do you like Fiona's style? Are you impressed by her modern feminine look? What do you think of her lace dress? Let us know in the comments!