Fiona is a busy college student. Not only is she a big part of IUP TV (IUP News and IUP Football), she is also the president of SOCA (Student Organization for Caribbean Awareness), an organization that tries to incorporate customs from the islands and bring them to campus, as well as break the stereotypes of what people expect from those who come from the islands. For this girl, the added stress of finals week did not stop her from staying true to her style.
She told me her style is constantly changing, but she goes for more "urban" styles and tries to incorporate business clothing into her wardrobe. Since integrating a more elegant style is what so many college students currently try to do, Fiona's outfit is a fab example of how a student can make that happen while still staying true to her personal style.
Fiona 101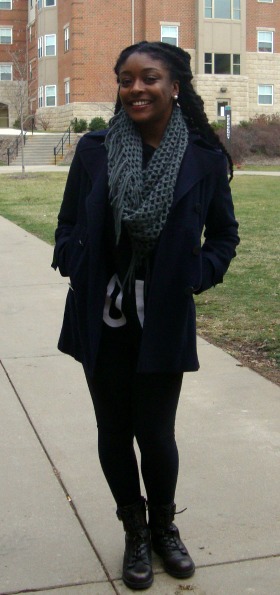 Name: Fiona
College: Indiana University of PA
Hometown: Long Island, NY
Major: Communications Media, Marketing emphasis
Age: 20
Year: Junior
Let's Talk Fashion
Who or what inspires your style? "Everything! I don't really think I have a specific everyday style. Everything that's cute, I like it!"
Where do you like to shop? "Century 21, Forever 21, and H&M are my favorites. Now I'm looking for more business-type clothes and trying to apply that to my everyday look. But most of the time I am attached to darker colors and anything urban-like."
How would you describe your sense of style? "A mixture of everything. I can be preppy, I can be urban, I can be casual; depends on the day, especially if I'm in a rush!"
What fashion advice would you give other college students? "Not to care what other people think. If you think something's cute then it most likely suits who you are."
What are your favorite trends right now? "Right now, I really like women's suits. I like the pantsuits and I like how they can come in all different colors."
What do you like to do for fun? "I really just like being around good people. Honestly, just having good company is fine to me, just joking and hanging out and not feeling like you have to go out all the time to have fun."
If you could raid anyone's closet who would it be and why? " I would love to go into Vanessa Simmons's closet, because she has a variety of clothes in the styles that she wears. Sometimes she can be boyish, or sometimes girly; she also has some business suits. So, if I could raid her closet I'd be happy!"
Elements of Fiona's Outfit
1. Slogan Top & Scarf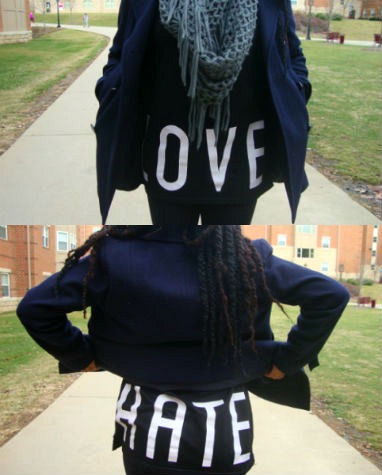 Slogan t-shirts were one of the biggest trends in 2014 (who could forget the 'Homiés' and 'Féline' slogans?) and this "love/hate" shirt proves how much of a statement one can make. Fiona pairs all the right colors to make her urban style outfit look comfy yet fashionable – even during a busy finals week.
If you also want to incorporate more business-like pieces into your winter wardrobe, consider bundling up in a structured trench coat like Fiona's. The addition of her gray scarf brings the focal point to her face and adds balance to the dark color scheme.
2. Combat Boots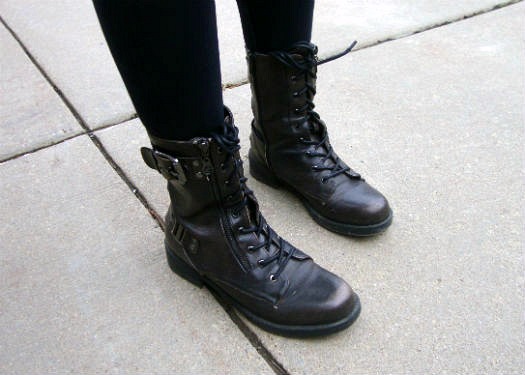 Few things master the balance of comfort and style like combat boots do. These shoes can be your best friend during cold December days, especially when there's not a whole lot of snow just yet. Fiona got her boots from Macy's, and it's easy to see why they're a go-to shoe during this time of the year.
What are you wearing to stay warm?
Do you love Fiona's outfit? Would you wear it? How do you feel about slogan t-shirts? Do you like combat boots as much as we do? Comment below and share your thoughts!