This week, I had been disheartened by the lack of outrageous style across campus. Everyone I laid eyes on looked as if their outfits had been plucked off a store mannequin! However, when Fatima passed by, I couldn't resist the urge to stop and admire her quirky style and playful mix of patterns.
Fatima 101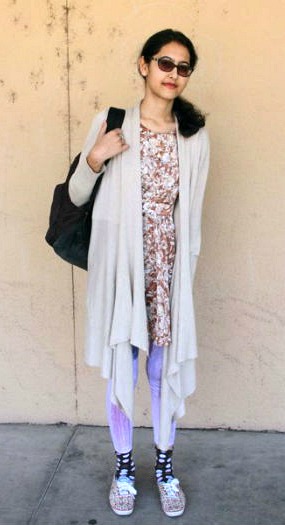 Name: Fatima
School: University of New Mexico
Year: Sophomore
Major: Mechanical Engineering
Hobbies: Drawing and Photography
Let's Talk Fashion
Who or what inspires your style? "Chloe bags and shoes, old photographs, and Lily Collins's style."
Where do you like to shop? "My favorite chain stores are Urban Outfitters and J. Crew. When I'm on vacation, I always find the best pieces at little boutiques."
Where is your outfit from? "My cardigan is from Marks & Spencer, the shirt is from Forever 21, the leggings I got from Urban Outfitters, and the shoes are Keds."
How would you describe your personal style? "I dress very casually. I like flowy pieces like big sweaters and tunics. I also like to dress down more formal pieces, like evening dresses with leggings or a sweater."
Why did you choose this outfit? "No particular reason – I think everything else I like is in the wash."
What fashion advice would you give to other students? "Wear what you think you look good in. If somebody else doesn't like it, that's not really your problem."
What are your favorite trends right now? "Everyone is wearing leggings and I really like them! They are just as comfortable as sweatpants, but you can find them in many different patterns."
Do you have any favorite fashion designers? "I like Alexander McQueen. I was just looking at Valentino's latest ad campaign; I love the texture and flow to the evening wear. McQueen is really gaudy, which is one of those love-or-hate-it looks."
If you could raid anybody's closet who would it be and why? "Lily Collins, she's so cute!
How do you decide what patterns to mix, any advice? "As an artist, I always take notice of colors and tones. I try not to contrast too much. I always reach for the same tones. Don't go too heavy in too many directions and stay focused. For instance, if I choose a loose shirt, I will wear tighter bottoms."
Elements of Fatima's Outfit
1. Mixed Patterns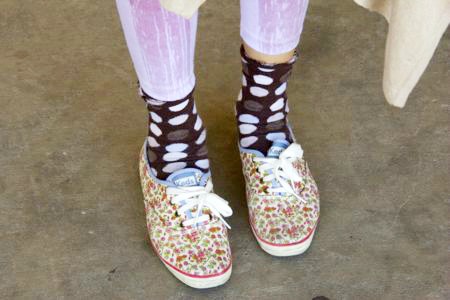 Fatima's comfort with mixing patterns is inspiring. Many people, including myself, have a difficult time trying new patterns and mixing and matching. Fatima does it flawlessly by rocking patterned sneakers with polka dot socks.
2. Dainty Accessories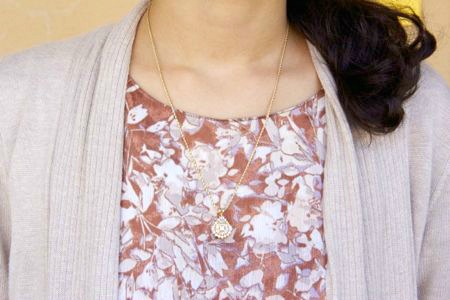 Fatima told me she doesn't like to be too bold. Although she chose to mix multiple patterns, her accessories and makeup are minimal. This dainty necklace balances her statement-making outfit perfectly.
3. Flowy Pieces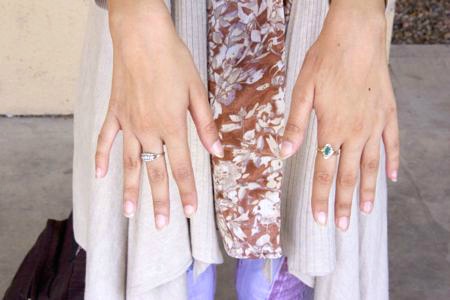 I love the way Fatima pairs fitted items, like her leggings, with more comfortable pieces. In this case, her airy cardigan and billowing top add visual balance to the ensemble. Although she looks well put-together, these pieces are all relaxed. So, not only will she look fashionable for class, she will also feel comfortable, which makes this outfit a win-win in our book.
What do you think of Fatima's look?
Do you like her billowing cardigan and mixed prints? Do you have any patterned leggings? Leave a comment below and let us know your thoughts!