Living in LA, it can be hard to tell if it's truly warm or if it is just the sun. Walking around campus on one of those doubtful weather days, I met Fabiola.
Her style is reminiscent of winter even though the sun was out. Every detail looked carefully placed, and her outfit was put-together, comfortable, and perfect for a day on campus.
Who's That Girl?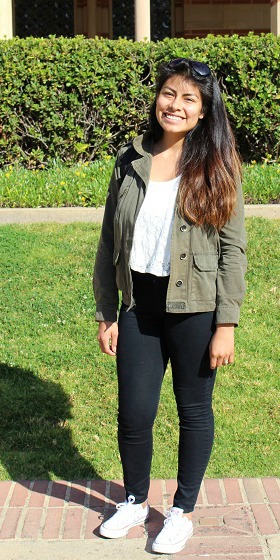 Name: Fabiola
Hometown: Los Angeles
School: University of California, Los Angeles
Year: Senior
Major: Political Science
Let's Talk Fashion
Who or what inspires your style? "I just like to be relaxed – not too much, not too complicated."
Why did you choose this particular outfit? "I was debating wearing this jacket or not because I didn't want to get too hot. Then I realized I would just go in for my midterm and go back home, so it might get a bit chilly. The jeans are my favorite. They are kind of like jeans, but not… what do you call those? Oh, jeggings! Since I was taking a midterm, it was really important for me to be comfortable."
What fashion advice would you give to other students looking to improve their style? "Try to accessorize. I'm not wearing much right now, but I feel like… I love shades! For example, if you wear a plain t-shirt and some really cool shades, it looks really nice."
How would you say your style has changed since you first started college? "I think my first year I use[d] to wear more blouses and I use[d] to try more. It got more relaxed and I realized I had to walk a lot around campus, so comfortable shoes became a must."
What are your favorite trends right now? "I love v-necks, tennis shoes with skinnies or even with dresses. And as it gets warmer, I love wearing sandals."
Elements of Fabiola's Outfit
1. Sunglasses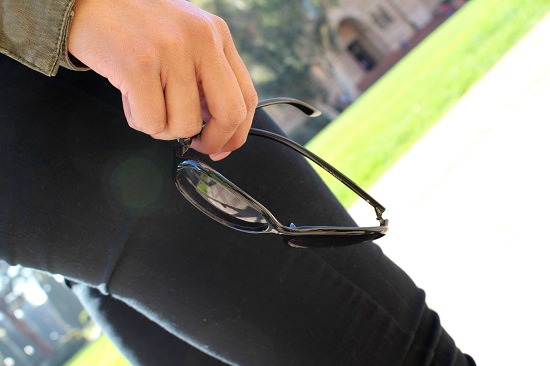 Fabiola borrowed these chic shades from her mother's closet. Not only do these sunglasses add some elegance to her outfit, but they also protect her eyes from the sun. It is California, after all!
2. Patterned Jacket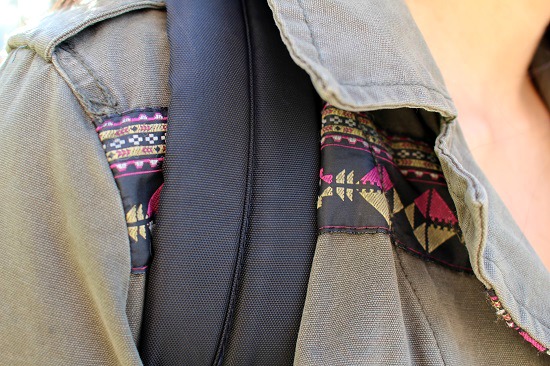 Accessories are not limited to jewelry! Fab proves that even a tiny detail in the corner of her jacket can function as an extra accessory. This geometric pattern is right on trend and adds interest and a pop of color to her otherwise neutral look.
What do you think of Fabiola's look?
Is this the perfect look for midterms? Would you wear her outfit? Comment below and share your thoughts!