When I first met Ethan, he was rocking a bow tie. The next time we crossed paths, he donned a corduroy blazer. So when I saw him on campus next, I had to stop him to find out more about his style! When you hear him define his style as "classic American with a twist of silly," you wonder if Ethan is describing a Ben and Jerry's ice cream flavor – but that's part of what makes his approach to fashion truly unique. Read on to learn more about Ethan!
Ethan 101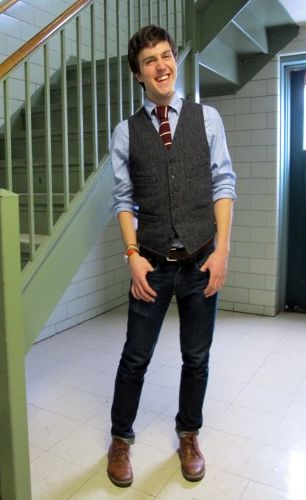 Name: Ethan
School: Union College
Class Standing: Sophomore, Class of 2013
Major: Economics/Pre-Med
Hometown: Attleboro, Massachusetts
Hobbies/Interests: "Reading, breathing, tour guiding, Radio DJ, and resident advising."
Let's Talk Fashion
Who or what inspires your style? "My mother is an avid GQ reader. No, I'm just kidding. Overall, I like to keep things classic American and include little silly aspects that make outfits stand out."
What fashion advice would you give to other students looking to improve their style? "Be ridiculous."
If you could raid anyone's closet, who would it be and why? "I would raid Austin Powers' closet because of his awesome velvet suits."
What inspired this outfit today? "It was pretty much the last thing in my closet that was clean."
Where do you like to shop? "I like to shop at thrift stores but also at J.Crew, Brooks Brothers, Levis, and Clarks discount shops – I rarely buy clothes at full price."
What do you do for fun – do you have any unique hobbies or interests? "In the summer I like to run and windsurf and drive to nowhere in particular, but in the winter I like to ski and sled."
Describe your style in three words: "Tight, tight, and tight."
What is your favorite place in the world to go shopping? "Munich, Germany because their clothing is very tailored and fits well."
Elements of Ethan's Outfit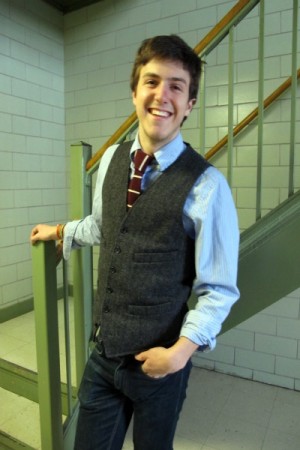 Whereas most college guys opt for sweats and a hoodie during this season, each aspect of Ethan's outfit works together to create a unique take on menswear. His clothes suit his body type and complement each other. With a reoccurring theme of stripes on his collared shirt, tie, and socks, Ethan's look has all the makings of a well-dressed-without trying-too-hard outfit.
1. To Tie or Not to Tie?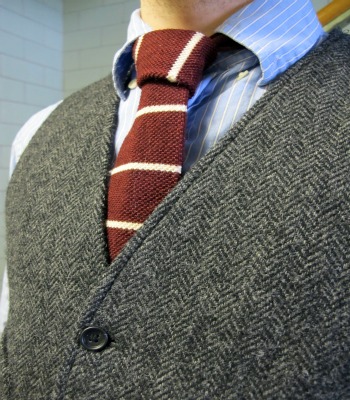 Ethan's knitted maroon and white striped tie adds a touch of class to his look. When paired with the tweed vest, the ensemble looks put-together without being overdone. He also knows how to create contrast in an ensemble: His vertically-striped blue collared shirt, set against the horizontally-striped maroon tie, creates a unique layering effect.
2. Shoes & Socks Surprise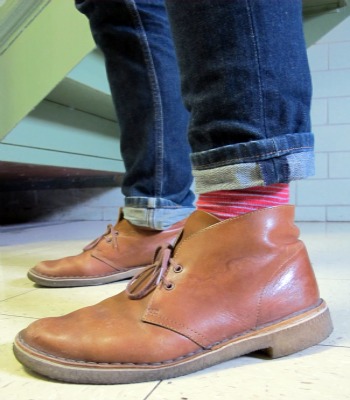 Ethan's shoes really tie his outfit together and complement his dark wash slim fit jeans. As Ethan demonstrates, a neutral, comfortable, and versatile boot goes with practically anything – boots like his should be an essential in every guy's closet.
Also, those red socks you see peeking out from his boots are just one of the subtle silly aspects that Ethan includes in his outfits. The pattern isn't too bold but adds another dimension to the ensemble.
3. Orange O' Clock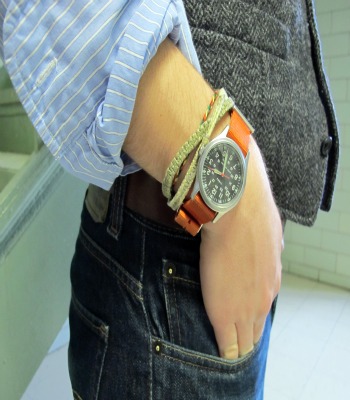 Ethan's funky orange watch adds a punch of color to the overall look but also picks up the subtle orange stripes on his shirt. The watch and shirt complement each other nicely and add an element of warmth to Ethan's winter wear.
What do you think?
Do you like Ethan's style? What do you think of his classic American look? Does his outfit inspire you? Do you like his fun accessories? Let us know in the comments!