Erin is both a fashion inspiration and a personal hero. As drum major of the Yale Precision Marching Band, she pulls through over and over again to make such a large organization flourish.
I've always looked up to Erin's unwavering spirit, and had always wondered how that translated over to her amazing sense of style. Because of this, I knew I had to interview her for Looks on Campus!
Erin 101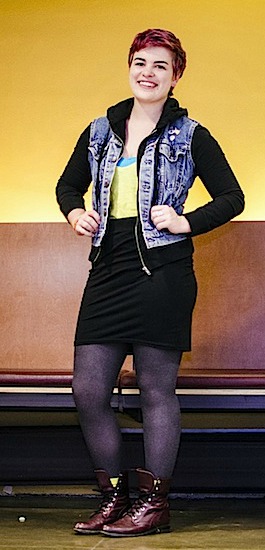 Name: Erin
School: Yale University
Year: Senior
Major: Women's, Gender, and Sexuality Studies
Let's Talk Fashion
Who or what inspires your style? "I lived in a lot of different places, and so all those places have influenced me, but specifically Seattle and its flannel, boots, and comfy-oriented style. I lived in London for three years and Switzerland for two years, and going to international schools exposed me to a wide variety of styles. I was inspired both by specific things others were wearing, and by how I wanted to look [in comparison to] everyone else.
Also, One Direction, because they're great. If I could dress up as one of them every single day, I'd be the happiest person in the world."
Where do you like to shop? "I get flannel and sweaters at thrift stores, but usually when I go shopping, it's for something nice at places like J.Crew or Nordstrom. I'm wearing mostly H&M and things I found thrifting. I don't shop too much and I like cheap things."
Why did you choose this particular outfit? "I matched the outfit with the boots. None of my pants that work with these boots are clean at the moment, so I wore a skirt.
I also really like this vest – it's one of my favorite things I own. The summer, I wasn't doing anything. I told myself I was going to make myself a denim vest, so I went to the thrift store, found a denim jacket, and cut the sleeves off. I was very proud of myself and wore it for two weeks straight."
What fashion advice would you give to other students looking to improve their style? "Wear what makes you comfortable. I feel like my most exciting outfits are when I feel like I'm going to have a bad day, so I wear an outfit that will make me happy. So I'll wear bright colors and soft things, things that I know I look awesome and make me feel great."
What are your favorite trends right now? "Boots! And sweaters – the last time I went shopping there seemed to be a wide selection of grandpa-style sweaters. I remember going to Nordstrom and saying to my sister, 'Wow, everything here looks like it's for old grandpa-men. That's exactly what I want!'"
Do you have any favorite fashion designers? If so, who? "Marc Jacobs; the watch I wear every day is by him. Additionally, I'd say the designers for Madewell, I know that's a variety of designers, but I really like Madewell's range of clothes."
If you could raid anyone's closet, who would it be and why? "One Direction's. As mentioned earlier."
Elements of Erin's Outfit
1. Pins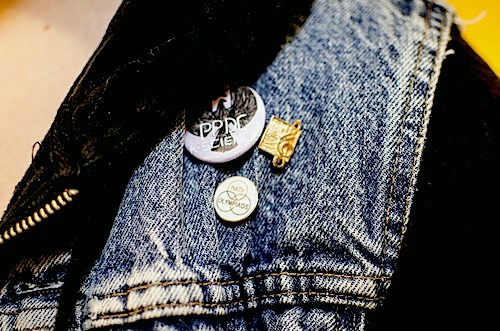 Erin accessorized with several pins, which is a easy and unique way to add some personality to an outfit. She has on Pacific Rim, Yale Bands, and Math Olympiad pins, which adds some geek to her chic.
2. Denim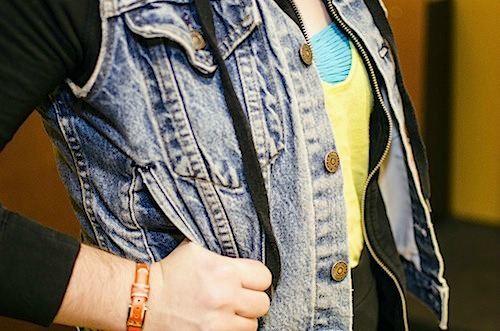 Erin's denim vest is to-DIY-for, (get it?) since it has such amazing texture. While denim is inherently textured to begin with, Erin's vest has extra seams running down the front and an exaggerated wash, which really amplifies that cool, worn-in look. By layering this vest over her color-blocked outfit, Erin achieves depth and contrast in her outfit.
However, what makes this piece extra special is the fact that it's DIY! Erin also did an amazing job of cutting out the sleeves – I would have never guessed it was a DIY.
3. Boots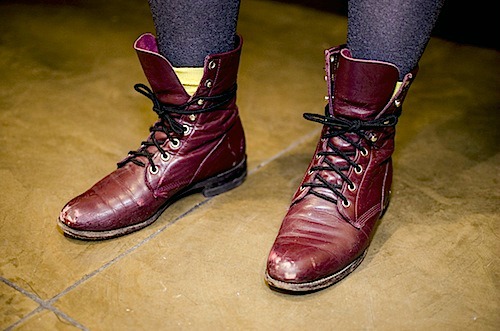 Because of their structured shape, seductive color, and scuffed-up character, I absolutely adore Erin's boots. She opted to wear her boots half laced, with the strings wrapped around her ankles, which adds to the stylish vibe of her look.
In addition, the peek of Erin's yellow socks coordinate with her yellow top, which is similar to how the color of her boots coordinate with her hair. Needless to say, I'm impressed with her subtle matching!
Now we want to know what you think!
Do you love Erin's DIY vest as much as we do? Do you ever add pins to your ensembles? What is your favorite winter trend to wear on campus? Let us know by leaving a comment below!