Erin's style really captures how to put together an outfit for a cold climate.I chose to photograph her twice because her outfit was so delightfully original, both indoors and out. Her look is quite gamine, and reminiscent of a young Audrey Hepburn meets the au courant, effortless style of Alexa Chung. Erin manages to combine exquisite vintage finds with runway and high street trends, like her printed scarf and chic camel colored blazer.
Read on to learn more about Erin and her fabulous sense of style!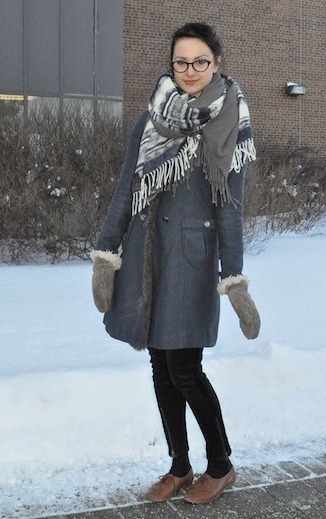 Erin 101
Name: Erin
School: Humber College
Class Standing: Post Graduate Student
Major: Post Production
Hobbies/Interests: "Video and sound editing, film, pumping iron, reading and drinking coffee."
Let's Talk Fashion
Who or what inspires your style? "Lately, what I wear is dictated by what the local vintage shops carry and what is comfortable. I don't necessarily source out specific clothing items so much as I do clothes that I can afford. Shopping can be a bit of a challenge on my tight student budget, but luckily I usually gravitate towards retro looks, and thrift stores are generally the best place to find original pieces from prior decades. I once found an authentic Chloe purse for $12.00, which is my proudest vintage find yet!"
Where do you like to shop? "Anything else I own that isn't vintage was probably bought from Gloss, which is a boutique located in Kitchener, Ontario. At the same time, I do plenty of window-shopping at the many boutiques on Queen West in Toronto. There is a place called Fawn that I really like. Their stuff is fun, edgy and feminine."
How would you describe your sense of style? "I'm all over the place when it comes to style. However, no matter what I wear, I seem to always be sporting something boyish, a little '80s and usually something fairly classic."
Why did you choose this particular outfit? "The colors. I'm a huge fan of black pants, and the shirt and blazer were two fabulous vintage finds. I just lucked out with my outer winter wear this year. I bought my coat at a giant vintage warehouse and one scarf I found and the other I bought for three dollars."
What fashion advice would you give to other students looking to improve their style? "Invest in a few classic pieces that fit and feel great rather than buying cheap trendy clothes. Also, stay away from obnoxious, juvenile prints."
What are your favorite trends right now? Do you have any favorite fashion designers? "Huge, wooly scarves. Red lips and platforms. Rodarte, Chanel and Celine never disappoint."
If you could raid anyone's closet, who would it be and why? "Alexa Chung and Zooey Deschanel. Their style seems effortless and they always look stunning."
Elements of Erin's Outfit
1. Vintage Coat and Double Scarves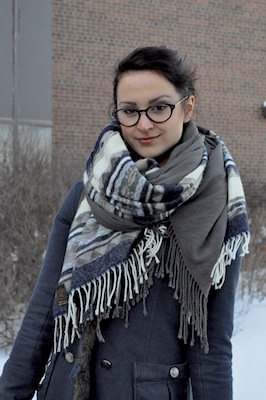 I love Erin's use of color here; it's a little bit ombre with the mix of blues, slate gray, and white. The vintage coat is one of the more original takes on the military trend that I've seen so far this year. I particularly liked how Erin mixed two scarves together to create a really soft visual effect. The draping and fullness of the scarves plays up her silhouette.
2. Overall Look
Indoors, Erin's outfit is just as well put-together. The equestrian-style pants work so nicely with the cropped blazer, which has just the right amount of runway flavor with its camel shade. The patterned blouse gives the look a pop of color – although it's very retro, its print and colors are subdued enough so as not to overwhelm the outfit.
3. Bag and Bangles
Erin's bag is roomy enough to accommodate the many accouterments of a long school day, but is also hip and sits low enough on the shoulder to reflect the roomy boho bag trend that's going on right now. Her bangles are a mix of gold and silver, which I think adds a quirky, fun element to her look.
4. Pants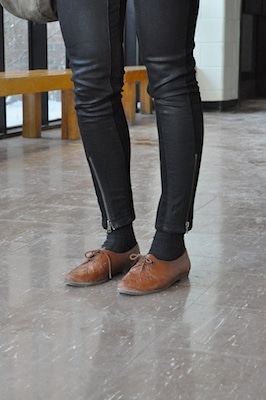 Erin's look is all about the details. The asymmetrical zippers on her pants and the different textures and fabric add to the equestrian style. The short cuffs paired with her brogues creates a very gamine look that's sort of school-girl chic.
Share Your Thoughts!
What do you think about Erin's sense of style? Do you shop at thrift stores? Do you own many vintage pieces? How do you feel about how Erin wore two scarves together? Share your thoughts with a comment!