It is not easy to stay stylish during winter in Minnesota. It might look like a winter wonderland, but it's actually frigid and a snowy mess.
Despite the cold weather, Emma still managed to stand out and look simply amazing last week. I had a class with Emma last semester and have always admired her style. It's simple, balanced, and unique, plus she isn't afraid to try out something bold once in a while.
Emma 101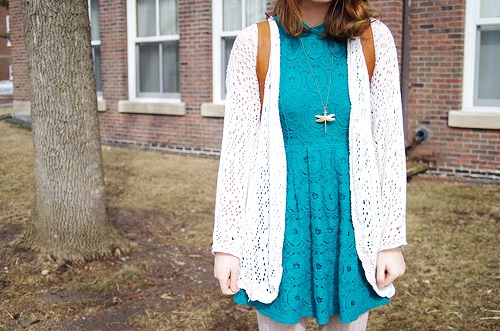 Name: Emma
Year: Freshman
Major: Undecided
Hometown: Madison, WI
School: Macalester College
Let's Talk Fashion
Who or what inspires your style? "I take a lot of style cues from people I see in everyday life or on the streets. I'm really lucky to have a lot of aesthetically gifted friends, and I love taking inspiration from the things that they wear. Just everyday life inspires me."
Where do you like to shop? "I love shopping at thrift stores. I think it's important to do so, because it recycles the clothes, so it is a bit more environmentally friendly. I also do a lot of shopping at American Apparel."
How would you describe your sense of style? "I would say it's pretty basic. I pay a lot of attention to shapes and the structure of pieces. I also pay a lot of attention to proportions, such as pairing baggy pants with a tight top and vice versa. As for my style in general, I would say it's somewhat timeless with minimal patterns and embellishments."
Why did you choose this particular outfit? "I chose this outfit because I think it's important to layer in the winter. I'm a huge fan of turtlenecks; they are very practical here in St. Paul when it is cold. I still like to keep things feminine once in a while, so I paired my outfit with the skirt and the heels."
What fashion advice would you give to other students looking to improve their style? "I would say it's important to find your own uniform, or one look that you feel really comfortable in and is very simple. So when you have no idea what to wear, it could be, like, your go-to outfit."
What are your favorite trends right now? "I love velvet. I love high-waisted pants and I really like the trends that come and go in piercings and body modifications."
Do you have any favorite fashion designers? If so, who? "I have to say that I don't really pay much attention to designers because I like to look at trends that are a little more accessible. I'm more likely to draw inspiration from music videos or someone I see on the street than what's going on on the runway."
What do you do for fun – do you have any unique hobbies or interests? "It really relaxes me to draw and paint, so I do a lot of drawing in my free time. I really like to make cards for people for special occasions or for the holidays. I have also studied Mandarin Chinese for over five years now."
If you could raid anyone's closet, who would it be and why? "I would probably raid Tavi Gevinson's closet and maybe borrow some pieces from Grimes."
Elements of Emma's Outfit
1. Denim Jacket + Chiffon Skirt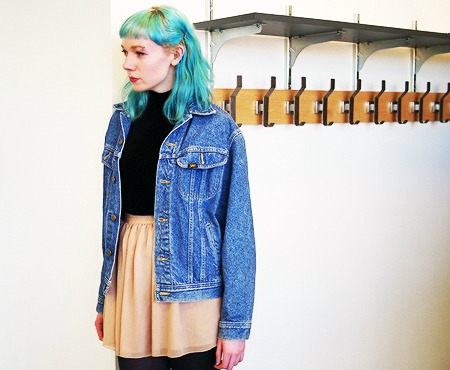 Emma paired this thrifted denim jacket with a sleek black velvet turtleneck and a lightweight chiffon skirt from American Apparel. The structure of the jacket creates a masculine vibe, which balances out the feminine look of the rest of her outfit.
2. Classic Black Lace-Up Leather Boots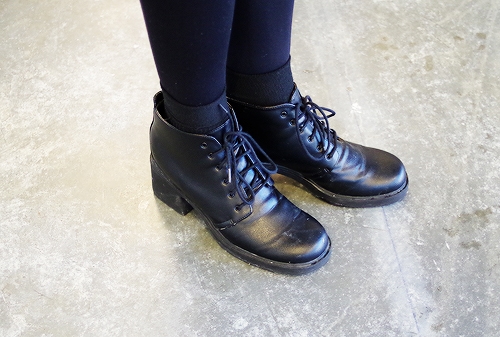 These thrifted black leather boots have a classic, menswear-inspired feel, but the slight heel keeps them from looking too masculine. These chic lace-up booties are the perfect addition to this already well-balanced ensemble.
3. Daring Blue Hair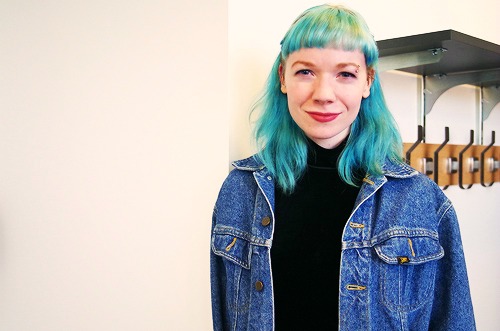 When I first met Emma, her hair was a very light blonde, but now she's rocking a gorgeous turquoise hue. I love this shade of blue on her because I think it fits her philosophy of balancing trendiness with classic pieces. Plus it just looks awesome! Her piercings also give an extra edge to her overall look.
What do you think of Emma's look?
Do you think her bright and bold hair is as cool as we do? What about the mix between masculine pieces and delicate garments? We'd love to hear your thoughts, so leave us a comment below!