Emma caught my attention because she effortlessly does what I have never dared to do: rock metallic sneakers in a casual, everyday way. On this windy afternoon in May, I stopped Emma and learned how she lets her personality shine through her wardrobe, no matter what the occasion.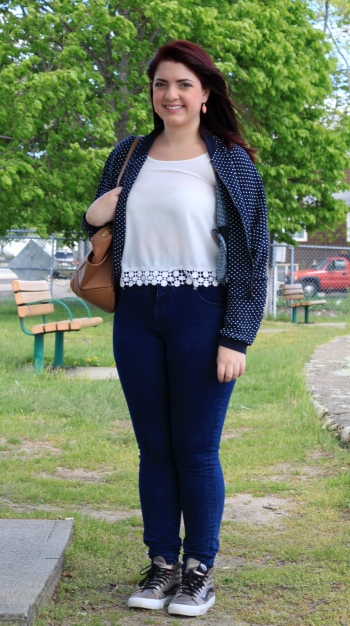 Emma 101
Name: Emma
Year: Sophomore
School: Emmanuel College
Let's Talk Fashion
Where do you like to shop? "When I have the money to shop, or even when I don't, I usually shop at Urban Outfitters, Pacsun, Nordstrom Rack, TJ Maxx, Forever 21, and a lot of online shops. Sometimes I go out in search of a specific piece, but a lot of my purchases are on whim. Online shopping is great because you can find unique pieces and deals that are not offered in stores."
How would you describe your sense of style? "I'd describe my style as kind of all over the place. One day I will wear a Goodwill t-shirt with flannel and jeans. Then the next, I could be in a dress with knee socks and boots. I guess my style is a mix of comfort and style while trying to be unique."
Why did you choose this particular outfit? "I chose this outfit because I think it's perfect for early spring weather. The weather is constantly changing throughout the day, so jeans and tank top with a lightweight jacket is perfect for it. I'm also obsessed with this jacket, so it seemed perfect for today."
What fashion advice would you give to students looking to improve their style? "Wear what you want to wear. College is the perfect time to try things you maybe were nervous to do in high school and this is especially true with your style. I know before college, [the] chances of me wearing the type of sneakers I am today would be very slim. So I guess just don't be afraid to wear things that make you happy."
What are your favorite trends right now? "I love harem pants. I think they're great and so comfy and stylish. I also love mixing patterns. I think that's super-cool when done right."
Do you have any favorite fashion designers? "I don't own much designer clothing, but I do have some personal favorites. I love Stacey Bendet's Alice + Olivia clothing line. And Alexander McQueen is also incredible for all their beautiful formal gowns."
What do you do for fun? Do you have any unique hobbies or interests? "Some of my hobbies are doodling and drawing, along with playing golf and skiing. As for interests, I love art and tend to spend my free time at the MFA just exploring the museum's various collections."
If you could raid anyone's closet, who would it be and why? "This one's hard. I think I would want to raid Katy Perry's. She has such fun and unique style that somehow doesn't look all that crazy on her. Her style is all over place like mine, so it would be cool to see what she has."
Elements of Emma's Outfit
1. High-Waisted Jeans + Lace Top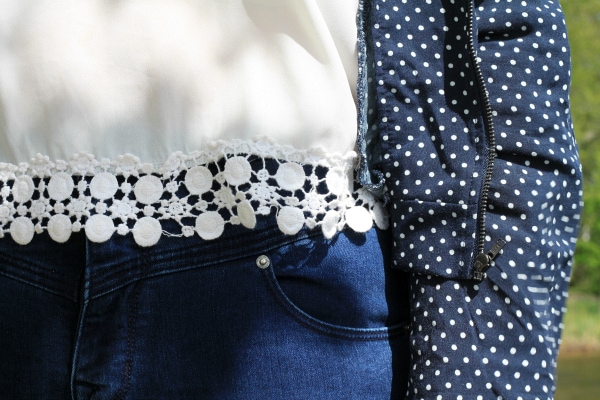 What is more classic than a white top and blue jeans? These high-waisted jeans and lace-trimmed tank bring a touch of Americana to Emma's outfit, and balance out her bold, metallic statement sneakers.
2. Metallic Sneakers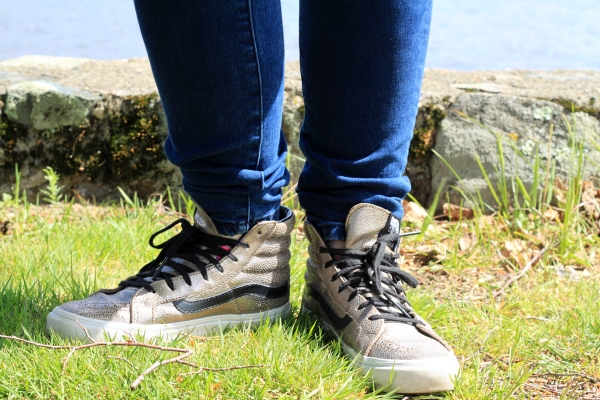 I loved how Emma used her metallic kicks to show off her fun personality and bring her look into spring. The best part? They're also comfortable, which is perfect for a long day spent walking around Boston.
3. Polka Dot Jacket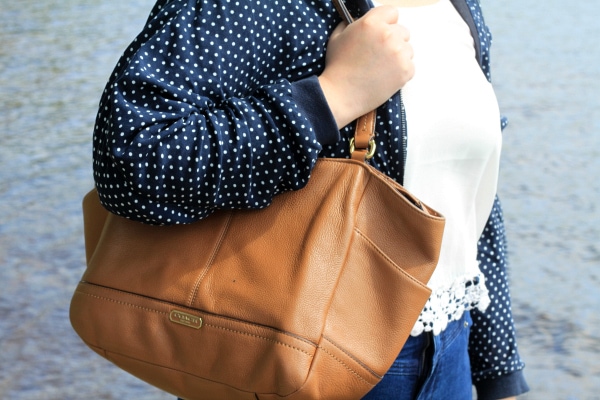 This polka dot jacket is a classic and lightweight piece that helps with the transition into warmer weather. If classrooms are on the chilly side, Emma is set! Another campus-ready piece? Her classic Coach bag, which is ideal for carrying all the essentials.
What do you think of Emma's look?
Would you wear this outfit? Would you rock metallic sneakers? What do you think of her polka dot jacket? Comment below and share your thoughts!