A close friend suggested that in order to hunt down the most fashionable Vanderbilt students, the Commons was the place to go. It is the residential area for all first-years and is chock-full of trendy students. (Sidenote: Have you ever noticed freshmen tend to be more well-dressed than the rest?) I decided to head over to the Commons hoping for an intriguing conversation with another girl who loves fashion as much as I do.
I first spotted Emily's lovely mint bubble necklace. After running around the campus in the direct sunlight at noon, I appreciated her color palette even more. I also have to send my special thanks to Emily's beautiful friend Grace who helped with this fun little interview. Thanks Emily and Grace for sharing your style secrets with us!
Emily 101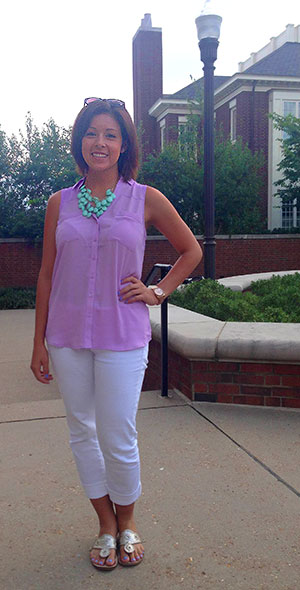 Name: Emily
Major: Communications
School: Vanderbilt University
Year: Junior
Hometown: Los Angeles, CA
Let's Talk Fashion
Who or what inspires your style? "I worked at a PR firm in West Hollywood this summer. The styles of my co-workers were all very inspiring. If I have to use a few words to describe their styles, it would be West Coast California surfers meet preppy office-wear. Also, Lauren Conrad is my all-time style inspiration. I've loved her since Laguna Beach and I follow her blog and Pinterest religiously now. I think she is so classy and California-cute, which is totally what I aspire to dress like."
How would you describe your sense of style? "These days it's pretty preppy. The way I dress at home is more laid-back, just more California! I wear a lot of tank tops and denim cutoffs when I'm there. Vanderbilt has pushed me towards the preppy and more dressed-up side in the past two years."
Where is your outfit from? "My watch is Michael Kors. I got this necklace from a local boutique back home called Nectar. My jeans are from Nordstrom and my shoes are by Jack Rogers."
If you could share one style secret with our fellow college girls, what would it be? "Comfy shoes are so important! No doubt about that. We walk a lot every day around campus, so comfortable shoes with a minimum heel are my must-have." – Grace, Emily's friend
What fashion advice would you give to other students looking to improve their style? "Dress more professionally. I work on campus part-time, so it requires me to look presentable at all times. But you never know who you might run into! You don't want your future boss's first impression of you to be in a tank top and Daisy Dukes."
What are you favorite trends right now? "Pastels! Colors like mint, coral, and lavender are my current favorites."
Where do you like to shop? "J. Crew is my number one destination to shop for school-appropriate outfits. I also love Express for more professional looks and American Eagle for my laid back days."
If you could raid anyone's closet, who would it be and why? "I love Rachel Bilson's style. She's also from Los Angeles. All of her pieces are very versatile and that's what I envision my own perfect closet to be like."
What is the one piece in your wardrobe that you think is important to invest in? "Definitely a little black dress. My biggest shopping weakness is that I have way too many LBDs! But I do have a favorite one from a boutique in LA called Jaloux. It's fit and flare with ruffle detail in a chiffon material."
Elements of Emily's Outfit:
1. Mint Statement Necklace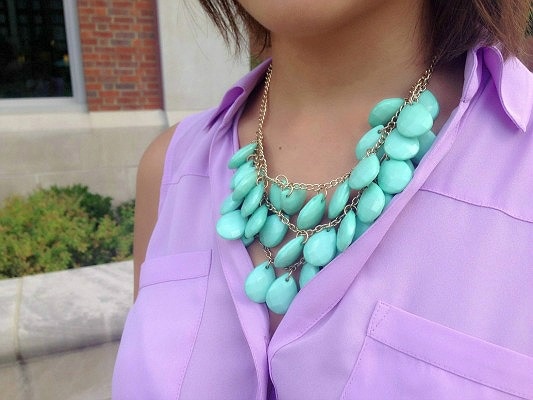 Emily wasn't lying about LOVING pastels! The mint color fits the 80-degree Nashville weather perfectly, while the bubbles on the necklace add a lovely bit of movement when she walks around campus. It took her mere seconds to put this necklace on in the morning and it really elevated her style to the next level.
2. Classic Watch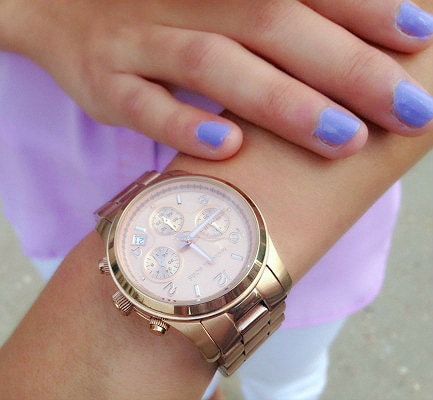 A rose gold Michael Kors watch seems to be the go-to staple for every college girl this year! I've seen these all over on campus. This watch is sturdy and menswear-inspired which is a very trendy look right now. It brings the perfect amount of sophistication to any collegiate outfit.
3. Sandals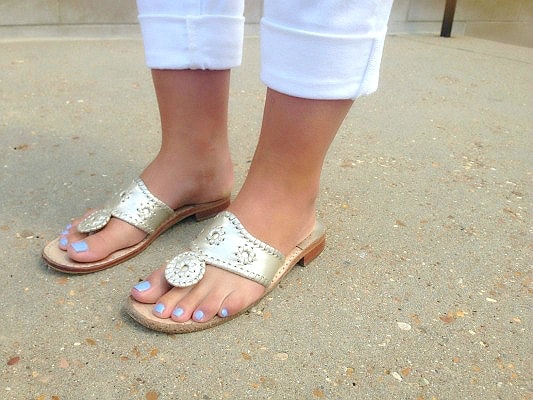 We joked about how Jack Rogers sandals have become part of Vandy girls' "uniform," but you don't have to be one of us Nashville girls to agree that these whipstitched sandals can effortlessly complete any summertime look.
Your thoughts?
Are you digging Emily's preppy, West-Coast inspired look as much as we do? Are you on board with the pastel colors trend? Leave us a comment below and let's discuss!