I ran into Emily on my way to see a show at the student center. Rocking a pixie cut and a bright pink clutch, she definitely stood out among the other students hurrying to finish last-minute errands before going out at night. Emily's outfit is perfectly tailored to a night out on the town. Read on to find out more about her darling look!
Emily 101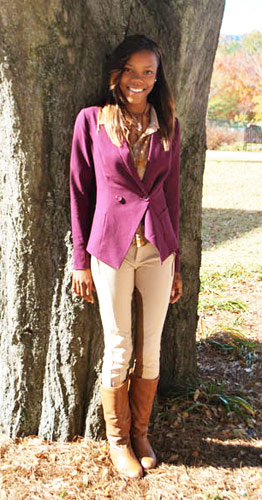 Name: Emily
College: University of Georgia
Year: 2015
Major: Broadcast Journalism
Let's Talk Fashion
Who or what inspires your style? "I'm really inspired by the vintage, classy look. I like feminine things that still have an edge. I always wear lipstick, and I love earrings, especially studs because they're delicate and neutral. I'm obsessed with '50s fashion – the classic style [of the '50s] never really fades from the fashion world. You can always look pretty in a high-waisted skirt."
Where do you like to shop? "When I lived at home, I shopped a lot in Little Five Points, because I love the thrift stores and boutiques. Now that I'm in Athens, the selection of boutiques and thrift stores downtown is much larger, so now I spend a lot of my budget just around the corner. I've grown up with TJMaxx and Marshall's and lately I've gotten attached to Nordstrom. A lot of the stuff from Forever 21 is inspired by runway, which I like, and H&M is great."
Describe your sense of style in three words: "Feminine. Simple. Classy."
What fashion advice would you give to other students looking to improve their style? "Stop trying to look like everyone else. I think a major struggle girls have is that they're so busy trying to keep up with fads that they lose their own sense of style. Having things that are original to you makes your style more interesting. Also, if someone wants to see what's happening in the industry, there is plenty of instant access to fashion blogs and websites where they can see expensive pieces and styles and try and replicate them. I do it quite a bit."
What are your favorite trends right now? "High collars, vintage bags, leggings, oversized jewelry and saddle oxfords. I also really love high-waisted skirts and shorts. They are much more flattering than the devastating low-rise fad."
Do you have any favorite fashion designers? If so, who? "That's a tough one. I have designers that I'm inspired by like Oscar de la Renta, Christian Louboutin and Chanel, but I don't think I'll be able to afford their pieces for a long time. I love Free People, and it's much more reasonable. I snatch it up whenever I find it, because every piece always looks custom and handmade. The lack of that generic look makes them beautiful and unique."
What do you do for fun – do you have any unique hobbies or interests? "I enjoy anything that involves a big crowd. I'm a people person, so being in busy places is typically where I'm happiest. Although, sometimes I'm a gamer. One of my sisters is really big into video games and got me into them when I was really young. I also really enjoy being active and working out."
Elements of Emily's Outfit
1. Peter Pan Blouse and High-Waisted Skirt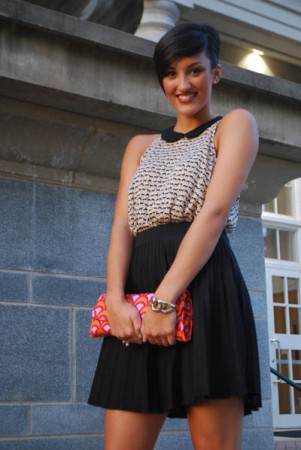 Emily looks young and sophisticated in this Peter Pan blouse paired with a flowy black skirt. Peter Pan blouses are one of my personal favorite trends, and Emily's is especially cute with its deer print pattern. The round collars are flattering and irresistible and can update plain styles to make them sleek and refined.
2. Oxfords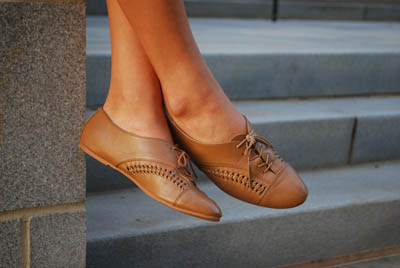 I love the way oxfords have the ability to make every foot look dainty. For me, Emily's oxford flats are one of the highlights of her outfit. Their deep camel color is inviting and wearable with almost any ensemble, and they complement this delicate look perfectly by adding the right feminine touch.
3. Bright Clutch and Accessories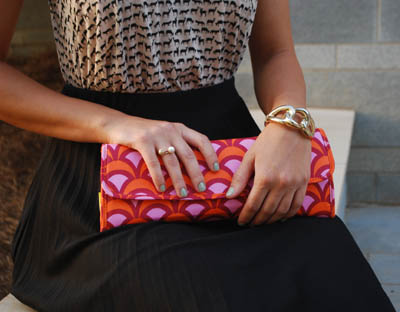 Emily keeps this chic outfit playful by adding a brightly patterned clutch to the equation. Bought from a nearby Athens boutique, this element adds an irresistible burst of color and nicely balances out the rest of her look. She continues the classy look with an interlocking gold bangle, and two stunning pearl rings. Emily's light sea foam green nails show her attention to detail and polish off her adorable outfit.
What do you think?
Do you like Emily's outfit? What do you think of her Peter Pan blouse? Do you like the high-waisted trend? Have you bought a pair of oxfords yet? Let us know with a comment!