When I walked out of the dining hall, my eyes were instantly drawn to Emily – I don't think I've ever seen anyone look so stylish in just jeans and a t-shirt. By the time we were done talking, I couldn't wait to go home and take a pair of scissors to an old shirt like she had done.
Emily 101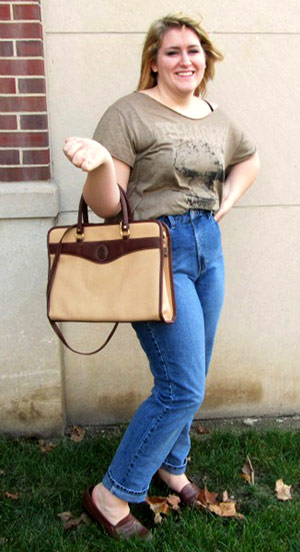 Name: Emily
Year: Sophomore
School: Ball State
Major: Advertising
Let's Talk Fashion
Why did you choose this particular outfit? "I just got the pants and shoes, so I wanted to wear them. This shirt is really comfortable, which is always a good thing!"
Where do you like to shop? "Goodwill, Salvation Army, and St. Vincent DePaul are all really good. Basically any thrift store."
What fashion advice would you give to other students looking to improve their style? "I would say to watch for trends but to choose what you like most. And never discount thrift stores as options, because you never know what you might find there."
What are your favorite trends right now? "I really like high waisted pants and flowy blouses. I also love menswear-inspired looks."
Do you have any favorite fashion designers? If so, who? "I really like Alfred Dunner pieces from the '80s. Now he caters a little too much to old ladies, but I've found some great older pieces of his from earlier."
What do you do for fun – do you have any unique hobbies or interests? "I like hanging out with friends, and photography. I also run a column in the Daily News (Ball State's Student Newspaper) on fashion."
If you could raid anyone's closet, who would it be and why? "I would raid Katy Perry's closet. I'm not really a huge fan of hers, but she does have some great clothes."
Elements of Emily's Outfit
1. Re-Styled Band Shirt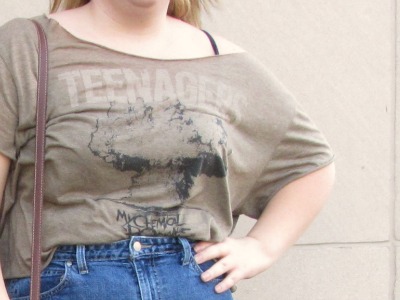 I was thrilled by Emily's My Chemical Romance shirt; I remember loving this CD when it came out in 8th grade! Emily altered this shirt herself and said that she does the same to most of her t-shirts. This is such a great way to make an ordinary t-shirt a little more interesting.
2. Menswear-Inspired Shoes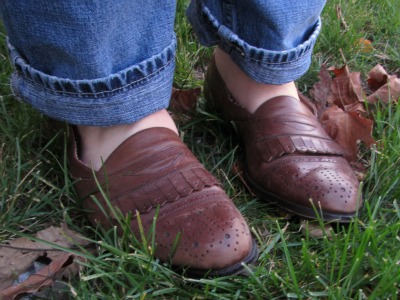 When you're spending the day trekking around campus there's nothing better than comfortable shoes; I love that Emily's menswear-inspired loafers look stylish and practical.
3. Structured Bag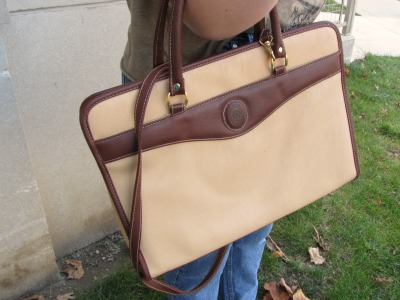 Emily found a happy medium between style and function with this structured bag. It's the perfect size for carrying papers around without having to deal with the bulk of a backpack.
Your Thoughts?
What do you think of Emily's retro-fab look? Do you alter your old t-shirts? What kind of bag do you use to carry around your books at school? Let us know with a comment!